Articles by Green Left Weekly
We found 3 results.
---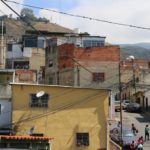 Venezuela's Crisis: A View from the Communes
Federico Fuentes | Green Left Weekly – TRANSCEND Media Service, 13 May 2019
10 May 2019 – Within hours of Venezuelan opposition leader Juan Guaidó calling for street mobilisations to back his attempted military coup on April 30, his supporters had looted and set fire to the headquarters of the Indio Caricuao Commune. Venezuela's communes seek to bring together communal councils that encompass 200–400 families in urban areas and 20–50 families in rural areas, to tackle issues such as housing, health, education and access to basic services. Decisions about problems to prioritise and how to tackle them are made in citizens' assemblies. Grassroots power.
→ read full article
---
Jake Lynch Wins another BDS Battle
Kathy Fairfax – Green Left Weekly, 1 Jun 2015
"I am delighted and relieved to be cleared of serious misconduct and that the threat to my position at the university has been lifted. I pay tribute to the vigorous and effective campaign to mobilise right thinking opinion against the vexatious and insubstantial allegations against me — in particular the slur of anti-Semitism which has been comprehensively refuted." — Jake Lynch
→ read full article
---
Bolivia: 'Never Before Have We Seen Such Changes'
Green Left Weekly – TRANSCEND Media Service, 25 Oct 2010
Alina Canaviri Sullcani is a Bolivian indigenous peasant now visiting Australia. Canaviri is active in Santa Cruz as a leader of the National Federation of Indigenous Peasant Women of Bolivia "Bartolina Sisa" and the Movement Towards Socialism (MAS) party led by President Evo Morales. She spoke at the Latin America solidarity conference in Melbourne over October 8-9, 2010. Green Left Weekly's Federico Fuentes spoke to Canaviri on the process of change in Bolivia being led by Morales, the country's first president from the indigenous majority.
→ read full article
---