Articles by Laignee Barron
We found 2 results.
---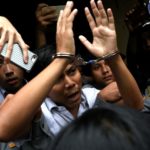 Myanmar Sentences Two Reuters Reporters to Seven Years in Prison for Possessing 'Official Secrets'
Laignee Barron - TIME, 3 Sep 2018
3 Sep 2018 – Two reporters for the Reuters news agency were each sentenced to seven years in prison by a Myanmar court today for possession of state secrets, a disquieting end to a trial that has lasted more than eight months and brought international censure upon the government of Nobel laureate Aung San Suu Kyi.
→ read full article
---
'Blood on Your Hands': EU Defends Training for Myanmar/Burma Police Force
Laignee Barron – Myanmar Times, 16 Mar 2015
11 Mar 2015 – The European Union last night defended itself against allegations of complicity in police brutality following a violent crackdown on students. The EU has been training Myanmar's police in crowd management and riot control since 2013 following requests from Daw Aung San Suu Kyi and the government.
→ read full article
---