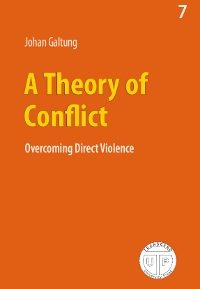 Price: 25 €
(incl. postage)
A Theory Of Conflict
Overcoming Direct Violence

In conflict theory there is a mainstream narrative I:
Problem: there are evil forces out there waiting for their time
When time comes their evil is articulated as violence
Remedy: be strong enough to deter evil and to crush it if needed
If strong enough there is a gift: security
This book challenges that and argues an alternative narrative II:
Problem: there is a difficult unresolved conflict out there
Conflicts lead to frustration leading to aggression-violence
Remedy: conflict resolution with empathy-nonviolence-creativity
If acceptable-sustainable-equitable enough there is a gift: peace
About the author:
Johan Galtung, born 1930 in Oslo, Norway, lives in Spain, France, Japan and the USA, mainly engaged in mediation and research. He has so far published about 150 books and over 1500 articles on peace and related issues. 40 of his books have been translated into 33 languages, for a total of 134 book translation. He founded TRANSCEND: A Peace Development Environment Network in 1993 and was founding rector of Transcend Peace University 2003-2007 and again from 2011 (see www.transcend.org/tpu).