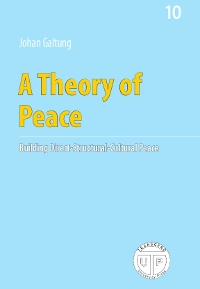 Price: 25 €
(incl. postage)
A Theory Of Peace - Building Direct-Structural-Cultural Peace
In peace theory there is a mainstream narrative:
Problem: There are dangerous and unruly classes and countries
If let loose life becomes brutish, nasty and short for all
Remedy: Economic-military-political-cultural rule by rules
If vertical enough we get pax: rule from above by law and force
This book challenges that and argues an alternative narrative:
Problem: There is an endless agenda of conflicts to be solved
There is an endless agenda of peace(s) to be built
Remedy: Solve conflicts equitably and we get negative peace
Build equitable projects and we get positive peace
Johan Galtung, born 1930 in Oslo, Norway, lives in Spain, France, Japan and the USA, mainly engaged in mediation and research. He has so far published about 150 books and over 1500 articles on peace and related issues. 40 of his books have been translated into 33 languages, for a total of 134 book translation. He founded TRANSCEND: A Peace Development Environment Network in 1993 and was founding rector of Transcend Peace University 2003-2007 and again from 2011 (see www.transcend.org and www.transcend.org/tpu).