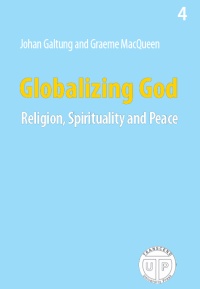 Price: 20 €
(incl. postage)
Globalizing God - Religion, Spirituality and Peace
This book, jointly authored by Johan Galtung and Graeme MacQueen, explores how religion, and specific religions, relate to spirituality - an inner sense of something beyond our selves - and peace, a pattern of nonviolence and equity.
In Part I the reader is taken on a tour of religions around the world, the religio-scape, from Occident to Orient and abrahamism to buddhism, in search of peace-building spiritualities. Religions are then scrutinized for their hard and soft aspects.
In Part II this search is taken much further into the theory and practice of peace, with a focus on five Asian peace spiritualities, and on ways in which religions have inspired concrete peace-making. The epilogue is written as a drama in five acts, a dialogical search for ways the religions could be a joint human property in a rapidly globalizing world
Authors:
Johan V. Galtung, born 1930 in Oslo, Norway. Lives in Spain, France, Japan and the USA and is mainly engaged in mediation and research. He founded TRANSCEND: A network for Peace and Development, in 1993, and was a rector of TRANSCEND Peace University 2003-2007.
Graeme MacQueen, born 1948 in Nova Scotia, Canada, lives in Canada and was professor of religious studies at McMaster University in Hamilton, Ontario 1974-2003. He was founding director of McMaster's Centre for Peace Studies.