Please note: currently TUP does not take any new orders.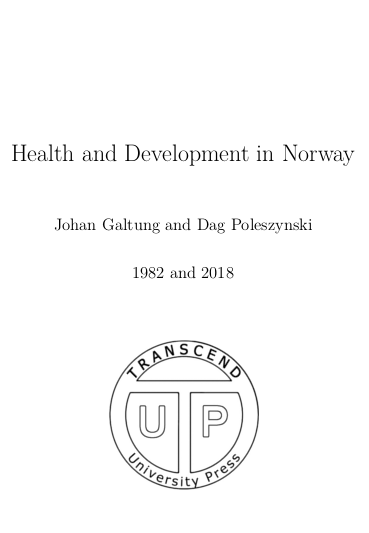 Year: 2018
Health and Development in Norway
The manuscript of this book was completed during the summer of 1986, but for various reasons was never published. During the fall of 2017 the authors met in Spain to discuss the possibility of completing the project. We had the choice either of updating the manuscript or to publish it as completed at the time. We found the latter solution preferable, as we felt that the general principles delineated in our original manuscript still apply.
In order to speed up the publication, as well as to keep the cost down, the manuscript has been published as an e-book, which may be downloaded for free from TRANSCEND University Press.
Since many years have passed since our original work was completed, we have added a Postscript where we make some reflections on the general model for health and development delineated in Chapter 1, as well as a comment on what has happened in Norway during the past 30+ years, based on Chapter 2: A Case study of Norway. We encourage the reader to save this part and read Chapter 1 and Chapter 2 first, making their own reflections, comparing these with the conclusions there presented.
We are grateful for the help of Malvin Gattinger, the TRANSCEND webmaster and Galtung´s close collaborator, without whom this manuscript might not have been published as an e-book
December 2018
| | | |
| --- | --- | --- |
| Alfaz del Pi (Spain) |      | Jar (Norway) |
| Johan Galtung |      | Dag Viljen Poleszynski |
---
Choose a format to download this ebook for free:
>