(Italiano) Fidel. Auguri, e grazie anche per la Pace
ORIGINAL LANGUAGES, 26 Aug 2013
Marinella Correggia – Centro Studi Sereno Regis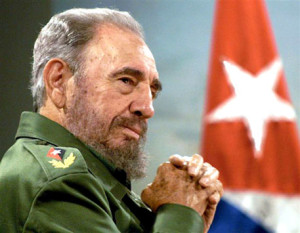 Buon compleanno a Fidel Castro! Fra i tanti aspetti del suo agire politico, ricordiamo il suo ruolo di attore internazionale contro le guerre infinite; anzitutto per prevenirle. Come è stato per  Hugo Chavez.
Non c'è dubbio che Fidel abbia sempre ispirato il fermo impegno di Cuba in tutte le sedi (a cominciare dall'Onu) contro l'incubo della guerra nucleare. Ma anche direttamente contro le guerre imperialiste che ci hanno fatto ingollare con la "dittatura mediatica", per citare una sua espressione.
Un breve riepilogo sul ruolo di Cuba di fronte alle cinque guerre di bombardamenti portate avanti dall'Occidente e dai loro alleati.
Novembre 1990, Iraq. Il Consiglio di sicurezza dell'Onu approva una risoluzione che autorizza il ricorso alla forza contro l'Iraq e un ultimatum per il 15 gennaio. E' in pratica l'avallo alla terribile guerra che seguirà. Cuba, membro non permanente del Consiglio quell'anno, è l'unica a votare risolutamente contro – insieme allo Yemen. La Cina si astiene.
Baghdad, 1991. Un medico cubano di origine palestinese, Anuar, aiutava i colleghi iracheni nell'emergenza del dopoguerra e dell'embargo. In seguito, le brigate mediche internazionali di Cuba mandate negli epicentri del bisogno sono diventate un grande esercito pacifico.
Jugoslavia 1999. Sul quotidiano Granma il 25 marzo Cuba immediatamente esprime la propria posizione contro la "ingiustificata aggressione Nato contro la Jugoslavia, capeggiata dagli Stati uniti", senza autorizzazione Onu. Pochi giorni dopo Fidel invita gli jugoslavi a "resistere, resistere e resistere": lo ricorda anni dopo nel suo articolo Le guerre illegali dell'impero  parlando di un "unipolarismo oltraggioso, sostenuto da un impero guerrafondaio, che si erge a polizia mondiale.
2001, Afghanistan. Il 23 settembre Fidel Castro avverte che attacchi militari Usa sull'Afghanistan potrebbero avere conseguenze catastrofiche e dichiara l'opposizione di Cuba sia alla guerra che al terrorismo. Anni dopo, nel 2009, Fidel spiega che il ritiro del Nobel per la pace da parte di Barack Obama è stato un "atto cinico" visto il continuo impegno di guerra in Afghanistan "incurante delle vittime", e visto che gli Usa sono "una super potenza imperiale con centinaia di basi militari dispiegate in tutto il mondo e duecento anni di interventi militari".
2003, Iraq. Alla vigilia della nuova guerra annunciata, quasi tutti gli ambasciatori e relativi staff partirono in fretta. Non Cuba. L'ambasciatore e parte dello staff rimasero là, sotto le bombe, e per noi pacifisti dell'Iraq Peace Team, quell'ambasciata era un'isola di pace. L'ambasciatore partì solo all'arrivo dei marines: "non riconosciamo gli occupanti" ci disse salutandoci.
Marzo 2011. Fidel Castro, in un suo articolo del 3 marzo, chiede al mondo di sostenere la proposta negoziale per la Libia avanzata da Hugo Chavez, appoggiata ufficialmente dai paesi dell'Alba: "Il presidente bolivariano sta portando avanti un encomiabile sforzo per trovare una soluzione senza l'intervento della Nato in Libia. Le sue possibilità di successo saranno maggiori se egli otterrà l'appoggio di un ampio movimento di opinione a favore dell'idea, prima che si verifichi l'intervento armato e non dopo, per evitare che i popoli debbano veder ripetere altrove l'atroce esperienza dell'Iraq". Se i movimenti e i popoli avessero dato seguito a questo appello, i paesi dell'Alba sarebbero diventati mondialmente un "pool di pronto intervento per la pace". Chi, negli ultimi due anni – diciamo dall'inizio della guerra Nato alla Libia – ha sperimentato la difficoltà dell'impegno per la pace, nell'assordante silenzio della sinistra occidentale e del fu movimento pacifista, è a Cuba, al Venezuela e a pochi altri che ha fatto riferimento. Non a caso, nel  corso dei bombardamenti, è un cubano (Rolando Segura di Telesur) il giornalista che a Tripoli si discosta dall'esaltazione mediatica della guerra e della "rivoluzione". Nel frattempo, da Cuba, Fidel definisce le operazioni Nato "un crimine mostruoso" e "genocidio".
2012 e 2013, Siria. Cuba si oppone ai tentativi di spacciare per umanitaria l'ingerenza Nato e petromonarchica in Siria. A questa ingerenza anche armata che ha fomentato una guerra devastante, Cuba e pochi altri – fra questi Venezuela, Bolivia, Nicaragua – hanno detto no in molte circostanze, quasi in solitudine, sia a Ginevra (Consiglio dei diritti umani dell'Onu) che a New York (Assemblea generale dell'Onu, l'ultima volta in maggio, i soliti 12 no e 57 astenuti). All'apice della propaganda internazionale, l'ambasciatore cubano a Ginevra dopo il massacro di Houla dichiarava: "(…) Il più elementare senso di giustizia deve impedire che si attribuiscano responsabilità a partire da semplici insinuazioni di parti interessate a promuovere la destabilizzazione e l'intervento militare straniero in Siria, per i quali i paesi della Nato dedicano notevoli risorse, finanziando e armando un'opposizione che soddisfi le loro ansie di cambio di regime in questo paese (…). La condotta di alcuni membri della Nato nella regione dell'Africa del nord e del Medio Oriente, i loro ingiustificabili bombardamenti, i crimini contro i civili indifesi e il silenzio complice di fronte alle azioni d'Israele contro il popolo palestinese, sostengono le tesi che non è precisamente la promozione e la protezione dei diritti umani la legittima motivazione del dibattito che oggi ci occupa". (…)
13 agosto 2013
Fonte: http://www.sibialiria.org/wordpress/?p=1846
Go to Original – serenoregis.org
DISCLAIMER: The statements, views and opinions expressed in pieces republished here are solely those of the authors and do not necessarily represent those of TMS. In accordance with title 17 U.S.C. section 107, this material is distributed without profit to those who have expressed a prior interest in receiving the included information for research and educational purposes. TMS has no affiliation whatsoever with the originator of this article nor is TMS endorsed or sponsored by the originator. "GO TO ORIGINAL" links are provided as a convenience to our readers and allow for verification of authenticity. However, as originating pages are often updated by their originating host sites, the versions posted may not match the versions our readers view when clicking the "GO TO ORIGINAL" links. This site contains copyrighted material the use of which has not always been specifically authorized by the copyright owner. We are making such material available in our efforts to advance understanding of environmental, political, human rights, economic, democracy, scientific, and social justice issues, etc. We believe this constitutes a 'fair use' of any such copyrighted material as provided for in section 107 of the US Copyright Law. In accordance with Title 17 U.S.C. Section 107, the material on this site is distributed without profit to those who have expressed a prior interest in receiving the included information for research and educational purposes. For more information go to: http://www.law.cornell.edu/uscode/17/107.shtml. If you wish to use copyrighted material from this site for purposes of your own that go beyond 'fair use', you must obtain permission from the copyright owner.