(Português) A América Latina da Celac
ORIGINAL LANGUAGES, 3 Feb 2014
Alfredo Serrano Mancilla – Pagina 12 (Argentina)
Não existe construção pós-neoliberal de América Latina só com projetos nacionais emancipadores e soberanos. A região precisa de políticas supranacionais.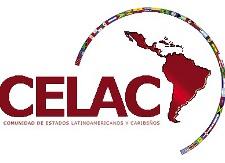 Não faltou (quase) ninguém em Havana para participar da II Cúpula da Comunidade de Estados Latinoamericanos e Caribenhos (Celac). O mundo, por meio de três instituições significativas, também não quis ficar de fora deste encontro histórico: Ban Ki-Moon (Nações Unidas), José Miguel Insulza (Organização dos Estados Americanos, OEA) e Alicia Bárcenas (Comissão Econômica para América Latina, Cepal). Ninguém pode negar este espaço emergente na América Latina para América Latina e da América Latina, liderada apenas por latino-americanos.
Poucos se lembrarão da inesperada viagem que Chávez fez a Cuba em 1994, meses depois de cumprir pena na prisão por seu levante militar. Essa visita a Cuba aconteceu depois de Chávez percorrer boa parte da região sem ser notado (recebido apenas na Argentina; passou rapidamente pelo Uruguai e pelo Chile; e foi bem acolhido somente por um setor da esquerda colombiana). Fidel, surpreendentemente, foi esperá-lo no aeroporto, como um sinal de que esse novo líder não poderia deixar de ser atendido.
Nessa conversa, Chávez, na contramão da utopia neoliberal, argumentou sobre "a necessidade da segunda indepêndencia ancorada em um continente latino-americano e caribenho, integrado por uma só nação". E foi a isto que Rafael Correa, Cristina Kirchner, Evo Morales e Nicolás Maduro se referiram vinte anos depois. A América Latina, com a Celac como bandeira, e não com a OEA, está mais desnorteamericanizada do que nunca. Uma condição necessária, embora não suficiente para uma descolonização integral.
A Cúpula da Celac aconteceu em meio a uma mudança de época, na qual uma forte corrente pós-neoliberal se impõe em muitos países da região. No entanto, não existe construção pós-neoliberal de América Latina somente com projetos nacionais emancipadores e soberanos.
Nesta fase acelerada de globalização da economia, em plena transição, a região precisa de uma política supranacional nítida e determinante. A pressão vinda do Norte é permanente, conforme indica um informativo do Conselho Atlântico. "O vínculo trilateral: Uma nova era para América Latina, Estados Unidos e Europa", que aposta em levar a região em direção a um 'curral do Atlântico', tendo nas mãos tratados de livre comércio e tratados bilaterais de investimento, perpetuando um rol de subordinação no sistema produtivo.
Para isso, para sair desse "abraço do urso" vindo do Norte, o Sul requer uma dinâmica regional sem divisões em assuntos estratégicos que estabeleçam linhas vermelhas impossíveis de serem desfeitas. Não se trata somente de colocar limites que evitem os saques, mas também é chegada a hora de viver a década seguinte à década ganha.
Esta tarefa não será fácil, e a Celac sinalizou esta preocupação. Traçaram novos desafios buscando construir definitivamente uma região livre da pobreza. Esse tem sido um eixo fundamental nesta cúpula mas, como? Esta pergunta tampouco ficou descuidada nesta reunião. A centralidade esteve, precisamente, na complementariedade produtiva, com o objetivo de formar círculos virtuosos endógenos que dividam equitativamente o valor agregado. As novas cadeias de valor serão regionais, mas não a serviço das empresas translatinas. Outro aspecto de urgência é organizar de maneira mais eficaz o excesso de processos de integração na região.
Não será fácil estabelecer um grande guarda-chuva continental que abrigue tantos interesses contraditórios. Não será simples harmonizar os objetivos que cada governo estabeleceu, sem que existam disputas. Mas há algo que está muito claro e que mostra a maturidade neste projeto emancipador: a consciência de que estas disputas existem, que estão colocadas e que é preciso enfrentá-las o quanto antes. Muitos encontros fracassaram justamente por interpretarem que qualquer desacordo é um freio para o avanço, o que levou inúmeras cúpulas a chegar a um consenso sobre uma espécie de conjunto vazio.
Desta forma, a Celac, com a América Central mais o México, tem uma nova oportunidade para reconstruir a passagem do furacão do Pacífico pela Unasul, e estabelecer mecanismos eficazes para tomar decisões, para reagir conjuntamente se violações do direito internacional voltarem a acontecer (como aconteceu com Evo Morales na Europa) ou se houver mais espionagem vinda do Norte.
A Celac se constitui, assim, uma nova superestrutura que tem como desafio aprender com os erros das integração fracassadas –como a União Europeia–, e avançar em direção a um novo espaço regional que seja uma zona de paz, democracia e justiça social. Fidel Castro, há duas décadas, na reunião geradora desta nova comunidade regional, falou em latinoamericania. Esta é a grande conclusão do que aconteceu nesses dias na mesma Havana onde Chávez, naquele encontro com o líder cubano, estava esperançoso: "Algum dia esperamos vir a Cuba em condições de estender os braços e em condições de, mutuamente, nos alimentar em um projeto revolucionário latino-americano na ideia de um novo continente integrado".
__________________________
Alfredo Serrano Mancilla:  Doutor em Economia, Centro Estratégico Latino-americano Geopolítico (Celag).
Artigo publicado na seção de opinião do jornal argentino Página 12 www.pagina12.com.ar
Go to Original – cartamaior.com.br
DISCLAIMER: The statements, views and opinions expressed in pieces republished here are solely those of the authors and do not necessarily represent those of TMS. In accordance with title 17 U.S.C. section 107, this material is distributed without profit to those who have expressed a prior interest in receiving the included information for research and educational purposes. TMS has no affiliation whatsoever with the originator of this article nor is TMS endorsed or sponsored by the originator. "GO TO ORIGINAL" links are provided as a convenience to our readers and allow for verification of authenticity. However, as originating pages are often updated by their originating host sites, the versions posted may not match the versions our readers view when clicking the "GO TO ORIGINAL" links. This site contains copyrighted material the use of which has not always been specifically authorized by the copyright owner. We are making such material available in our efforts to advance understanding of environmental, political, human rights, economic, democracy, scientific, and social justice issues, etc. We believe this constitutes a 'fair use' of any such copyrighted material as provided for in section 107 of the US Copyright Law. In accordance with Title 17 U.S.C. Section 107, the material on this site is distributed without profit to those who have expressed a prior interest in receiving the included information for research and educational purposes. For more information go to: http://www.law.cornell.edu/uscode/17/107.shtml. If you wish to use copyrighted material from this site for purposes of your own that go beyond 'fair use', you must obtain permission from the copyright owner.