(Français) Créer un Fonds Monétaire EuroBRICS (EuroBRICS monetary fund ou EBMF)
ORIGINAL LANGUAGES, 28 Apr 2014
Agoravox – TRANSCEND Media Service
Les pays du BRICS ont annoncé récemment qu'ils entendaient mettre en place dans les prochains mois l'équivalent du FMI et de la Banque mondiale dans le cadre de l'association qu'ils ont décidé de créer entre eux il y a environ un an.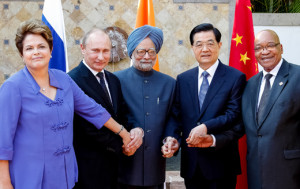 Il s'agit d'abord de mobiliser des épargnes venant directement des pays concernés, afin de financer des opérations intéressant ces mêmes pays. Il s'agit ensuite d'échapper à l'influence jugée excessive des Etats-Unis au sein du FMI et de la Banque mondiale. Ces organismes imposent aux pays assistés des conditions d'accès aux crédits depuis longtemps jugées non seulement inefficaces mais encore permettant aux pays riches et aux intérêts financiers qu'ils représentent une intrusion illégitime dans la gestion des pays « assistés ».
Mais les Etats-Unis refusent toute modification du statut des organismes à vocation internationale mis en place à la fin de la seconde guerre mondiale, qui leur assurent un rôle dominant. Ils bataillent en effet depuis quatre ans pour repousser une réforme structurelle qui les priverait d'une partie de leur pouvoir d'influence, notamment le droit de veto constituant l'essentiel de leur pouvoir de décision.
Selon les informations actuellement diffusées, le fonds de réserve de futur organisme serait disponible dès 2015. La Banque internationale correspondante serait mise en place aussitôt après. Le montant du Fonds serait initialement fixé à 50 milliards de dollars. D'ores et déjà la Chine a proposé de fournir 41 milliards, le Brésil, l'Inde et la Russie 18 milliards chacun, l'Afrique du Sud 5 milliards. Le montant du futur fonds ne serait pas aussi élevé que celui du FMI (370 milliards de dollars) mais initialement le nombre des pays pouvant y prétendre serait moins grand. Dans la perspective de l'établissement d'un monde multipolaire, échappant à la domination jusqu'ici exercée unilatéralement par les Etats-Unis, ce Fonds sera le bienvenu.
Une participation européenne
Nous pensons que l'Europe ne devrait pas s'en tenir à l'écart. L'Europe ou tout au moins l'Eurogroupe, par l'intermédiaire de la Banque centrale européenne et de ses fonds d'investissement utilisant l'euro, pourrait offrir une contribution importante au fonds d'investissement des BRICS. Cela ne l'obligerait pas d'ailleurs à se retirer du FMI. La participation européenne serait en euros. Une parité fixe ou flottante pourrait être organisée avec la future unité de change commune qu'étudient par ailleurs les BRICS. Au sein du fonds BRICS, les européens pourraient participer directement au financement de projets intéressant les membres du BRICS ou d'autres pays considérés comme partageant les mêmes préoccupations politiques et économiques. Plus généralement, ils se mettraient en état de négocier avec eux sur des bases solides d'éventuels traités de libre-échange. Ceux-ci équilibreraient utilement le futur Traité de libre-échange transatlantique en cours de négociation.
Au delà de ceci, quels avantages les Européens trouveraient-ils dans la participation de l'Union européenne au futur Fonds, que nous nommerons désormais Fonds Monétaire EuroBRICS (EuroBRICS monetary fund ou EBMF) ? D'une part ils pourraient se rapprocher diplomatiquement de pays qui représentent déjà les 2/3 des effectifs mondiaux. D'autre part et surtout, ils pourraient influencer les investissements des membres dans un sens correspondant aux grands objectifs que défend l'Europe. Nous pensons en particulier aux programmes destinés à prévenir les destructions qu'imposera le réchauffement climatique. Ils pourront aussi soutenir par ce biais les industriels européennes travaillant dans le sens des activités dites vertes.
On objectera qu'il serait utopique d'envisager la création d'un EBMF tel qu'esquissé ici. Le poids des intérêts atlantique est encore si grand en Europe que de tels projets seront découragés avant même d'avoir été précisés. On peut quand même penser qu'avec le déclin relatif du poids mondial des Etats-Unis et un regard plus constructif jeté sur la Russie et la Chine, les opinions publics verraient d'un bon oeil la mise en place d'un tel Fonds équilibrant les pouvoirs aujourd'hui excessifs du FMI et de la Banque Mondiale.
Sources:
http://www.dedefensa.org/article-le_fmi_les_brics_et_l_id_al_de_puissance__17_04_2014.html
http://www.zerohedge.com/print/487410 BRICS Consider Creating IMF-Alternative As US Loses Credibility
http://rbth.co.uk/business/2014/04/14/brics_countries_to_set_up_their_own_imf_35891.html
DISCLAIMER: The statements, views and opinions expressed in pieces republished here are solely those of the authors and do not necessarily represent those of TMS. In accordance with title 17 U.S.C. section 107, this material is distributed without profit to those who have expressed a prior interest in receiving the included information for research and educational purposes. TMS has no affiliation whatsoever with the originator of this article nor is TMS endorsed or sponsored by the originator. "GO TO ORIGINAL" links are provided as a convenience to our readers and allow for verification of authenticity. However, as originating pages are often updated by their originating host sites, the versions posted may not match the versions our readers view when clicking the "GO TO ORIGINAL" links. This site contains copyrighted material the use of which has not always been specifically authorized by the copyright owner. We are making such material available in our efforts to advance understanding of environmental, political, human rights, economic, democracy, scientific, and social justice issues, etc. We believe this constitutes a 'fair use' of any such copyrighted material as provided for in section 107 of the US Copyright Law. In accordance with Title 17 U.S.C. Section 107, the material on this site is distributed without profit to those who have expressed a prior interest in receiving the included information for research and educational purposes. For more information go to: http://www.law.cornell.edu/uscode/17/107.shtml. If you wish to use copyrighted material from this site for purposes of your own that go beyond 'fair use', you must obtain permission from the copyright owner.