(Português) Povos de todo o mundo exigem fim do genocídio israelense contra palestinos
ORIGINAL LANGUAGES, 28 Jul 2014
Leonardo Wexell Severo – Brasil de Fato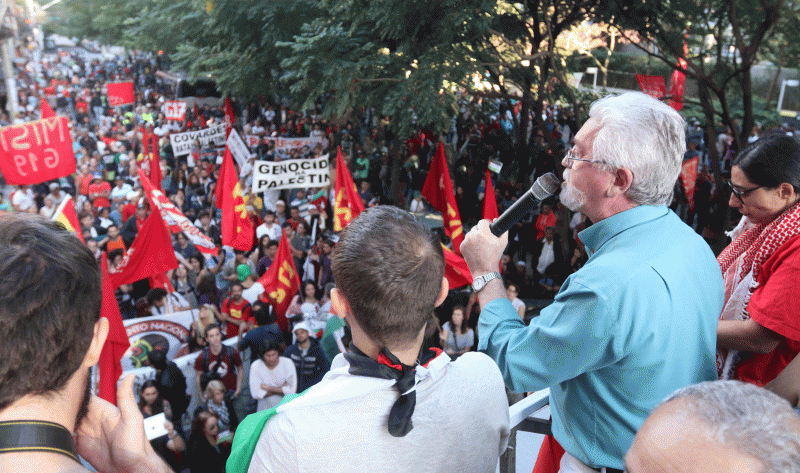 Foto: Manifestantes cobram medidas para obrigar Israel a cumprir a lei internacional. Até o fechamento desta edição, no dia 21 de julho, número de palestinos mortos ultrapassava 550, além de mais de 3.500 feridos. Roberto Parizoti
22 Julho 2014 – Milhares de pessoas tomaram as ruas das principais cidades do planeta para exigir o fim imediato do genocídio praticado por Israel contra o povo pales­tino. De acordo com a organização Boi­cote, Desinvestimento e Sanções (BDS), até 21 de julho, data do fechamento des­ta edição, o número de palestinos mortos pelos bombardeios de aviões e tanques israelenses ultrapassava 550, com mais de 3.500 feridos, sendo parte expressiva de idosos, mulheres e crianças.
Em repúdio à carnificina, as grandes avenidas da Alemanha, Argélia, Colôm­bia, Egito, França, Grécia, Indonésia, Ir­landa, Estados Unidos e Turquia, entre outras dezenas de países, foram tomadas por multidões vestindo o vermelho, ver­de, preto e branco da bandeira palestina.
"As manifestações estão crescendo em resposta aos contínuos massacres israe­lenses. São marchas que exigem não so­mente o fim da agressão militar e da ocu­pação, mas cobram de seus próprios go­vernos que tomem medidas para obrigar Israel a cumprir a lei internacional", de­clarou Maren Mantovani, da coordena­ção do BDS.
Uma demonstração a mais do isola­mento da política de terrorismo de Esta­do de Israel, frisou Maren, é que no sá­bado, "98 personalidades, incluindo seis prêmios Nobel, ativistas como Noam Chomsky e Roger Waters, um ex-juiz da Corte Internacional de Justiça e os brasi­leiros Frei Betto e João Felício, presiden­te da Confederação Sindical Internacio­nal (CSI), pediram um embargo militar imediato e vinculante".
Da Rede Globo ao consulado
Na capital paulista os manifestantes se concentraram em frente ao prédio da Re­de Globo – emissora acusada de ser cúm­plice do genocídio ao acobertar os crimes sionistas –, de onde saíram em passeata até a frente do consulado de Israel com faixas, bandeiras e cartazes contrários à matança.
Para o presidente da CSI, João Felício, "a imprensa brasileira precisa parar de mentir, pois o que acontece na Palestina não é uma guerra, mas um massacre, o assassinato de um povo por parte do go­verno israelense".
Da mesma forma que o regime de se­gregação racial foi derrotado na África do Sul com o cerco aos produtos do apar­theid, defendeu Felício, "é preciso orga­nizar um amplo boicote aos produtos sio­nistas para isolar Israel, inclusive cortan­do relações diplomáticas, como já estão fazendo vários governos".
"Vamos fazer uma lista de produtos de capital israelense para que não sejam consumidos. Mais do que uma denúncia, esta será uma ação concreta, solidária. Chegou a hora de derrubarmos todos os muros que separam os povos, seja o que separa a Palestina de Israel ou o México dos EUA. Precisamos de relações harmo­niosas e solidárias", asseverou o presi­dente da CSI.
Fora invasores
"Estamos aqui para exigir o fim dos bombardeios e a imediata retirada das tropas de ocupação de Gaza", afirmou Júlio Turra, da executiva nacional da CUT, recordando que "desde 1948 o po­vo palestino luta pela sua sobrevivência e pela construção de seu Estado nacional, um direito que é negado pelo imperialis­mo, que protege o sionismo assassino".
"A agressão atual não é um fato iso­lado, mas um capítulo da limpeza étni­ca iniciada há 66 anos, quando da cria­ção do Estado de Israel em terras palesti­nas", destacou.
A faixa de Gaza é atualmente a área mais densamente povoada do mundo, com 1,5 milhão de habitantes confinados em apenas 360 quilômetros quadrados, submetidos a um bloqueio assassino que a converte em um gigantesco campo de concentração a céu aberto.
Da mesma forma que em Gaza, a po­pulação civil na Cisjordânia também so­fre com a política de "punição coletiva", só que de outra forma: demolição de ca­sas, mais de 5 mil presos políticos, rou­bo de água e cortes de energia elétrica que transformam a vida num verdadei­ro inferno.
Diante do "consulado assassino", o presidente da Federação Árabe Palesti­na do Brasil (Fepal), Emir Mourad, pe­diu um minuto de silêncio pelas crianças vítimas da agressão israelense. "Neste momento, eu peço a todos os judeus do mundo que se livrem do sionismo, que é contrário à própria essência do judaís­mo. Em nome da alma destas crianças, Israel fora da Palestina!", enfatizou.
O presidente da Central dos Trabalha­dores e Trabalhadoras do Brasil (CTB), Adilson Araújo, denunciou a "compla­cência e a cumplicidade do governo dos Estados Unidos e do Conselho de Segu­rança da ONU com a brutal investida is­raelense".
"Em defesa da democracia e da autode­terminação dos povos, somos todos pa­lestinos", enfatizou.
Já a presidenta do Conselho Mundial da Paz, Socorro Gomes, frisou ser inacei­tável o fato de o Estado sionista utilizar como argumento para a invasão a morte de três jovens soldados/colonos israelen­ses, sem qualquer comprovação de auto­ria, em circunstâncias não esclarecidas. "O fato é que a humanidade não aceita mais o regime de apartheid e nem des­culpas esfarrapadas do Estado terrorista de Israel para se chegar à paz", disse.
"Nós sabemos qual a realidade vivida pelo povo palestino, por isso, viemos par­ticipar, ao lado dos nossos familiares, pa­ra mostrar que o Brasil diz não aos cri­mes de Israel", declarou Naval Khalil, que se somou ao ato junto aos dois fi­lhos. Com a filha nos ombros e o menino de mãos dadas, Naval disse acreditar "na força da pressão internacional para que a justiça, enfim, prevaleça".
Entre outras organizações e partidos estiveram presentes a Via Campesina Brasil, Quilombo Raça e Classe, Marcha Mundial de Mulheres, PCdoB, PSOL e PSTU. O Movimento dos Trabalhadores Sem Teto (MTST) participou com uma grande delegação.
Go to Original – brasildefato.com.br
DISCLAIMER: The statements, views and opinions expressed in pieces republished here are solely those of the authors and do not necessarily represent those of TMS. In accordance with title 17 U.S.C. section 107, this material is distributed without profit to those who have expressed a prior interest in receiving the included information for research and educational purposes. TMS has no affiliation whatsoever with the originator of this article nor is TMS endorsed or sponsored by the originator. "GO TO ORIGINAL" links are provided as a convenience to our readers and allow for verification of authenticity. However, as originating pages are often updated by their originating host sites, the versions posted may not match the versions our readers view when clicking the "GO TO ORIGINAL" links. This site contains copyrighted material the use of which has not always been specifically authorized by the copyright owner. We are making such material available in our efforts to advance understanding of environmental, political, human rights, economic, democracy, scientific, and social justice issues, etc. We believe this constitutes a 'fair use' of any such copyrighted material as provided for in section 107 of the US Copyright Law. In accordance with Title 17 U.S.C. Section 107, the material on this site is distributed without profit to those who have expressed a prior interest in receiving the included information for research and educational purposes. For more information go to: http://www.law.cornell.edu/uscode/17/107.shtml. If you wish to use copyrighted material from this site for purposes of your own that go beyond 'fair use', you must obtain permission from the copyright owner.