Svoboda Nazi Apologist Quits Party to Become Head of Security Service Propaganda
BALKANS AND EASTERN EUROPE, 17 Nov 2014
Solidarity with the Antifascist Resistance in Ukraine - TRANSCEND Media Service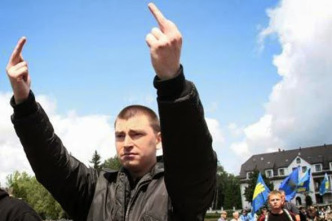 One of the most notorious Ukrainian members of parliament for the far-right party 'Svoboda,' Yuri Michalchyshyn, quits the party so that he can become head of the propaganda and analysis of the Ukraine Security Service, SBU. Mikhalchyshyn is an open nazi apologist holding an honorary medal of the SS Division Galychna.
The reason cited for him leaving the party, after having spent some time as part of a volunteer battalion in the "anti terrorist operation" against the Donbas, is because party membership would not be compatible with his new job in the Security Service. Mikhalchyshyn himself had suggested in July 2014 the need to establish a Ministry of Propaganda, as part of the offensive against the Donbas.
Mykhalchyshyn addresses march for UPA "heroes" in 2013 full video:
Unlike other Svoboda leaders who have at least attempted to tone down the most extreme edges of their far right ideology, Mykhalchyshyn does not hide his "radical" views and Nazi sympathies.
In May this year he advocated the use of air strikes against Sloviansk to turn the city "into a lunar landscape" in order to deal with the rebels. Civilians should be given a 48 hour ultimatum to evacuate the city, he added, but "after this, all those who remain there should not be considered civilians, but supporters of terrorists or terrorists themselves. Then you need to close the area and eliminate all gangsters."
In April this year, he run through the floor of the Rada to assault Communist Party leader Simonenko who was addressing parliament and physically ejected him from the rostrum:
In 2013, during the celebration of the 70th anniversary of the founding of the SS Galicia division of Ukranian volunteers in the nazi ranks, Mykhalchyshyn received a commemorative medal. The SS Galicia Division, together with the Ukrainian Insurgent Army carried out genocide against the Jews and a brutal ethnic cleansing of the local Polish population during WWII.
Describing himself variously as "autonomous nationalist", "social-revolutionary", "social-nationalist" or "revolutionary national-socialist", Mykhalchyshyn, from Lviv, is one of Svoboda's main ideologues.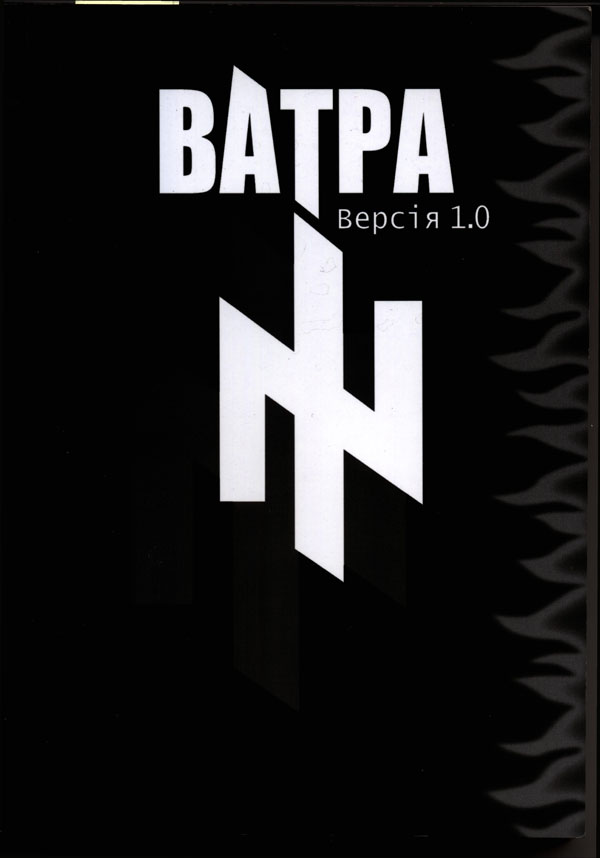 His PhD thesis was on "Transforming the political movement into a mass political party of a new type as an example NSDAP and PNF (comparative analysis)". In 2005, he organized a political think tank, originally called "the Joseph Goebbels Political Research Center" but later re-named after the German conservative revolutionary Ernst Jünger. He also edited the openly neo-nazi "Bonfire – national revolutionary journal" including a special compilation of classic texts of nazi ideology under the heading of "Varta 1.0" which was really a guide to national-socialism, including the program of German nazi party NSDAP.
In Varta he describes the tradition he adheres to thus:
"Our banner carriers and heroes are Evhen' Konovalets, Stepan Bandera, Roman Shukhevych, Horst Wessel and Walter Stennes, Jose Antanio Primo de Rivera and Leon Degrelle, Corneliu Codreanu and Oswald Mosley"
to which he adds:
"traditional Ukrainian integral nationalism (Dmytro Dontsov, Iuryi Lypa, Mykola Stsibors'kyi, Dmytro Myron-Orlyk, Stepan Bandera) Ukrainian social-nationalism (Mykola Mikhnovs'kyi, Yaroslav Stets'ko, Stepan Rudnyts'kyi, the platform of the journal SNPU Orientyry in the late 1990s); the conceptual arsenal of the German conservative revolution (Ernst Jünger, Arthur Moeller van den Bruck, Oswald Spengler, OttoStrasser, Carl Schmitt); Italian integral corporativism (Giuseppe Bottai,Ugo Spirito, Sergio Panunzio)." (Our Fire http://www.vatra.cc/nasha-vatra)
In a speech in 2011 he described the Holocaust as a "particularly bright period of European history" (see: http://uainfo.org/heading/accident/2531-mihalchishin-schitaet-holokost-svetlym-periodom-v-istorii-evropy.html). In the same year he lead a group of nazi skinheads which clashed with Soviet Army veterans celebrating victory day in Lviv:
This is the man who is now going to be put in charge of the Department for Propaganda and Analysis of the Ukrainian Secret Service …
[We thank Dmitry Kolesnik for doing the research for most of the sources in this piece.]
[More background on Mykhalshyshyn and his ideology can be found here: "The Return of the Ukrainian Far Right: The Case of VO Svoboda"]
Go to Original – ukraineantifascistsolidarity.com
DISCLAIMER: The statements, views and opinions expressed in pieces republished here are solely those of the authors and do not necessarily represent those of TMS. In accordance with title 17 U.S.C. section 107, this material is distributed without profit to those who have expressed a prior interest in receiving the included information for research and educational purposes. TMS has no affiliation whatsoever with the originator of this article nor is TMS endorsed or sponsored by the originator. "GO TO ORIGINAL" links are provided as a convenience to our readers and allow for verification of authenticity. However, as originating pages are often updated by their originating host sites, the versions posted may not match the versions our readers view when clicking the "GO TO ORIGINAL" links. This site contains copyrighted material the use of which has not always been specifically authorized by the copyright owner. We are making such material available in our efforts to advance understanding of environmental, political, human rights, economic, democracy, scientific, and social justice issues, etc. We believe this constitutes a 'fair use' of any such copyrighted material as provided for in section 107 of the US Copyright Law. In accordance with Title 17 U.S.C. Section 107, the material on this site is distributed without profit to those who have expressed a prior interest in receiving the included information for research and educational purposes. For more information go to: http://www.law.cornell.edu/uscode/17/107.shtml. If you wish to use copyrighted material from this site for purposes of your own that go beyond 'fair use', you must obtain permission from the copyright owner.