The Fizz Is Going Out of SodaStream as Boycott Shakes It Up
PALESTINE - ISRAEL, 3 Nov 2014
Jews For Justice For Palestinians – TRANSCEND Media Service
Famous for using Scarlett Johansson to pitch its carbonated-beverage makers and for drawing the wrath of the boycott movement, the company has seen sales decline in its key U.S. market.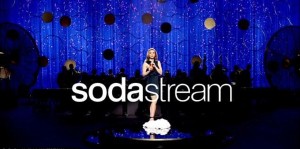 SodaStream is probably known as much for employing Scarlett Johansson as a pitchwoman and for its West Bank manufacturing facilties as it is for its home carbonated-beverage dispensers.
But on Wall Street, the Israeli company's reputation is best known for the wild ride it has given investors since it went public in 2010. The stock's value has fizzed up like one of its carbonated drinks only to go flat. It was purchased in 2007 by the Fortissimo Capital Fund, a private equity investor, for a mere $6 million. Just three years later, SodaStream went public on the Nasdaq Stock Exchange at a market value of $336 million and by June of last year, its value hit the unimagined level of about $2 billion.
Since then, however, SodaStream's stock has been in steady decline, in large measure due to the earnings warnings the company issued three weeks ago. From a high of $72, SodaStream stock slumped by about 70%, trading Tuesday morning local time in New York at $22.39, or a market cap of about $469 million.
Based near Ben-Gurion Airport, with factories inside Israel as well as in the West Bank, SodaStream is about to unveil a plan to streamline its operations, TheMarker has learned. The plan will reportedly be released along with its third-quarter financial results on Wednesday.
Although the details are not known, it can be assumed that the company will scale back operations in areas of the world where it has found it hardest to grow, most notably the United States.
In the second quarter, SodaStream reported slack demand in the U.S. market, reflected in a 14% decline in North American sales from a year earlier. In a pre-announcement of its third-quarter results, the company admitted that its problems in America continued. The Wall Street Journal reported earlier this month that the U.S. department store chain Macy's had stopped selling SodaStream products, although the newspaper could get no confirmation of that and SodaStream devices continue to be carried on the retailer's website.
"Our U.S. business underperformed due to lower than expected demand for our soda makers and flavors, which was the primary driver of the overall shortfall in the third quarter. While we were successful over the last few years in establishing a solid base of repeat users in the U.S., we have not succeeded in attracting new consumers," CEO Daniel Birnbaum said.
Health and wellness
The company has said it plans to recast its products as health and wellness solutions, with new and different advertising support. But analysts Bill Schmitz Jr. and Faiza Alwy of Deutsche Bank are skeptical. "While heading down this path seems interesting, consumers seeking health and wellness demand authenticity and street cred, something the company needs to be mindful of," they wrote after the earings warning this month
The shares got a boost last Friday, jumping 15% after the company reported it would be cooperating with PepsiCo in a Florida test-run in which PepsiCo beverage flavors would be made available to users of SodaStream beverage dispensers. The euphoria didn't last long, however. On Monday, SodaStream's share price declined by more than 10%.
PepsiCo's flavors for use in SodaStream machines will be sold through Walmart and Bed, Bath & Beyond stores in Orlando and Tampa over the 10-week trial period. The brands in the test, Pepsi Homemade and Sierra Mist Homemade, are sweetened with sugar and stevia, and not sold in stores, Beverage Digest reported. "PepsiCo is exploring multiple technologies," PepsiCo said in a statement, adding: "At-home, make-your-own beverages represent an emerging category that has generated interest among some consumers." SodaStream "is one of several companies we're talking to about potential ideas," the U.S. beverage giant said.
At this point, PepsiCo is not in talks with SodaStream about wider cooperation, SodaStream said in a separate statement. At the beginning of the year, there was some analyst speculation that PepsiCo might try to acquire SodaStream in response to Coca Cola's new partnership with Green Mountain, which has developed its own Keurig Cold home beverage dispensers to compete with SodaStream. Coca Cola and Pepsi are branching out into the home beverage sector against the backdrop of a decade of declining carbonated beverage sales in the U.S.
SodaStream disclosed at the beginning of October that its third quarter revenues would be much lower than forecasted, at $125 million. On average, analysts were predicting the figure to come in at $153 million. At $8.5 million, quarterly operating profits were also lower than market expectations, the company admitted.
"We are very disappointed in our recent performance," Birnbaum, said at the time. "The third-quarter results are a clear indication that we must alter our course and improve our execution across the board."
Labor dispute
Among the adverse events that the company had to deal with this year was a particularly sensitive labor dispute involving about 60 Palestinian employees at its Ma'aleh Adumim plant in the West Bank. The workers were fired after going out on strike over the quality of the food provided by the company to break the fast during Ramadan. A short time later, the head of SodaStream Israel, Efi Eshel, announced his own resignation.
In August, Soros Fund Management, which manages the assets of the U.S. billionaire George Soros, announced that it was divesting its holdings in SodaStream, apparently as a result of pressure from the international boycott, disinvestment and sanction movement against Israel. The BDS movement has targeted SodaStream because of its operations in Ma'aleh Adumim.
The Soros confirmed that it no longer owns SodaStream stock, though a spokesman declined to say why or when the shares were sold. That didn't stop the BDS movement from taking credit, however. Bloomberg News reported that Soros acquired the shares for $24.3 million, meaning the SodaStream holding amounted to just 0.3% of the fund's $9.3 billion in U.S. assets.
The sale of the shares by Soros followed similar steps by other major international investment entities that have sold their holdings in companies with business operations in West Bank settlements or that provide security services in the territory.
The company's West Bank operations embroiled its public face, actress Scarlett Johansson, in the boycott controversy earlier this year. Johansson refused to part ways with SodaStream, but the company remains a favorte target of the BDS movement.
SodaStream has since announced that it will be shifting production from Ma'aleh Adumim – a move apparently designed to undercut calls for a boycott of the company around the world. The company says that the fate of the Ma'aleh Adumim plant is still being decided, but the prosects don't look good: Last January, Birnbaum said if he could do it all over again, he would never would have established the Ma'aleh Adumim plant to begin with. Its location has turned out to be "a pain in the ass."
Three months ago, the company opened a new plant at Lehavim in the Negev and shifted production to the site. SodaStream also has a plant at Alon Tavor in Israel's north, where painting and assembly of its dispensers is done, and a flavored-syrup production facility in Ashkelon, on the southern Mediterranean coast. It also has about 20 other plants elsewhere around the world.
____________________________________
With reporting by Reuters.
Join the BDS-BOYCOTT, DIVESTMENT, SANCTIONS campaign to protest the Israeli barbaric siege of Gaza, illegal occupation of the Palestine nation's territory, the apartheid wall, its inhuman and degrading treatment of the Palestinian people, and the more than 7,000 Palestinian men, women, elderly and children arbitrarily locked up in Israeli prisons.
DON'T BUY PRODUCTS WHOSE BARCODE STARTS WITH 729, which indicates that it is produced in Israel. DO YOUR PART! MAKE A DIFFERENCE!
7 2 9: BOYCOTT FOR JUSTICE!
DISCLAIMER: The statements, views and opinions expressed in pieces republished here are solely those of the authors and do not necessarily represent those of TMS. In accordance with title 17 U.S.C. section 107, this material is distributed without profit to those who have expressed a prior interest in receiving the included information for research and educational purposes. TMS has no affiliation whatsoever with the originator of this article nor is TMS endorsed or sponsored by the originator. "GO TO ORIGINAL" links are provided as a convenience to our readers and allow for verification of authenticity. However, as originating pages are often updated by their originating host sites, the versions posted may not match the versions our readers view when clicking the "GO TO ORIGINAL" links. This site contains copyrighted material the use of which has not always been specifically authorized by the copyright owner. We are making such material available in our efforts to advance understanding of environmental, political, human rights, economic, democracy, scientific, and social justice issues, etc. We believe this constitutes a 'fair use' of any such copyrighted material as provided for in section 107 of the US Copyright Law. In accordance with Title 17 U.S.C. Section 107, the material on this site is distributed without profit to those who have expressed a prior interest in receiving the included information for research and educational purposes. For more information go to: http://www.law.cornell.edu/uscode/17/107.shtml. If you wish to use copyrighted material from this site for purposes of your own that go beyond 'fair use', you must obtain permission from the copyright owner.