8 Lessons Learned from the Million Mask March That Can Benefit All Activists
ACTIVISM, 1 Dec 2014
Justin King – Anonymous Headquarters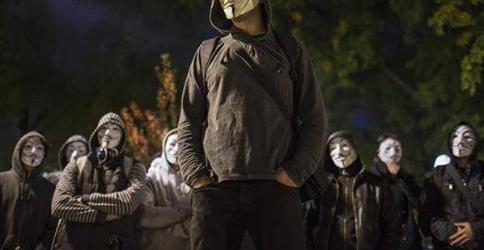 24 Nov 2014 – The Million Mask March in Washington, DC provided many teachable moments for activists.
Expect arrest. At any protest, the chances of arrest are high. Getting arrested is a little unnerving the first time. It is important to stay calm and say nothing to law enforcement; you'll be out before you know it. Don't resist unless your life is in jeopardy. If the press is near, it is a certainty that you will be on the news. This is a chance to reach millions. Know what you are going to say. The Million Mask March takes Capitol Hill.[/caption]If you give the press a good sound bite, they will use it. Speak clearly to the press and look at the cameras. Keep the statement short and sweet.
Stay out of areas that can easily be sealed off. The Million Mask March occupied a tunnel simply because the protesters knew law enforcement wanted them to stay out of it. The decision to move into the tunnel occurred shortly after the crowd witnessed a Department of Homeland Security tactical team appeared. Had DHS wanted to end the protest, they could have blocked off both ends of the tunnel and started arrests.
You are reaching the uninformed. When engaging bystanders and the press understand that you are reaching people that may never have heard of Agenda 21 or GMOs. If you start the conversation with something that sounds crazy, even if it's true, you will lose your audience. Rather than saying "The government killed Martin Luther King," try "Domestic surveillance has run amok." Yes, the government did kill MLK. It was proven in federal court, but the unawakened do not know this, and you will just look like a nut.
Arrests occur when activists are in small groups. Every arrest and attempted arrest (including mine) occurred when people were separated from the main body of the protest. There is safety in numbers and going off on your own is inviting law enforcement interaction.
The press will screw you. If an act of civil disobedience is taking place, it is important to chant why it is happening. If, for example, a cop car runs over a protester and the protesters surround the car and shake it, the news footage looks like protesters attacked the cop without cause. Make sure the audio on the footage provides context for the event. It's harder for the mainstream news to edit the clip that way.
Mitigate the damage done by outspoken individuals. In every movement there are people that have extreme ideas. When the press finds them, as they always will, it is important to simply remove yourself from the footage. Don't stand behind the person speaking and roll your eyes. This will shatter any image of unity. Don't stand beside someone who is saying something you don't support. When documenting protests, cameramen are trained to try to capture the protest in the background during an interview. If the background suddenly clears, the interview will be ended.
Don't "out" undercover cops. As tempting as it is to simply call undercover cops out, there is a better use for them once they are identified. Photograph them and troll them. Stand near them and discuss fictitious people or plans. Lead them to believe that the majority of the protest is getting ready in the lobby of a hotel across town and will be marching to meet the group they are embedded with. If they take the bait, you have successfully divided their forces and increased the safety of the other protesters. You are really only limited by your imagination here.
Run into the crowd, not away from it. If you decide to run from police when they, for example, try to illegally detain you for filming on a public street, run towards the crowd. The crowd will help you blend in and disappear. Anonymous in particular has the added advantage of everybody looking the same. The majority of the crowd fits the description of "White male wearing a dark shirt and white mask." Running away from the crowd gives the officers a clear line of sight. You might be able to outrun the tubby guy chasing you, but you can't outrun his radio.
The next time you happen to be at a protest, keep these things in mind.
Credit: http://theantimedia.org/8-lessons-learned-million-mask-march-can-benefit-activists/
DISCLAIMER: The statements, views and opinions expressed in pieces republished here are solely those of the authors and do not necessarily represent those of TMS. In accordance with title 17 U.S.C. section 107, this material is distributed without profit to those who have expressed a prior interest in receiving the included information for research and educational purposes. TMS has no affiliation whatsoever with the originator of this article nor is TMS endorsed or sponsored by the originator. "GO TO ORIGINAL" links are provided as a convenience to our readers and allow for verification of authenticity. However, as originating pages are often updated by their originating host sites, the versions posted may not match the versions our readers view when clicking the "GO TO ORIGINAL" links. This site contains copyrighted material the use of which has not always been specifically authorized by the copyright owner. We are making such material available in our efforts to advance understanding of environmental, political, human rights, economic, democracy, scientific, and social justice issues, etc. We believe this constitutes a 'fair use' of any such copyrighted material as provided for in section 107 of the US Copyright Law. In accordance with Title 17 U.S.C. Section 107, the material on this site is distributed without profit to those who have expressed a prior interest in receiving the included information for research and educational purposes. For more information go to: http://www.law.cornell.edu/uscode/17/107.shtml. If you wish to use copyrighted material from this site for purposes of your own that go beyond 'fair use', you must obtain permission from the copyright owner.