(Castellano) Periodismo en Tiempos Macabros – El Horror como Mercancía Noticiosa
ORIGINAL LANGUAGES, 1 Dec 2014
Fernando Buen Abad, Rebelión/Universidad de la Filosofía – TeleSur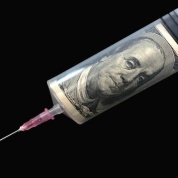 No se trata de una "novedad" de ocasión, muertos, heridos y desaparecidos -a raudales- son una constante del paisaje macabro orquestado por la terquedad asesina del capitalismo para adueñarse de las riquezas naturales, del trabajo y de la conciencia de todos los seres humanos. El Apocalipsis en "cámara lenta". Son siglos de estulticia y crimen convertidos en industria bélica además santificados por los bancos y por un empresariado global cómplice carroñero de asesinatos masivos y a mansalva. Es el capitalismo y su sed de barbarie. ¿Es eso una noticia nueva? Sálvense las excepciones que puedan salvarse.
En su mayoría más abrumadora, las industrias de la noticia han sido también coparticipes del crimen cometido por el capitalismo porque han cumplido con su rol como asesinas de la verdad en público. A pesar de su "prestigio" auto-producido, de que se auto-premien y auto-aplaudan; que se digan "decanas del periodismo", "paradigmas de la objetividad" y del buen juicio informativo… lo cierto es que un resumen en perspectiva sobre el rol de la prensa en los siglos que el capitalismo lleva depredando al mundo, es realmente bochornoso. Una vergüenza nutrida por episodios infinitos de corrupción, connivencia criminal y servidumbre mercantil al "delito de lesa humanidad" que es saquear, explotar y enajenar a los pueblos.
Y una de las peores consecuencias de esa "industria de la noticia" basada en mentir, con formas sofisticadas, consiste en fabricar "escuelas" (en todos sus sentidos), en esparcir sus gérmenes ideológicos entre un séquito de "periodistas" acríticos, mansos y serviles, que reptan por todo el planeta haciendo metástasis de su estulticia y de su servilismo periodístico. Dan cátedras, publican libros, enciclopedias y manuales, promueven talleres, seminarios y coloquios. Todo eso mientras ocurren los crímenes del capitalismo, sus fraudes políticos, los robos de los banqueros, los saqueos desde las empresas trasnacionales y el exterminio lento y largo de la clase trabajadora bajo el peso descomunal de la "legalidad" burguesa. En la prensa ni una palabra. Muchos egresados de las escuelas del periodismo burgués exhiben con orgullo las cicatrices de su cerebro donde han sido obturadas todas las capacidades críticas. Una monstruosidad con títulos universitarios para salir en la "tele" de sus amos.
Ejercer el trabajo periodístico con la razón anestésica como editorial oculta, es traficar la ideología del amo a costa, incluso, de los intereses laborales del "periodista". Se convierten en sirvientes de una máquina de guerra ideológica que cierra toda posibilidad de entendimiento crítico sobre las barbaridades que ocurren y sobre las barbaridades con que se "informa" al "público", al "consumidor" o a la "audiencia".  Nunca a un interlocutor igual a quien se habla. Pero se hacen los "objetivos", los "neutros"… ponen carita "inocente" y defienden como fieras su "derecho" a travestirse como seres informativos "autónomos" o "independientes". Falacias todas de mercado con que se domestica una masa de profesionales que no pueden, que no quieren y que no se interesan por trasformar el mundo que, también a ellos, explota y aplasta.
Incluso en las "mejores intenciones", hace falta una herramienta autocrítica muy ágil y muy penetrante. Nadie está a salvo si vive en las cloacas del periodismo mercantil acariciando la primicia que lo llevará a la gloria salarial y a la fama entre crápulas. Algunos codician reportajes sobre un buen muerto (o un grupo de ellos) jugoso en amarillismo y suculento para el morbo mediático. Otros anhelan un buen chisme, un episodio escandaloso donde la estrella sea el que pone el micrófono ente los protagonistas más convenientes a la lógica de raiting que calienta las pantallas para una tanda de publicidad postrera. A eso le llaman, orgullosamente, "periodismo". Y se aplauden entre ellos y algunos de sus familiares.
A eso nos han acostumbrado en México, por ejemplo. A eso nos han sometido inconsulta e inclementemente durante décadas y más décadas. Los monopolios de la "información" atacan a los pueblos diariamente con sus metrallas de mentiras y "noticias" tendenciosas en las que nadie se salva de complicidad estructural y sistémica en la lógica de mercantilizar el horror. Como si fuese eso un logro profesional. Cada episodio macabro es presa de jaurías "periodísticas" que sale a carroñar su pedacito de gloria "informativa" arrancada de las fauces de la injusticia, la impunidad o el desamparo social. Y lo pasan por la tele.
No vamos a quedarnos callados ante este crimen de "lesa humanidad" no tipificado por las "convenciones éticas" ni de los "derechos humanos" de las oligarquías. No nos silenciarán las jaurías burguesas por más que nos ignoren o nos criminalicen por ejercer las capacidades y derechos democráticos de la critica social. No vamos a quedarnos callados ante la barbarie del periodismo mercantil que a mansalva arrasa con la verdad y siembra su discurso miserable, mezquino y retrógrada para cobrar unos pesos y ganar palmaditas de sus amos. No vamos a quedarnos callados por el simple y llano hecho de que el silencio, en este como en muchos casos, nos hace cómplices.
____________________________
Fernando Buen Abad es mexicano de nacimiento. Doctor en Filosofía, Licenciado en Ciencias de la Comunicación. Dirige el Laboratorio de Escritura Creativa en México y Argentina. Colaborador editorialista de diversos diarios y suplementos culturales.
Go to Original – telesurtv.net
DISCLAIMER: The statements, views and opinions expressed in pieces republished here are solely those of the authors and do not necessarily represent those of TMS. In accordance with title 17 U.S.C. section 107, this material is distributed without profit to those who have expressed a prior interest in receiving the included information for research and educational purposes. TMS has no affiliation whatsoever with the originator of this article nor is TMS endorsed or sponsored by the originator. "GO TO ORIGINAL" links are provided as a convenience to our readers and allow for verification of authenticity. However, as originating pages are often updated by their originating host sites, the versions posted may not match the versions our readers view when clicking the "GO TO ORIGINAL" links. This site contains copyrighted material the use of which has not always been specifically authorized by the copyright owner. We are making such material available in our efforts to advance understanding of environmental, political, human rights, economic, democracy, scientific, and social justice issues, etc. We believe this constitutes a 'fair use' of any such copyrighted material as provided for in section 107 of the US Copyright Law. In accordance with Title 17 U.S.C. Section 107, the material on this site is distributed without profit to those who have expressed a prior interest in receiving the included information for research and educational purposes. For more information go to: http://www.law.cornell.edu/uscode/17/107.shtml. If you wish to use copyrighted material from this site for purposes of your own that go beyond 'fair use', you must obtain permission from the copyright owner.