(Português) Alternativas à experimentação animal no Brasil
ORIGINAL LANGUAGES, 2 Feb 2015
Timothy Bancroft-Hinchey - Pravda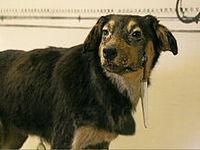 29 jan 2015 ‒ O Congresso Nacional se prepara para aprovar um investimento substancial de R$ 16,7 milhões em métodos alternativos eticamente e cientificamente superiores à experimentação animal. Os fundos foram disponibilizados graças a uma série de emendas parlamentares à Lei Orçamentária Anual (LOA) de 2015. As emendas foram aprovadas por parlamentares individuais e pela Comissão de Ciência e Tecnologia do Senado após diversas reuniões organizadas pela Humane Society International (HSI) e garantem financiamento para a Rede Nacional de Métodos Alternativos (RENAMA). A HSI saúda a iniciativa como um investimento vital em métodos científicos de ponta e parabeniza os membros do Congresso pela sua visão.
Antoniana Ottoni, assessora legislativa da HSI, disse: "Parabenizamos os membros do Congresso pelas discussões construtivas com a Humane Society International. Esse financiamento para alternativas à experimentação animal é uma boa notícia para a ciência, os animais e os consumidores, pois pode potencialmente trazer para o Brasil métodos modernos de ensaio in vitro ainda não utilizados aqui. Isso reflete o crescente reconhecimento de que testes in vitro são mais eficientes, relevantes para humanos e éticos do que os testes em animais que substituem. Estamos confiantes de que as emendas serão confirmadas na próxima semana".
O deputado Ricardo Tripoli (PSDB – SP), que fez uma emenda no valor de R$ 1,5 milhão, disse: "Pela primeira vez na história da peça orçamentária federal, pudemos apresentar emendas individuais para incentivar a pesquisa e implantação de métodos alternativos ao uso de animais em experimentos científicos. É um avanço e representa uma esperança concreta na tentativa de mudar a triste realidade que conhecemos. Vamos ficar atentos à tramitação e apreciação das emendas para que possamos garantir o efetivo empenho desses recursos em favor dos nossos animais".
Uma emenda no valor de R$ 15 milhões foi aprovada pela Comissão de Ciência e Tecnologia do Senado. A emenda recebeu o apoio dos senadores Anibal Diniz (PT – AC), Angela Portela (PT – RR), Valdir Raupp (PMDB – RO), João Capiberibe (PSB – AP) e Lídice da Mata (PSB – BA). A votação da LOA de 2015 está prevista para a primeira semana de fevereiro.
O senador João Capiberibe (PSB – AP), da Comissão de Ciência e Tecnologia, disse: "Tecnologias que garantem a segurança humana são medidas irrefutáveis. Já sabemos que o modelo de pesquisa que utiliza animais, além de ser muito cruel, encontra-se defasado, ultrapassado. A substituição do modelo animal em pesquisas científicas e acadêmicas é necessária e plenamente viável. Eu acredito nisso, por isso estamos trabalhando no sentido de estimular essa prática, para que maiores investimentos sejam direcionados para a pesquisa sem o uso de animais. Parabenizo a Humane Society International que tem sido uma das pioneiras nessa luta"
A HSI vai trabalhar com o governo para garantir que os fundos sejam liberados o mais rápido possível.
A HSI é uma das maiores organizações do mundo que promove a substituição dos testes em animais por métodos alternativos. Além de causar sofrimento animal, é cientificamente questionável usar outras espécies, como ratos e cães, para testar produtos químicos ou farmacêuticos quando suas respostas biológicas e fisiológicas podem ser tão diferentes das de seres humanos. Por outro lado, os avanços tecnológicos recentes disponibilizam uma gama de ferramentas modernas, incluindo um crescente conjunto de testes in vitro, que estão transformando a segurança química e farmacêutica e permitindo aos cientistas estudar com mais precisão os efeitos sobre a biologia humana em nível molecular e celular.
A Humane Society International (HSI) e suas organizações parceiras constituem juntas uma das maiores e mais importantes organizações de proteção animal do mundo. Por mais de 20 anos, a HSI vem lutando para a proteção de todos os animais por meio de trabalhos de conscientização, educação e programas práticos. HSI: Celebrando todos os animais e confrontando a crueldade em todo o mundo: hsi.org/libertesedacrueldade<http://www.hsi.org/libertesedacrueldade>.
__________________________
Timothy Bancroft-Hinchey – Editorialista do Pravda sediado em Washington, DC.
DISCLAIMER: The statements, views and opinions expressed in pieces republished here are solely those of the authors and do not necessarily represent those of TMS. In accordance with title 17 U.S.C. section 107, this material is distributed without profit to those who have expressed a prior interest in receiving the included information for research and educational purposes. TMS has no affiliation whatsoever with the originator of this article nor is TMS endorsed or sponsored by the originator. "GO TO ORIGINAL" links are provided as a convenience to our readers and allow for verification of authenticity. However, as originating pages are often updated by their originating host sites, the versions posted may not match the versions our readers view when clicking the "GO TO ORIGINAL" links. This site contains copyrighted material the use of which has not always been specifically authorized by the copyright owner. We are making such material available in our efforts to advance understanding of environmental, political, human rights, economic, democracy, scientific, and social justice issues, etc. We believe this constitutes a 'fair use' of any such copyrighted material as provided for in section 107 of the US Copyright Law. In accordance with Title 17 U.S.C. Section 107, the material on this site is distributed without profit to those who have expressed a prior interest in receiving the included information for research and educational purposes. For more information go to: http://www.law.cornell.edu/uscode/17/107.shtml. If you wish to use copyrighted material from this site for purposes of your own that go beyond 'fair use', you must obtain permission from the copyright owner.