Macedonia, the New U.S.-Russia Battlefield
BALKANS & EASTERN EUROPE, 25 May 2015
19 May 2015 – Macedonia is a poor, landlocked Balkan country of about 2 million. To the Kremlin, it's also the newest front in an ideological battle, with the U.S. fomenting regime change to counter Russia's influence. As is often the case, that view is correct to the extent that Russian interests are aligned with those of a corrupt authoritarian ruler.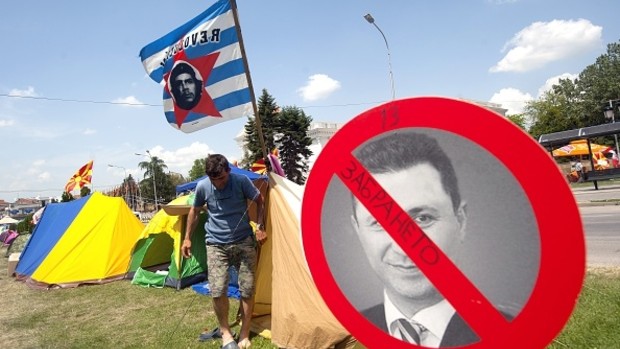 Here's what Russian Foreign Minister Sergei Lavrov had to say last week:
I cannot judge for sure, but it so happens objectively that these events in Macedonia are unfolding against the background of the Macedonian government's refusal to join sanctions against Russia and an active support from Skopje for the plans to build the Turkish Stream pipeline, to which many in Brussels and across the Atlantic are opposed. We cannot get rid of this feeling that there's some sort of a connection.
The origins of this conjecture, and Lavrov's sarcasm, are clear. The Kremlin couldn't help being suspicious about the timing of Macedonia's political crisis. In December, President Vladimir Putin announced that Russia was scrapping its South Stream pipeline project, designed to bypass Ukraine and enter the European Union via Bulgaria. The EU had put intense pressure on Bulgaria to undermine the project. The Bulgarian government that supported the project — and made possible a sweetheart deal with one of Putin's billionaire friends to lay the pipeline — was replaced in a snap election, and Russia lost the entry point.
Undeterred, Putin made a deal with President Recep Tayyip Erdogan to divert the future pipeline to Turkey (a map is available here), hoping to extend it into the Balkans. Serbia, a candidate for EU membership, is going through some soul-searching about the project; to get to Serbia without crossing Bulgaria, the pipeline would need to traverse both Greece (which Russia is trying to court with aid offers) and Macedonia. The U.S. has been lobbying Greece to go with a competing pipeline project that would transport gas from Azerbaijan rather than Russia.
As for Macedonia, two months after the Turkish Stream plans were broached, the opposition leader Zoran Zaev started publishing secret recordings of officials' conversations. Zaev said the recordings, made by Prime Minister Nikola Gruevski's government as part of a sweeping surveillance operation, were handed to him by a whistleblower. The frank, and sometimes coarse, conversations cover a lot of ground, from violence against political opponents and electoral fraud to the purchase of a Mercedes for Gruevski using the Interior Ministry as cover (the interior minister, who has since resigned, is heard discussing the massage function of the car's rear seats with the chief of intelligence, who has also quit in disgrace).
Macedonians were not amused, and even the country's Albanian minority, which had never made common cause with the Macedonian opposition, joined huge rallies in the capital, Skopje. Last weekend, tens of thousands of protesters turned out in the town center, which Gruevski recently decorated with kitschy neoclassical buildings and statues at a cost the tiny nation could ill afford. On Monday, the prime minister, who has been running Macedonia for almost 10 years, staged his own counter-rally. He called the intercepts "a great lesson" and denounced Zaev as a foreign puppet with a "script writer," and called on supporters to "imagine a prime minister brought to power by foreign services."
To Team Putin, this is familiar ground: Events are following the same course as in Ukraine in 2013 and 2014, when Viktor Yanukovych's corrupt regime was ousted by a popular uprising. The Kremlin believes the U.S. fomented similar revolutions in Georgia in 2003, in Ukraine in 2005 and in Moldova in 2009 and made several less successful attempts to bring down pro-Moscow regimes in former Soviet countries. Waves of regime change such as the Arab Spring also fall under Putin's definition of U.S.-engineered revolutions. The word he uses to describe them is, curiously, the same as Gruevski's description of the incriminating recordings: "a lesson" for Russia on what to avoid.
Many ordinary Russians also believe in the conspiracy theory because there is a superficial kind of truth to it. The U.S. and its EU allies do want to limit Russia's influence, all the more so after Russia's annexation of Crimea. They also worry about Putin's tendency to weaponize natural gas supplies, raising prices for countries that take a stand against him and lowering them for allies. The containment strategy and the efforts to damp Russia's energy dominance are transparent, and so is Western support for popular movements that seek to undermine Putin-friendly authoritarian leaders.
The problem with the theory, however, is that when a nation overthrows its leader as Ukrainians did last year, it's usually because it's fed up with conspicuous corruption, rigged elections and restrictions on media freedom. In Europe especially, the example of neighboring nations with relatively well-functioning political systems and a higher degree of fairness and democratic engagement beckons non-EU nations. People fail to see why their country has to be worse. What Putin doesn't — or doesn't want to — understand is that corrupt foreign politicians are at risk of being overthrown, which can wipe out years of Russian diplomatic efforts and harm Russia's economic interests.
Russia has now beefed up its embassy in Skopje and is beginning to echo Gruevski's claims about foreign agents. Moscow cannot, however, protect a rotten regime that's genuinely losing Macedonians' trust — and the recordings are a good reason for the locals to mistrust their government.
The West, however, has a habit of failing to extend its support to reformers much beyond the day of regime change. The result is that countries slide back into their corrupt ways. That's what happened in Ukraine after 2005, and, in recent years, in Georgia. Macedonia, whose EU membership ambitions have been hampered by Greece because of a longstanding dispute, deserves clearer guarantees of a European path if it gets rid of Gruevski and moves toward a stronger democracy and cleaner government. If that interferes with Putin's pipeline plans, that's fine: Russia will still get its gas to Europe through Turkey, even if it doesn't have a stake in the infrastructure that will carry it.
___________________________
To contact the author on this story: Leonid Bershidsky lbershidsky@bloomberg.net
To contact the editor on this story: Mark Gilbert magilbert@bloomberg.net
Go to Original – bloombergview.com
DISCLAIMER: The statements, views and opinions expressed in pieces republished here are solely those of the authors and do not necessarily represent those of TMS. In accordance with title 17 U.S.C. section 107, this material is distributed without profit to those who have expressed a prior interest in receiving the included information for research and educational purposes. TMS has no affiliation whatsoever with the originator of this article nor is TMS endorsed or sponsored by the originator. "GO TO ORIGINAL" links are provided as a convenience to our readers and allow for verification of authenticity. However, as originating pages are often updated by their originating host sites, the versions posted may not match the versions our readers view when clicking the "GO TO ORIGINAL" links. This site contains copyrighted material the use of which has not always been specifically authorized by the copyright owner. We are making such material available in our efforts to advance understanding of environmental, political, human rights, economic, democracy, scientific, and social justice issues, etc. We believe this constitutes a 'fair use' of any such copyrighted material as provided for in section 107 of the US Copyright Law. In accordance with Title 17 U.S.C. Section 107, the material on this site is distributed without profit to those who have expressed a prior interest in receiving the included information for research and educational purposes. For more information go to: http://www.law.cornell.edu/uscode/17/107.shtml. If you wish to use copyrighted material from this site for purposes of your own that go beyond 'fair use', you must obtain permission from the copyright owner.