Controversial GCHQ Unit Engaged in Domestic Law Enforcement, Online Propaganda, Psychology Research
WHISTLEBLOWING - SURVEILLANCE, 22 Jun 2015
Glenn Greenwald and Andrew Fishman – The Intercept
22 Jun 2015 – The spy unit responsible for some of the United Kingdom's most controversial tactics of surveillance, online propaganda and deceit focuses extensively on traditional law enforcement and domestic activities — even though officials typically justify its activities by emphasizing foreign intelligence and counter-terrorism operations.
Documents published today by The Intercept demonstrate how the Joint Threat Research Intelligence Group (JTRIG), a unit of the signals intelligence agency Government Communications Headquarters (GCHQ), is involved in efforts against political groups it considers "extremist," Islamist activity in schools, the drug trade, online fraud, and financial scams.
Though its existence was secret until last year, JTRIG quickly developed a distinctive profile in the public understanding, after documents from NSA whistleblower Edward Snowden revealed that the unit had engaged in "dirty tricks" like deploying sexual "honey traps" designed to discredit targets, launching denial-of-service attacks to shut down internet chat rooms, pushing veiled propaganda onto social networks, and generally warping discourse online.
Early official claims attempted to create the impression that JTRIG's activities focused on international targets in places like Iran, Afghanistan, and Argentina. The closest the group seemed to get to home was in its targeting of trans-national "hacktivist" group Anonymous.
While some of the unit's activities are focused on the claimed areas, JTRIG also appears to be intimately involved in traditional law enforcement areas and UK-specific activity, as previously unpublished documents demonstrate. An August, 2009 JTRIG memo entitled "Operational Highlights" boasts of "GCHQ's first serious crime effects operation" to shut down internet forums and to remove websites identifying police informants and members of a witness protection program. Another was "used to facilitate and execute online fraud." The document also describes GCHQ advice provided "to assist the UK negotiating team on climate change."
Particularly revealing is a fascinating 42-page document from 2011 detailing JTRIG's activities. It provides the most comprehensive and sweeping insight to date into the scope of this unit's extreme methods. Entitled "Behavioral Science Support for JTRIG's Effects and Online Humint [Human Intelligence] Operations," it describes the types of targets on which the unit focuses, the psychological and behavioral research it commissions and exploits, and its future organizational aspirations. It is authored by a psychologist, Mandeep K. Dhami.
Among other things, the document lays out the tactics the agency uses to manipulate public opinion, its scientific and psychological research into how human thinking and behavior can be influenced, and the broad range of targets that are traditionally the province of law enforcement rather than intelligence agencies.
JTRIG's domestic and law enforcement operations are made clear. The report states that the controversial unit "currently collaborates with other agencies" including the Metropolitan police, Security Service (MI5), Serious Organised Crime Agency (SOCA), Border Agency, Revenue and Customs (HMRC), and National Public Order and Intelligence Unit (NPOIU). The document highlights that key JTRIG objectives include "providing intelligence for judicial outcomes;" monitoring "domestic extremist groups such as the English Defence League by conducting online HUMINT;" "denying, deterring or dissuading" criminals and "hacktivists;" and "deterring, disrupting or degrading online consumerism of stolen data or child porn."
It touts the fact that the unit "may cover all areas of the globe." Specifically, "operations are currently targeted at" numerous countries and regions including Argentina, Eastern Europe and the UK.
JTRIG's domestic operations fit into a larger pattern of UK-focused and traditional law enforcement activities within GCHQ.
Many GCHQ documents describing the "missions" of its "customers" for which it works make clear that the agency has a wide mandate far beyond national security, including providing help on intelligence to the Bank of England, to the Department for Children, Schools and Families on reporting of "radicalization," to various departments on agriculture and whaling activities, to government financial divisions to enable good investment decisions, to police agencies to track suspected "boiler room fraud," and to law enforcement agencies to improve "civil and family justice."
Previous reporting on the spy agency established its focus on what it regards as political radicalism. Beyond JTRIG's targeting of Anonymous, other parts of GCHQ targeted political activists deemed to be "radical," even monitoring the visits of people to the WikiLeaks website. GCHQ also stated in one internal memo that it studied and hacked popular software programs to "enable police operations" and gave two examples of cracking decryption software on behalf of the National Technical Assistance Centre, one "a high profile police case" and the other a child abuse investigation.
The JTRIG unit of GCHQ is so notable because of its extensive use of propaganda methods and other online tactics of deceit and manipulation. A 2011 report on the organization's operations, published today, summarizes just some of those tactics: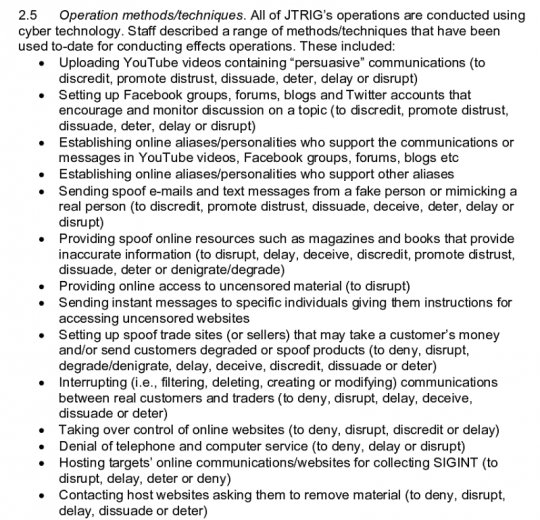 Throughout this report, JTRIG's heavy reliance on its use of behavioral science research (such as psychology) is emphasized as critical to its operations. That includes detailed discussions of how to foster "obedience" and "conformity":
…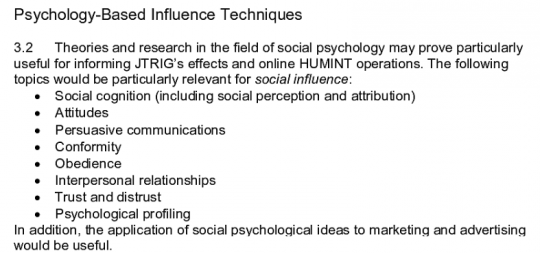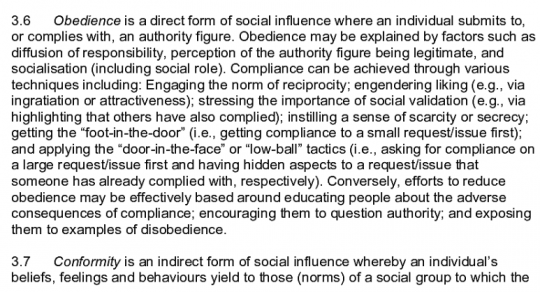 In response to inquiries, GCHQ refused to provide on-the-record responses beyond its boilerplate claim that all its activities are lawful.
_______________________________
Documents published with this article:
Email the authors: glenn.greenwald@theintercept.com, fishman@theintercept.com
Go to Original – firstlook.org
DISCLAIMER: The statements, views and opinions expressed in pieces republished here are solely those of the authors and do not necessarily represent those of TMS. In accordance with title 17 U.S.C. section 107, this material is distributed without profit to those who have expressed a prior interest in receiving the included information for research and educational purposes. TMS has no affiliation whatsoever with the originator of this article nor is TMS endorsed or sponsored by the originator. "GO TO ORIGINAL" links are provided as a convenience to our readers and allow for verification of authenticity. However, as originating pages are often updated by their originating host sites, the versions posted may not match the versions our readers view when clicking the "GO TO ORIGINAL" links. This site contains copyrighted material the use of which has not always been specifically authorized by the copyright owner. We are making such material available in our efforts to advance understanding of environmental, political, human rights, economic, democracy, scientific, and social justice issues, etc. We believe this constitutes a 'fair use' of any such copyrighted material as provided for in section 107 of the US Copyright Law. In accordance with Title 17 U.S.C. Section 107, the material on this site is distributed without profit to those who have expressed a prior interest in receiving the included information for research and educational purposes. For more information go to: http://www.law.cornell.edu/uscode/17/107.shtml. If you wish to use copyrighted material from this site for purposes of your own that go beyond 'fair use', you must obtain permission from the copyright owner.