The First Christmas without Our Santa Claus: Remembering Dietrich
TRANSCEND News, 28 Dec 2015
Nirmanusan Balasundaram – TRANSCEND Media Service

25 Dec 2015 – Dietrich has been described at times as Santa Claus. And because of this, during the festive season, Dietrich would become more special a person.
This is the first Christmas we are going to celebrate without his physical existence.
Dietrich was a kind, thoughtful and great human being. As far I am aware, his punctuality and time-keeping was to the second, from starting classes on time to taking a quick nap while his vehicle stopped at the traffic light! Unfortunately, we could not delay his final departure. We never thought that death would come to Dietrich so quickly. As my friend Mark wrote: Dietrich never liked to be late for anything. That may be the reason that even in leaving us, he did so pronto.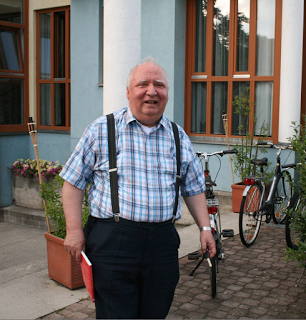 He was helpful to many students through different ways, from offering his phone for students to call their loved ones in a remote village in the African continent to war-devastated Afghanistan; from lending his car for a student's personal use to taking students shopping with him; from inviting students along with lecturers for lunch, to giving tips to students on how to cook.
Dietrich never liked to waste food so he would eat all the left-overs without throwing anything in the bin, despite this not being good for his health. He also gave advice on how to drive, where to go for better shopping and how to memorize telephone numbers. I'm sure we all remember how he never wrote any of our telephone numbers down but rather had a special technique to memorize each and every student's telephone number by heart. Even computers have limited memory, but when it comes to memorizing telephone numbers, nothing could beat Dietrich.
He loved to give presents. Mostly, they would be Prof. Johan Galtung's books. I have watched him recite the contents of Prof. Johan Galtung's books, down to the specific paragraph under the specific topic on the precise page number.
The only times we saw Dietrich angry was when students were late for classes, even if it was by seconds. I remember the only time he ever got angry with me was when I was late for a class. He was at the door when I was heading in to the lecture and told me in a loud voice, "Nirma, you are late to class by twenty seconds. This is not a good habit!"
He was an optimist and tried to see the positive in most situations. Once I had a critical accident while playing football and I had to be transferred to two different hospitals. The doctor informed Dietrich that my health condition was very serious and that I might lose vision in an eye. I was not aware of the extent of my internal injuries or the risks until Dietrich told me much later. While I was at the hospital though, suffering from severe pain, Dietrich called me and told me the good news that no harm had been confirmed, and kept me distracted with short stories and his adorable laugh. Though I was not in a situation to actively listen, he wanted to build my resilience through his short stories. After I was discharged, he was among my friends welcoming me. He ensured my family, who rushed to my side after my accident, were made comfortable, including preparing food for them. He had a story for every context of my situation and did not fail to share them with my family and me. He made all around him feel happy and made them smile not only with his jokes or stories, but even now when you think about Dietrich's smile, attitude, behavior and interventions you can't help but smile to yourself. He makes us smile even in his absence.
He has also shown great empathy for students when they encountered challenges in their life. I can recall how much he cared, was concerned and empathized with me during the final months of the war back home as well as during the time of my father's demise. He would tell me stories to build my resilience and keep me motivated to continue my struggle.
He was a thoughtful human being born to strengthen a shared future that would uphold nonviolence, humanity and peace.
Either ordinary life problems or peace building studies, Dietrich had answers to most situations, not through complex political theories but rather through simple short stories or jokes. I was so grateful to know and engage with Dietrich and I would like conclude my writing by sharing a story that Dietrich told me several times to encourage me to continue my struggle.
Starfish
A boy walking along the beach came across starfish on the sand. He picked them up and threw them back into the sea. A wise old man watched him for a while, and then asked him, "What are you doing?" The boy said, "I am saving the starfish." The wise old man laughed and said, "My dear boy, there are millions of starfish, you can never save them all." The boy replied, "I know I cannot save all of them, but it surely makes a difference for this one, and that one. They feel much better in the water. If they stay here on the beach, they will dry out and die." The old man agreed and began to help. He started to pick up the starfish and throw them into the water. Other people saw them and began to help. This way, enough starfish were saved and their survival ensured.
Alone we can do little, but by working together, we can accomplish a lot. If a problem looks too big for us to make a difference, let us nevertheless do what we can and hope we can inspire others to join us.
NB: When we (students) addressed Dietrich as Professor Fischer, he always told us to call him by his first name. Therefore, in this piece, I am addressing him as Dietrich.
_______________________________________
Nirmanusan Balasundaram is an exiled journalist and a human rights defender. He holds an MA in Peace and Conflict Studies from the European University Center for Peace Studies in Austria.
Dietrich Fischer (1941-2015) from Münsingen, Switzerland, got a Licentiate in Mathematics from the University of Bern 1968 and his Ph.D. in Computer Science from New York University 1976. 1986-88 he was a MacArthur Fellow in International Peace and Security at Princeton University. He has taught mathematics, computer science, economics and peace studies at various universities and been a consultant to the United Nations.
Go to Original – nirmanusan.blogspot.com.au
DISCLAIMER: The statements, views and opinions expressed in pieces republished here are solely those of the authors and do not necessarily represent those of TMS. In accordance with title 17 U.S.C. section 107, this material is distributed without profit to those who have expressed a prior interest in receiving the included information for research and educational purposes. TMS has no affiliation whatsoever with the originator of this article nor is TMS endorsed or sponsored by the originator. "GO TO ORIGINAL" links are provided as a convenience to our readers and allow for verification of authenticity. However, as originating pages are often updated by their originating host sites, the versions posted may not match the versions our readers view when clicking the "GO TO ORIGINAL" links. This site contains copyrighted material the use of which has not always been specifically authorized by the copyright owner. We are making such material available in our efforts to advance understanding of environmental, political, human rights, economic, democracy, scientific, and social justice issues, etc. We believe this constitutes a 'fair use' of any such copyrighted material as provided for in section 107 of the US Copyright Law. In accordance with Title 17 U.S.C. Section 107, the material on this site is distributed without profit to those who have expressed a prior interest in receiving the included information for research and educational purposes. For more information go to: http://www.law.cornell.edu/uscode/17/107.shtml. If you wish to use copyrighted material from this site for purposes of your own that go beyond 'fair use', you must obtain permission from the copyright owner.