How a Modest Contract for 'Applied Research' Morphed into the CIA's Brutal Interrogation Program
ANGLO AMERICA, 18 Jul 2016
Greg Miller – The Washington Post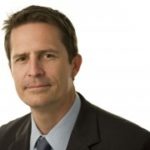 13 Jul 2016 – The architect of the CIA's brutal interrogation program was hired for the job through a secret contract in late 2001 that outlined the assignment with Orwellian euphemism.
The agency "has the need for someone familiar with conducting applied research in high-risk operational settings," the document said. The consultant would be in a unique position to "help guide and shape the future" of a vaguely described research project "in the area of counter-terrorism and special operations."
In fact, the CIA already had a specific consultant in mind, and the agreement to pay $1,000 a day to psychologist James E. Mitchell subsequently expanded into an $81 million arrangement to oversee the use of waterboarding, sleep deprivation and other harrowing techniques against al-Qaeda suspects in secret agency prisons overseas.
[Newly released CIA files expose grim details of agency interrogation program]
The abuses of that program have been documented extensively over the past decade, but the initial contracts between the CIA and the psychologists it hired to design the torturous interrogation regimen were surrendered by the agency for the first time earlier this month as part of an ACLU lawsuit.
The documents trace the origins of a clandestine program that became one of the most controversial in CIA history, one that was dismantled by President Obama in 2009 and widely condemned as torture.
The contracts, copies of which were obtained by the Post, show how Mitchell and his partner Bruce Jessen — Air Force veterans with no significant expertise in interrogation — were given wide authority to design punishing interrogation regimens for dozens of detainees and then evaluate whether their methods worked, all while securing increasingly lucrative follow-on contracts.
[Read the CIA contracts for James E. Mitchell]
[Read the CIA contracts for John B. Jessen]
The contracts "substantiate that these guys had significant latitude in the design and implementation of the program," said Steven Watt, a senior attorney with the ACLU's human rights program. "The CIA incentivized these guys to profit from torture."
Henry F. Schuelke III, an attorney for Mitchell and Jessen, declined to comment. The men are defendants in a lawsuit filed on behalf of former CIA detainees alleging that they were subjected to torture in violation of international laws against war crimes and the cruel and inhumane treatment of prisoners.
The newly released files show that Mitchell had been hired by the agency months before the Sept. 11, 2001, attacks for an assignment that had nothing to do with face-to-face interrogation methods. Instead, the CIA sought to enlist his help developing psychological profiles in cases when the agency had "limited access to the individual being assessed."
The nature of the work isn't specified, though CIA analysts are frequently asked to assemble profiles of foreign leaders and U.S. adversaries.
But within weeks of 9/11, Mitchell's assignment was morphing and expanding through a series of escalating contracts. Instead of innocuous profiles, he would serve as "a consultant to CTC special programs," a reference to the agency's Counterterrorism Center.
One of Mitchell's objectives would be to "adapt and modify the Bandura social cognitive theory for application in operational settings," a cryptic reference to a theory that learning is largely driven by rewards and punishments.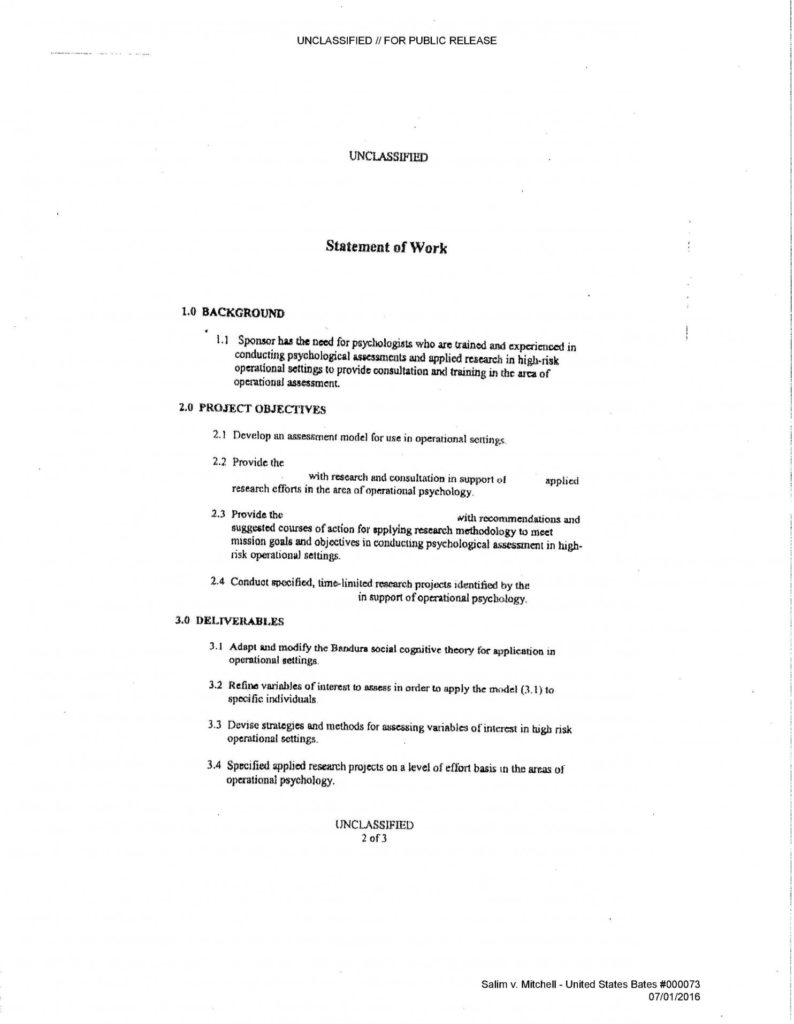 The methods embraced by Mitchell and Jessen were adapted from training programs designed to enable U.S. Special Operations forces to withstand torture if they were taken prisoner. A principal aim of the CIA program was to reduce detainees to a state of "learned helplessness."
The contracts repeatedly describe the work as a form of "research" even though the objective was far from academic. At the time, the CIA was desperately seeking any intelligence that might help avert other al-Qaeda plots, and Mitchell was in some cases directly involved in subjecting prisoners to waterboarding sessions to induce the panic of near-drowning.
The first detainee to be waterboarded was al-Qaeda suspect Abu Zubaydah, who was captured in Pakistan in March 2002. A month later, Mitchell's contract surged in size and scope, from $10,000 to more than $100,000.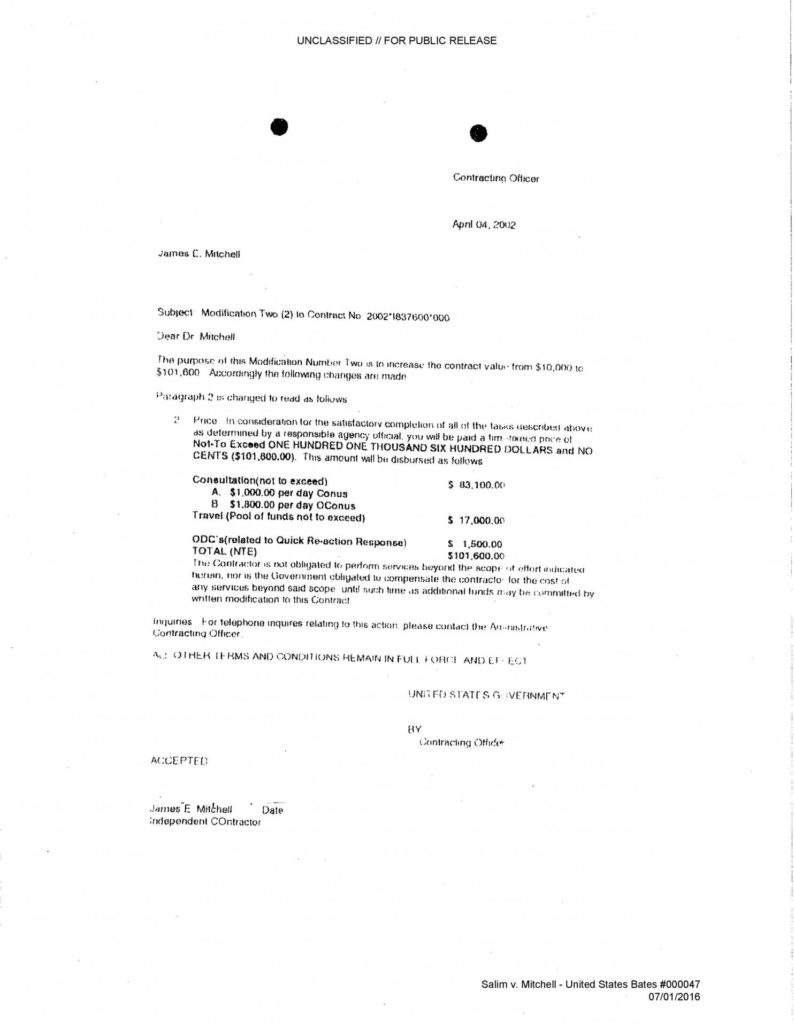 His consultation rate remained $1,000 when he was in the United States, but jumped to $1,800 overseas — a sum he would earn each day he served as an adviser or interrogator at a secret CIA facility in Thailand or other so-called black sites.
By 2005, Mitchell and Jessen had formed a company based in Spokane, Wash., to handle the expanding workload. They hired dozens of employees, including former CIA officers who returned to the black sites as contractors to an agency eager to outsource the interrogation work.
In 2006, Mitchell Jessen and Associates had secured a CIA contract worth $180 million, according to an extensive investigation of the interrogation program by the Senate Intelligence Committee, although the firm ultimately collected about half that amount.
As early as 2003, CIA employees had expressed concerns about the ethical conflicts of an arrangement in which Mitchell and Jessen were both administering harsh interrogation measures and repeatedly affirming their "effectiveness."
In its response to the Senate investigation, the CIA acknowledged that the two men "should not have been considered for such a role given their financial interest in continued contracts." The contract was severed in 2009, but not before the CIA agreed to a $5 million indemnification contract to protect Mitchell from legal expenses.
The CIA disputes that Mitchell and Jessen had no relevant experience, citing their backgrounds with military resistance training and academic research. In its response to the Senate report, the CIA said it would have been "derelict had we not sought them out when it became clear that CIA would be heading into the uncharted territory of the program."
The government's use of brutal interrogation methods came up during a public appearance on Wednesday at the Brookings Institution in Washington, where CIA Director John O. Brennan took a veiled jab at Trump, who has called for the agency to renew the use of waterboarding.
Brennan repeated his vow that he would refuse any executive order to resume the use of those methods, and said that senior officers at the agency would face a stark moral dilemma if such instructions came from a future occupant of the White House. "If a president were to order" the resumption of waterboarding or other methods, Brennan said, "it will be up to the director of the CIA [and others] to decide whether they can carry out that order in good conscience."
Brennan also used sharper language than he has previously to cast doubt on the effectiveness of such methods, saying "you cannot establish cause and effect between the application of these [techniques] and credible information that came out of these individuals."
___________________________________
Read more:
'Eyewash': How the CIA deceives its own workforce about operations
After presiding over bin Laden raid, CIA chief in Pakistan came home suspecting he was poisoned
Why CIA drone strikes have plummeted
Greg Miller covers intelligence agencies and terrorism for The Washington Post.
Go to Original – washingtonpost.com
DISCLAIMER: In accordance with title 17 U.S.C. section 107, this material is distributed without profit to those who have expressed a prior interest in receiving the included information for research and educational purposes. TMS has no affiliation whatsoever with the originator of this article nor is TMS endorsed or sponsored by the originator. "GO TO ORIGINAL" links are provided as a convenience to our readers and allow for verification of authenticity. However, as originating pages are often updated by their originating host sites, the versions posted may not match the versions our readers view when clicking the "GO TO ORIGINAL" links. This site contains copyrighted material the use of which has not always been specifically authorized by the copyright owner. We are making such material available in our efforts to advance understanding of environmental, political, human rights, economic, democracy, scientific, and social justice issues, etc. We believe this constitutes a 'fair use' of any such copyrighted material as provided for in section 107 of the US Copyright Law. In accordance with Title 17 U.S.C. Section 107, the material on this site is distributed without profit to those who have expressed a prior interest in receiving the included information for research and educational purposes. For more information go to: http://www.law.cornell.edu/uscode/17/107.shtml. If you wish to use copyrighted material from this site for purposes of your own that go beyond 'fair use', you must obtain permission from the copyright owner.