How the Fight for Water Unites Palestine and Dakota
ACTIVISM, 28 Nov 2016
From our demand for just rights, the pursuit of sovereignty, and a long history of resistance, we walk a joint path to liberation.
"If colonization will tear you down, solidarity will build you back up." — Lakota Elder
24 Nov 2016 – Along with other Palestinians, I set out for my second trip to Standing Rock as part of the second caravan of Palestinian Youth in the Diaspora, having participated in the first PYM caravan, which took place in September.
RELATED: 'It's Not About Me, It's About Indigenous Peoples': Wilansky
Our U.S. contingent, in partner with the Arab American Civic Council and Activate Labs, has committed to remain here from Nov. 19 to Jan. 5. A few days ago, we caught word from a delegation of Arab American Civic Council members that their plane to Bismarck, North Dakota had been canceled and that they were stranded in Denver, Colorado. Their gift to the people of Standing Rock, 60 keffiyehs — the Palestinian scarf that is a symbol of identity and resistance — had been stranded in Fargo.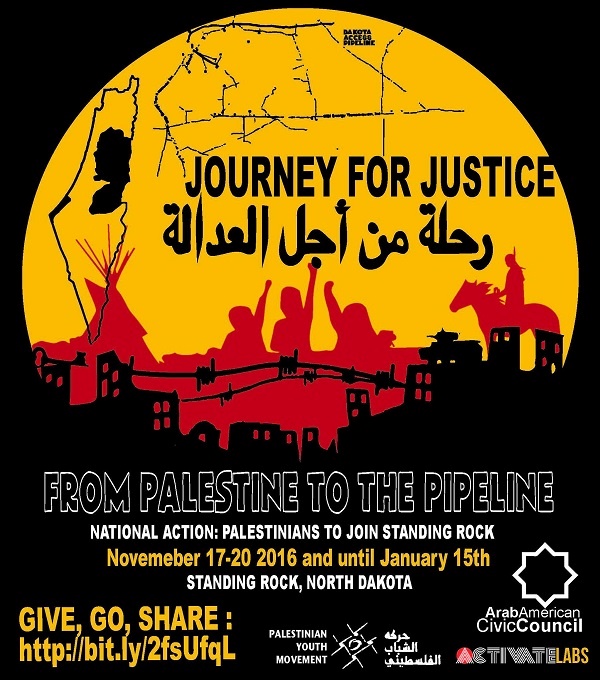 I spoke with Megan Awwad, co-author of the Palestinian Youth Movement-USA Branch solidarity statement and asked her what she saw in Standing Rock, she told me that she saw Palestine, "The colonizers came for us (Palestinians) more recently than they came for our Native siblings," she said, "but the mark they left behind is much the same."
From the dominant diatribe of manifest destiny and the insidiousness of settler-colonialism to our extortion as Indigenous people, our beasts are of the same species — we face similar barriers in varied contexts: we live on land surrounded by settlements, we have plentiful water and resources around us but have no power over how we access them. From our demand for just rights, the pursuit of sovereignty, and a long history of resistance, we walk a joint path to liberation.
And still, walking that path can be hard for both First Nations people and Palestinians. At Standing Rock, I have heard many testimonies shared by Native elders of polluted water on their reservations, warning about what the Dakota Access pipeline might mean for the Cannonball River.
One such account by a Navajo elder about the 2015 Gold King Mine spill into the waters of the Animas and San Juan Rivers in Silverton and Durango, Colorado, moved me to tears. The release of multiple toxins into the rivers, with the complicity of the U.S. Environmental Protection Agency, resulted in massive proportions of heavy metals and arsenic running freely into the fresh waters that feed the rivers and lakes of the four corners region.
The Navajo nation has historically relied on the river's water for irrigation of crops and the populations' drinking water. Many members of the tribe have since fallen ill due to their high levels of contact with the contaminated water, many of whom are claiming that the spill was preventable.
Under current investigation by federal authorities at the request of members of U.S. Congress, the spill occurred in August 2015. Colorado Governor John Hickenlooper has since declared the affected area "a disaster zone," with Indigenous leader Winona LaDuke posing the question in May, "How do we grieve the death of a river?"
RELATED: Israel to Demolish Arab Village to Make Way for a Jewish One
In Palestine, we are also well versed in the forcible compromise of our water sources and restricted access to our existing resources. The expansive Coastal Aquifer Basin runs along the eastern coast of the Mediterranean Sea, stemming from the northernmost area of Egypt, and under all of Gaza and into Historic Palestine. Yet, as a result of Israel's most recent sequential bombing campaigns from 2009, 2012, 2014 and 2016, 96-99 percent of Gaza's water is now unsuitable for human consumption, raw sewage is completely integrated into the fresh water source and floods into the sea.
In the West Bank, at the base of the settlement of Ma'ale Adumim on the road to Jericho, I saw a series of white electric fences built around water wells to prevent Palestinians from accessing them. I have visited families in the West Bank when their water ration run out from the black water tanks on their roof.
I have heard first-hand accounts of Palestinian children being shot at by military snipers or Jewish settlers when they have approached village water wells to drink. And have smelled the putrid stench of the chemical compound in skunk water when it is sprayed into the black water ration tanks by the Israeli military as a form of collective punishment for local resistance to occupation.
The Palestine of my grandparents' generation was a land filled with sweet water rivers, streams, and deep wells. The Palestine of my generation runs dry. Under water apartheid — where the water used by Israeli settlers was reported in 2013 as six times higher than the water usage of Palestinians — these fresh-water streams now feed Israel's factories, huge chlorinated swimming pools, and concert parks while Palestinians drink rationed and/or contaminated water.
RELATED: Israel to Legalize Settler 'Theft' of Palestinian Private Land
The infrastructure of water pipes and running water for Israeli settlers, in comparison to the Palestinians living on the same land, is a perfect example of the standards of living for Native peoples on reservations across Turtle Island, now named North America.
Many Native populations living on reservations today do not have access to either clean water, running water or water pipe infrastructure, requiring them to collect water from local streams and lakes to service everything from cooking to showering. Where will Standing Rock stand if the Cannonball River is floating in oil?
Led by the International Indigenous Youth Council, about 800 water protectors marched onto the bridge near the Oceti Sakowin Camp on Highway 1806 Nov. 18 to demand the release of Indigenous political prisoner Red Fawn Fallis. Red Fawn is facing the most severe charges of those arrested, threatened with up to 20 years in prison.
As Red Fawn awaits trial in North Dakota, her continuing demonization in the media reflects the past and present trajectory of Indigenous political prisoners in Indian Country and on a global scale.
The plight of political prisoners is an important facet of the suppression of Indigenous struggles against oppression, exerted by dominant powers attempting to curtail community demands of just rights. When governments "make an example" of our philosophical or movement leaders by impinging upon their freedom, as is the case with Red Fawn and so many before her, the state is aiming to send a message to movement peers and supporters that their methods for liberation will be met with neither compassion nor restitution.
However, fear of imprisonment is not as strong of a motivator as the need for liberation — our Native siblings are ready for reparations, for respect, for full-fledged sovereignty and they will actualize these needs whether or not the United States readily offers them.
As the dominant powers of the world maintain that our resistance as oppressed peoples and communities poses a greater threat to society than the immeasurable and all-encompassing violence of our oppressors, the partnership between Palestinians and Native Americans is neither surprising nor random. However, it does necessitate the question of how to best advocate and partner for collective liberation.
In our released statement of solidarity with Standing Rock, PYM wrote:
We, the Palestinian Youth Movement – United States Branch, stand in solidarity with Standing Rock Sioux, the Great Sioux Nation, and our other Native sisters, brothers, and siblings in the fight against the Dakota Access Pipeline (DAPL), which will span across four states, North Dakota, South Dakota, Iowa, and Illinois, and cross over the Missouri River.
We condemn all forms of state violence against our First Nation siblings and denote that the undermining of their sovereignty and livelihood is a part of the continuing dialectic of settler-colonialism transnationally.
Since the arrival of settlers on Turtle Island, First Nations have resisted genocide and displacement. From seizure of land to reservations, from boarding schools to massacres, the state has done everything in its power to erase and eradicate First Nation peoples. Yet, they are still with us today and they continue to resist. Protecting their land, people, and future generations from the DAPL is a testament to their strength and resilience.
The struggle for self-determination hinges on Indigenous sovereignty. We will not be dissuaded. The Seventh Generation is here to take control of their narratives and their futures, to be guided by their prayer, to declare a better future for their children, for our children, and they are dedicated to making this happen. That is what I see at Standing Rock.
From Standing Rock to Palestine, we remain resilient.
_______________________________________
Nadya Tannous is a community activist and writer located in the Bay Area (Ohlone Nation). She is the co-founder of Weird Sister TV and Tour Coordinator with Friends of Sabeel –North America for the upcoming tour of No Child Behind Bars: Living Resistance from the US to Palestine.
Go to Original – telesurtv.net
DISCLAIMER: The statements, views and opinions expressed in pieces republished here are solely those of the authors and do not necessarily represent those of TMS. In accordance with title 17 U.S.C. section 107, this material is distributed without profit to those who have expressed a prior interest in receiving the included information for research and educational purposes. TMS has no affiliation whatsoever with the originator of this article nor is TMS endorsed or sponsored by the originator. "GO TO ORIGINAL" links are provided as a convenience to our readers and allow for verification of authenticity. However, as originating pages are often updated by their originating host sites, the versions posted may not match the versions our readers view when clicking the "GO TO ORIGINAL" links. This site contains copyrighted material the use of which has not always been specifically authorized by the copyright owner. We are making such material available in our efforts to advance understanding of environmental, political, human rights, economic, democracy, scientific, and social justice issues, etc. We believe this constitutes a 'fair use' of any such copyrighted material as provided for in section 107 of the US Copyright Law. In accordance with Title 17 U.S.C. Section 107, the material on this site is distributed without profit to those who have expressed a prior interest in receiving the included information for research and educational purposes. For more information go to: http://www.law.cornell.edu/uscode/17/107.shtml. If you wish to use copyrighted material from this site for purposes of your own that go beyond 'fair use', you must obtain permission from the copyright owner.