Inequality (I): Half of World's Wealth in the Pockets of These Eight Men
CAPITALISM, 23 Jan 2017
Baher Kamal – Inter Press Service-IPS
Article I of a three-part series focuses on the alarmingly deepening inequality. Part II deals with the staggering impact of inequality on women, and Part III with the future and quality of jobs.
16 Jan 2017 – Just eight men own the same wealth as the 3.6 billion people who make up the poorest half of humanity, according to a major new report by an international confederation of 19 organisations working in more than 90 countries.
Oxfam International's report, 'An economy for the 99 per cent', which was released on Jan.16, shows that the gap between rich and poor is "far greater than had been feared."
"The richest are accumulating wealth at such an astonishing rate that the world could see its first trillionaire in just 25 years. To put this figure in perspective – you would need to spend 1 million dollars every day for 2738 years to spend 1 trillion dollars."
The report details how big business and the super-rich are fuelling the inequality crisis by dodging taxes, driving down wages and using their power to influence politics.
"New and better data on the distribution of global wealth – particularly in India and China – indicates that the poorest half of the world has less wealth than had been previously thought."
Had this new data been available last year, the report adds, it would have shown that nine billionaires owned the same wealth as the poorest half of the planet, and not 62, as Oxfam calculated at the time.
Obscene!
On this, Winnie Byanyima, Executive Director of Oxfam International, said: "It is obscene for so much wealth to be held in the hands of so few when 1 in 10 people survive on less than 2 dollars a day. Inequality is trapping hundreds of millions in poverty; it is fracturing our societies and undermining democracy.
"Across the world, people are being left behind. Their wages are stagnating yet corporate bosses take home million dollar bonuses; their health and education services are cut while corporations and the super-rich dodge their taxes; their voices are ignored as governments sing to the tune of big business and a wealthy elite."
Oxfam's report shows "how our broken economies are funnelling wealth to a rich elite at the expense of the poorest in society, the majority of who are women." (See Part II of IPS series).
Tax Dodging
OXFAM's report also tackles the critical issue of tax dodging.
Corporate tax dodging, it informs, costs poor countries at least 100 billion dollars every year.
"This is enough money to provide an education for the 124 million children who aren't in school and fund healthcare interventions that could prevent the deaths of at least six million children every year."
The report outlines how the super-rich use a network of tax havens to avoid paying their fair share of tax and an army of wealth managers to secure returns on their investments that would not be available to ordinary savers.
Contrary to popular belief, many of the super-rich are not 'self-made'. Oxfam analysis shows over half the world's billionaires either inherited their wealth or accumulated it through industries, which are prone to corruption and cronyism.
It also demonstrates how big business and the super-rich use their money and connections to ensure government policy works for them.
A Human Economy?
"Governments are not helpless in the face of technological change and market forces. If politicians stop obsessing with GDP [Gross Domestic Product], and focus on delivering for all their citizens and not just a wealthy few, a better future is possible for everyone."
Oxfam's blueprint for a more human economy includes a series of measures that should be adopted by governments to end the extreme concentration of wealth to end poverty.
These include increasing taxes on both wealth and high incomes to ensure a more level playing field, and to generate funds needed to invest in healthcare, education and job creation; to work together to ensure workers are paid a decent wage; and to put a stop to tax dodging and the race to the bottom on corporate tax.
These steps also include supporting companies that benefit their workers and society rather than just their shareholders.
As well, governments should ensure economies work for women, and must help to dismantle the barriers to women's economic progress such as access to education and the unfair burden of unpaid care work.
Does Anybody Care?
Here, a key question arises: national governments, the UN, the EU, and major civil society and human rights organisations, all know about the on-going, obscene inequality. How come that nothing effective has been done do far to prevent it or at least reduce it?
On this, Anna Ratcliff, OXFAM's International's Media officer, Inequality and "Even It Up Campaign," comments to IPS that "tackling inequality properly will mean breaking with the economic model we have been following for thirty years."
"It will also mean taking on and overcoming the powerful interests of the super-rich and corporations who are benefiting from the status quo. So it is not surprising that despite global outcry at the inequality crisis, very little has changed."
Nevertheless, says Ratcliff, some governments are bucking the trend, and managing to reduce inequality, listening to the demands of the majority not the minority.
Asked for specific examples, Ratcliff says that some governments, like Namibia's, have managed to decrease inequality by taxing the rich more and spending it on things such as free secondary education that help reduce the gap between rich and poor.
"These countries show that another world is possible, if we can reject this broken economic model and stop the undue influence of the rich."
These Are the World's 8 Richest People:
1. Bill Gates: America founder of Microsoft (net worth $75 billion)
2. Amancio Ortega: Spanish founder of Inditex which owns the Zara fashion chain (net worth $67 billion)
3. Warren Buffett: American CEO and largest shareholder in Berkshire Hathaway (net worth $60.8 billion)
4. Carlos Slim Helu: Mexican owner of Grupo Carso (net worth: $50 billion)
5. Jeff Bezos: American founder, chairman and chief executive of Amazon (net worth: $45.2 billion)
6. Mark Zuckerberg: American chairman, chief executive officer, and co-founder of Facebook (net worth $44.6 billion)
7. Larry Ellison: American co-founder and CEO of Oracle (net worth $43.6 billion)
8. Michael Bloomberg: American founder, owner and CEO of Bloomberg LP (net worth: $40 billion)
Oxfam's calculations are based on global wealth distribution data provided by the Credit Suisse Global Wealth Data book 2016.
The wealth of the world's richest people was calculated using Forbes' billionaires list last published in March 2016.
_____________________________________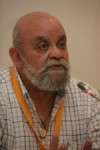 Baher Kamal, Egyptian-born, Spanish national secular journalist. He is founder and publisher of Human Wrongs Watch. Kamal is a pro-peace, non-violence, human rights, harmonious coexistence defender among human beings and with Nature, with more than 43 years of professional experience. With these issues in sight, he covered practically all professional posts, from correspondent to chief editor of dailies and international news agencies.
DISCLAIMER: The statements, views and opinions expressed in pieces republished here are solely those of the authors and do not necessarily represent those of TMS. In accordance with title 17 U.S.C. section 107, this material is distributed without profit to those who have expressed a prior interest in receiving the included information for research and educational purposes. TMS has no affiliation whatsoever with the originator of this article nor is TMS endorsed or sponsored by the originator. "GO TO ORIGINAL" links are provided as a convenience to our readers and allow for verification of authenticity. However, as originating pages are often updated by their originating host sites, the versions posted may not match the versions our readers view when clicking the "GO TO ORIGINAL" links. This site contains copyrighted material the use of which has not always been specifically authorized by the copyright owner. We are making such material available in our efforts to advance understanding of environmental, political, human rights, economic, democracy, scientific, and social justice issues, etc. We believe this constitutes a 'fair use' of any such copyrighted material as provided for in section 107 of the US Copyright Law. In accordance with Title 17 U.S.C. Section 107, the material on this site is distributed without profit to those who have expressed a prior interest in receiving the included information for research and educational purposes. For more information go to: http://www.law.cornell.edu/uscode/17/107.shtml. If you wish to use copyrighted material from this site for purposes of your own that go beyond 'fair use', you must obtain permission from the copyright owner.