Inequality (III): Less Employment… And More 'Junk' Jobs
CAPITALISM, 23 Jan 2017
Baher Kamal – Inter Press Service-IPS
Article III of of this three-part series on inequality tackles the issue of the future and quality of jobs. Part II focused on the impact of inequality on women. Part I dealt with the alarming deepening inequality worldwide.
18 Jan 2017 – While just eight men are enjoying their huge wealth, equivalent to that of half the world, new forecasts project darker shadows by predicting rising unemployment rates, more precarious jobs and worsening social inequality. To start with, there will be more than 1.4 billion people employed in vulnerable working conditions.
Throughout 2017, global unemployment is expected to rise by 3.4 million due to deteriorating labour market conditions in emerging countries –particularly those in Latin America and the Caribbean, the International Labour Organisation (ILO) warns in a new report.
Meantime, unemployment is expected to fall in developed countries – especially in Northern, Southern, and Western Europe, the United States, and Canada, ILO says in its World Employment and Social Outlook: Trends 2017.
1 in 2 Workers Employed in Vulnerable Conditions
In addition, the figure of 1.4 billion people who are employed in vulnerable working conditions is not expected to decrease. That number represents 42 per cent of all employment for 2017, warns the report, which was released on January 12, 2017.
"Almost one in two workers in emerging countries are in vulnerable forms of employment, rising to more than four in five workers in developing countries," said Steven Tobin, ILO Senior Economist and lead author of the report.
On this, ILO Director-General Guy Ryder, said "We are facing the twin challenge of repairing the damage caused by the global economic and social crisis and creating quality jobs for the tens of millions of new labour market entrants every year…"
According to the report, global gross domestic product (GDP) growth reached a six-year low last year, well below the rate that was projected in 2015.
"Forecasters continue to revise their 2017 predictions downwards and uncertainty about the global economy persists, generating worry among experts that the economy will be unable to employ a sufficient number of people and that growth will not lead to inclusive and shared benefits."
Since 2009, the percentage of the working-age population willing to migrate abroad for work has risen in almost every region in the world. That trend was most prominent in Latin America, the Caribbean, and Arab States, it notes.
The report also points out a number of social inequalities that are creating barriers to growth and prosperity.
Gender gaps in particular are affecting the labour market, ILO notes, and gives specific examples: in Northern Africa, women in the labour force are twice as likely as men to be unemployed. "That gap is wider still for women in Arab States. "
Discontent, Unrest
As a result of these and other social inequalities across a wide range of demographics, the ILO estimates that the risk of social unrest or discontent is growing in almost all regions.
"Economic growth continues to disappoint and underperform – both in terms of levels and the degree of inclusion. This paints a worrisome picture for the global economy and its ability to generate enough jobs," said Ryder.
"Persistent high levels of vulnerable forms of employment combined with clear lack of progress in job quality – even in countries where aggregate figures are improving – are alarming…"
ILO called for international cooperation and a coordinated effort to provide fiscal stimuli and public investments to provide an immediate jump-start to the global economy and eliminate an anticipated rise in unemployment for two million people.
On Jan. 16, Oxfam International released a major report — 'An economy for the 99 per cent' — on the state of growingly deepening inequality worldwide.
On the specific case of employment, it says: "Across the world, people are being left behind. Their wages are stagnating yet corporate bosses take home million dollar bonuses; their health and education services are cut while corporations and the super-rich dodge their taxes; their voices are ignored as governments sing to the tune of big business and a wealthy elite".
What Is Behind the Widening Gap?
Asked what is behind this increasingly worsening inequality, Anna Ratcliff, OXFAM's International's Media officer, Inequality and "Even It Up Campaign," said to IPS: "The benefits of economic growth are not shared equally across our societies.
"The vast majority of income generated in the past thirty years has accrued to the owners of capital, and to those at the top of society. Workers have seen their wages stagnate in many countries across the globe, and in many other countries their wages have not risen anywhere near as fast as returns to the owners of capital."
Ratcliff explained to IPS that in order to maximise returns to their wealthy shareholders, big corporations are dodging taxes, driving down wages for their workers and the prices paid to producers, investing less in their business, and spending billions lobbying government to write the rules in their favour.
As a result, erosions in pensions, labour rights and secure work are common across the world, and hit women and the young hardest because tend to be the ones who are concentrated in precarious jobs, on very low pay, she warned.
"If we don't tackle inequality, workers across the world will pay the price in terms of increasing insecurity and lower wages."
The Poor Pay Far More than the Rich for a Hot Meal
Should all the above not be enough, new United Nations data shows that a simple bowl of food in Malawi is much more expensive than that same meal in Davos, Switzerland, once adjustments have been made to take into account one's average daily income.
That is what research by the United Nations World Food Programme (WFP) revealed. The analysis is part of a new initiative by the WFP called 'Hot Dinner Data' which was made public on Jan. 13, just before the Jan. 17 opening of the annual World Economic Forum, a summit of political and economic leaders that takes place in Davos.
"The Hot Dinner Data analysis aims to hold a new mirror up to the world – one which illustrates the distortions in the purchasing power of the rich and the poor as they try to meet their basic food needs," announced Arif Husain, Chief Economist of WFP.
'Hot Dinner Data' reveals that people in the developing world pay as much as 100 times more for a basic plate of food than those who live in wealthier nations. In the most extreme circumstances – for example, in regions under conflict – the cost can be 300 times higher.
For example, it says, a bowl of bean stew – a standard nutritious meal throughout regions and cultures – would cost a person in Switzerland 0.88 Swiss Francs (CHF), or an average 0.41 per cent of their daily income.
"That cost would be 100 times more in Malawi, where a person would need to spend 41 per cent of their daily income to purchase the same meal. In India and Nicaragua, it would be roughly 10 to 15 times more expensive than in Switzerland."
__________________________________________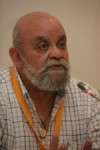 Baher Kamal, Egyptian-born, Spanish national secular journalist. He is founder and publisher of Human Wrongs Watch. Kamal is a pro-peace, non-violence, human rights, harmonious coexistence defender among human beings and with Nature, with more than 43 years of professional experience. With these issues in sight, he covered practically all professional posts, from correspondent to chief editor of dailies and international news agencies.
DISCLAIMER: The statements, views and opinions expressed in pieces republished here are solely those of the authors and do not necessarily represent those of TMS. In accordance with title 17 U.S.C. section 107, this material is distributed without profit to those who have expressed a prior interest in receiving the included information for research and educational purposes. TMS has no affiliation whatsoever with the originator of this article nor is TMS endorsed or sponsored by the originator. "GO TO ORIGINAL" links are provided as a convenience to our readers and allow for verification of authenticity. However, as originating pages are often updated by their originating host sites, the versions posted may not match the versions our readers view when clicking the "GO TO ORIGINAL" links. This site contains copyrighted material the use of which has not always been specifically authorized by the copyright owner. We are making such material available in our efforts to advance understanding of environmental, political, human rights, economic, democracy, scientific, and social justice issues, etc. We believe this constitutes a 'fair use' of any such copyrighted material as provided for in section 107 of the US Copyright Law. In accordance with Title 17 U.S.C. Section 107, the material on this site is distributed without profit to those who have expressed a prior interest in receiving the included information for research and educational purposes. For more information go to: http://www.law.cornell.edu/uscode/17/107.shtml. If you wish to use copyrighted material from this site for purposes of your own that go beyond 'fair use', you must obtain permission from the copyright owner.