Indigenous Peoples Lands Guard 80 Per Cent of World's Biodiversity
INDIGENOUS RIGHTS, 20 Feb 2017
Baher Kamal – Inter Press Service-IPS
9 Feb 2017 – They are more than 370 million self-identified peoples in some 70 countries around the world. In Latin America alone there are over 400 groups, each with a distinct language and culture, though the biggest concentration is in Asia and the Pacific– with an estimated 70 per cent. And their traditional lands guard over 80 per cent of the planet's biodiversity.
They are the indigenous peoples.
They have rich and ancient cultures and view their social, economic, environmental and spiritual systems as interdependent. And they make valuable contributions to the world's heritage thanks to their traditional knowledge and their understanding of ecosystem management.
"But they are also among the world's most vulnerable, marginalized and disadvantaged groups. And they have in-depth, varied and locally rooted knowledge of the natural world, "says the Rome-based International Fund for Agriculture Development (IFAD).
"Unfortunately, indigenous peoples too often pay a price for being different and far too frequently face discrimination," the Fund, which hosts on Feb 10 and 13 on Rome the Global Meeting of the Indigenous People Forum in the Italian capital.
During this biennial meeting, the United Nations specialised agency will bring together representatives of Indigenous Peoples' Organisations from across the world, as well as leaders of partner bodies to engage in a direct dialogue and improve participation of indigenous peoples in the Fund's country programmes.
Over the centuries, the Indigenous peoples "have been dispossessed of their lands, territories and resources and, as a consequence, have often lost control over their own way of life. Worldwide, they account for 5 per cent of the population, but represent 15 per cent of those living in poverty."
One of the most effective ways to enable indigenous peoples to overcome poverty, it adds, is to support their efforts to shape and direct their own destinies, and to ensure that they are the co-creators and co-managers of development initiatives.

Rights of Indigenous Peoples
The United Nations Declaration on the Rights of Indigenous Peoples, adopted by the General Assembly on Sep. 13, 2007, establishes a universal framework of minimum standards for the survival, dignity, well-being and rights of the world's indigenous peoples.
Key facts
There are more than 370 million self-identified indigenous people in the world, living in at least 70 countries
Most of the worlds' indigenous peoples live in Asia
Indigenous peoples form about 5,000 distinct groups and occupy about 20 per cent of the earth's territory
Although indigenous peoples make up less than 6 per cent of the global population, they speak more than 4,000 of the world's 7,000 languages
One of the root causes of the poverty and marginalization of indigenous peoples is loss of control over their traditional lands, territories and natural resources
Indigenous peoples have a concept of poverty and development that reflects their own values, needs and priorities; they do not see poverty solely as the lack of income
A growing number of indigenous peoples live in urban areas, as a result of the degradation of land, dispossession, forced evictions and lack of employment opportunities
Source: IFAD
The Declaration addresses individual and collective rights; cultural rights and identity; and rights to education, health, employment and language. And it outlaws discrimination against indigenous peoples and promotes their full and effective participation in all matters that concern them.
It also ensures their right to remain distinct and to pursue their own priorities in economic, social and cultural development. The International Day of the World's Indigenous Peoples is observed on Aug. 9 every year.
Announcing the Forum, IFAD noted that it has more than 30 years of experience working with indigenous peoples. In fact, since 2003, an average of about 22 per cent of the Fund's annual lending has supported initiatives for indigenous peoples, mainly in Asia and Latin America.
Since 2007, it has administered the Indigenous Peoples Assistance Facility (IPAF). Through small grants of up to 50,000 dollars, it supports the aspirations of indigenous peoples by funding micro-projects that strengthen their culture, identity, knowledge, natural resources, and intellectual-property and human rights.
To help translate policy commitments into action, it has established an Indigenous Peoples' Forum that promotes a process of dialogue and consultation among indigenous peoples' organisations, IFAD staff and member states.
The Fund empowers communities to participate fully in determining strategies for their development and to pursue their own goals and visions by strengthening grass-roots organisations and local governance.
Land is not only crucial to the survival of indigenous peoples, as it is for most poor rural people – it is central to their identities, the Fund reports. "They have a deep spiritual relationship to their ancestral territories. Moreover, when they have secure access to land, they also have a firm base from which to improve their livelihoods."
According to this international Fund, indigenous peoples and their knowledge systems have a special role to play in the conservation and sustainable management of natural resources.
Indigenous Women's Untapped Potential
The also named "bank of the poorest" as it provides grants and low-interest credits to the poorest rural communities, recognises indigenous women's untapped potential as stewards of natural resources and biodiversity, as guardians of cultural diversity, and as peace brokers in conflict mitigation.
Nonetheless, it says, indigenous women are often the most disadvantaged members of their communities because of their limited access to education, assets and credit, and their exclusion from decision-making processes.
This 'bank of the poorest' is a specialised agency of the United Nations, which was established as an international financial institution in 1977, being one of the major outcomes of the 1974 World Food Conference, which was organised in response to the food crises of the early 1970s that primarily affected the Sahelian countries of Africa.
That world conference resolved that "an International Fund for Agricultural Development should be established immediately to finance agricultural development projects primarily for food production in the developing countries."
One of the most important insights emerging from the Conference was that the causes of food insecurity and famine were not so much failures in food production but structural problems relating to poverty, and to the fact that the majority of the developing world's poor populations were concentrated in rural areas.
Since its creation, IFAD invested 18.4 billion dollars to help 464 million rural poor people.
_______________________________________
Related IPS Articles: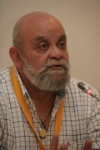 Baher Kamal, Egyptian-born, Spanish national secular journalist. He is founder and publisher of Human Wrongs Watch. Kamal is a pro-peace, non-violence, human rights, harmonious coexistence defender among human beings and with Nature, with more than 43 years of professional experience. With these issues in sight, he covered practically all professional posts, from correspondent to chief editor of dailies and international news agencies.
DISCLAIMER: The statements, views and opinions expressed in pieces republished here are solely those of the authors and do not necessarily represent those of TMS. In accordance with title 17 U.S.C. section 107, this material is distributed without profit to those who have expressed a prior interest in receiving the included information for research and educational purposes. TMS has no affiliation whatsoever with the originator of this article nor is TMS endorsed or sponsored by the originator. "GO TO ORIGINAL" links are provided as a convenience to our readers and allow for verification of authenticity. However, as originating pages are often updated by their originating host sites, the versions posted may not match the versions our readers view when clicking the "GO TO ORIGINAL" links. This site contains copyrighted material the use of which has not always been specifically authorized by the copyright owner. We are making such material available in our efforts to advance understanding of environmental, political, human rights, economic, democracy, scientific, and social justice issues, etc. We believe this constitutes a 'fair use' of any such copyrighted material as provided for in section 107 of the US Copyright Law. In accordance with Title 17 U.S.C. Section 107, the material on this site is distributed without profit to those who have expressed a prior interest in receiving the included information for research and educational purposes. For more information go to: http://www.law.cornell.edu/uscode/17/107.shtml. If you wish to use copyrighted material from this site for purposes of your own that go beyond 'fair use', you must obtain permission from the copyright owner.