Let the Media Coverage of Manchester Victims Be a Model for All Young Victims of War
MEDIA, 29 May 2017
Amy Goodman & Denis Moynihan – Democracy NOW!
25 May 2017 – Donald Trump, the so-called leader of the free world, made his first foreign visit as president to an absolute monarchy, the Kingdom of Saudi Arabia, a petrostate legendary for its complete absence of democratic institutions and rampant violations of human rights. The signature foreign-policy development that Trump announced in Riyadh over the weekend was a massive, $110 billion arms deal with Saudi Arabia. Many people are going to be killed by this flood of weaponry. But this is not a done deal; Trump's affinity for autocrats, strongmen and bullies is facing resistance. As the world processes the horror of the suicide bombing in Manchester, England, where most of the victims were young girls out for a concert, we should brace ourselves for another wave of similar, innocent casualties, this time in Yemen, the target of relentless, U.S.-supported Saudi Arabian bombardment.
Start with the premise that killing children is wrong, period. It is as wrong in Manchester as it is in Sanaa, Yemen. It is wrong to kill a child as an act of war, whether the killing is done by a U.S. soldier, a remote pilot of a U.S. Predator drone, a Saudi Arabian pilot of a U.S. provided F-35 or, to use the current term, a terrorist.
When a suicide bomber exploded a bomb at the Ariana Grande concert in Manchester this week, those killed were almost entirely from among her immense fan base: young girls — teens — and their parents. The newscasts appropriately labeled the attack "barbaric." Jump to the first week of the Trump administration, for example. Then, with expected hubris, Trump and his surrogates touted a "successful" raid in Yemen, despite the death of a Navy SEAL and loss of a helicopter. What went largely unreported, at first, were the 30 civilian casualties of that attack, many of them women and children, including an 8-year-old girl, Nawar Anwar al-Awlaki. Her name is known because she was the daughter of Anwar al-Awlaki, the Islamic cleric who was killed by a U.S. drone strike in 2011. Her older brother, 16-year-old Denver-born Abdulrahman al-Awlaki, was killed in a separate drone strike two weeks after their father was killed. Abdulrahman didn't know his father had been assassinated, and was trying to locate his father when the U.S. military killed him.
The botched January raid came in the wake of the disastrous Saudi Arabian attack on a funeral in Sanaa on Oct. 8, 2016, where over 140 people, almost all civilians, were killed. After this attack, President Barack Obama, who had authorized a $115 billion arms sale to Saudi Arabia, withdrew precision-guided munitions from the sale, since their most likely use would be to target civilians. Donald Trump has removed the restriction on those weapons; the Saudi king, a dictator, now has state-of-the-art weaponry to unleash on the people of Yemen.
"These terrorist attacks are not confined to Europe. They take place every single day in Iraq, in Syria, in Afghanistan, in Pakistan and Yemen, Bahrain," Tariq Ali said on the "Democracy Now!" news hour, reacting to the Manchester bombing. He is a British political commentator, writer, editor of the New Left Review and longtime peace activist. "We all deplore the loss of lives of innocent people. We do. Everyone does. But we can't have double standards, in which we say that someone killed in Europe, their lives are more valuable than the lives being taken in large parts of the Muslim world. And unless the West understands that these double standards provoke and anger more people, it will carry on." The media should use their coverage of the victims of the Manchester bombing, with its poignant biographies and life stories of each of the young lives lost, for the coverage of the deaths in Yemen, in Syria, in Iraq, in Afghanistan. We need to know the names, we need to hear the stories, of those lost lives as well.
Trump's arms deal with Saudi Arabia is wrong. It will inflame an already war-ravaged region, hitting Yemen especially hard. Because of the utter destruction of the country, Yemen is suffering a cholera epidemic, famine and an almost complete breakdown of the sanitation, water, and health and hospital infrastructure in the country. This is a humanitarian crisis of epic proportions.
After he sold this new arsenal to the king of Saudi Arabia, Trump swung through Israel, then had an audience with the pope. After that meeting, Trump tweeted, "I leave the Vatican more determined than ever to pursue PEACE in our world." Some might maintain hope that Trump means what he tweets. In the meantime, millions around the world are organizing to end war, and to stop the arms sales that promote it.
__________________________________________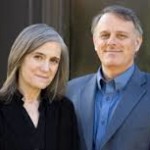 Amy Goodman is the host of "Democracy Now!" a daily international TV/radio news hour airing on more than 900 stations in North America. She is the author of Breaking the Sound Barrier, recently released in paperback and now a New York Times best-seller.
Denis Moynihan is the co-founder of Democracy Now! Since 2002, he has participated in the organization's worldwide distribution, infrastructure development, and the coordination of complex live broadcasts from many continents. He lives in Denver where he is developing a new noncommercial community radio station.
The original content of this program is licensed under a Creative Commons Attribution-Noncommercial-No Derivative Works 3.0 United States License. Please attribute legal copies of this work to democracynow.org.
Go to Original – democracynow.org
DISCLAIMER: The statements, views and opinions expressed in pieces republished here are solely those of the authors and do not necessarily represent those of TMS. In accordance with title 17 U.S.C. section 107, this material is distributed without profit to those who have expressed a prior interest in receiving the included information for research and educational purposes. TMS has no affiliation whatsoever with the originator of this article nor is TMS endorsed or sponsored by the originator. "GO TO ORIGINAL" links are provided as a convenience to our readers and allow for verification of authenticity. However, as originating pages are often updated by their originating host sites, the versions posted may not match the versions our readers view when clicking the "GO TO ORIGINAL" links. This site contains copyrighted material the use of which has not always been specifically authorized by the copyright owner. We are making such material available in our efforts to advance understanding of environmental, political, human rights, economic, democracy, scientific, and social justice issues, etc. We believe this constitutes a 'fair use' of any such copyrighted material as provided for in section 107 of the US Copyright Law. In accordance with Title 17 U.S.C. Section 107, the material on this site is distributed without profit to those who have expressed a prior interest in receiving the included information for research and educational purposes. For more information go to: http://www.law.cornell.edu/uscode/17/107.shtml. If you wish to use copyrighted material from this site for purposes of your own that go beyond 'fair use', you must obtain permission from the copyright owner.