This Palestinian Village Had Solar Power — Until Israeli Soldiers Took It Away
PALESTINE - ISRAEL, 17 Jul 2017
Anne-Marie O'Connor – The Washington Post
7 Jul 2017 — The residents of this dirt-poor Palestinian village waited decades for electricity. But in November, a Dutch-funded solar project finally gave them round-the-clock power to refrigerate food or do a load of laundry.
That ended last week when Israeli military administrators in the West Bank sent soldiers with assault rifles and a team of workers to shut down the $400,000 project, ripping out its electrical components and driving away with 96 solar panels, some of them broken, villagers said.
Israeli officials called the construction illegal, but the builders contested the charge, saying they are providing desperately needed humanitarian aid that is required under international law.
"It was a disaster. We are all in mourning," said Fadia al-Wahsh, head of the local women's committee, hours after the soldiers left, as villagers discussed how to save food and medicine from the stifling summer heat.
The confiscation was the latest round of a widening conflict between European donors and the Israeli government over projects that benefit Palestinians in Area C, about 60 percent of the West Bank under full Israeli control.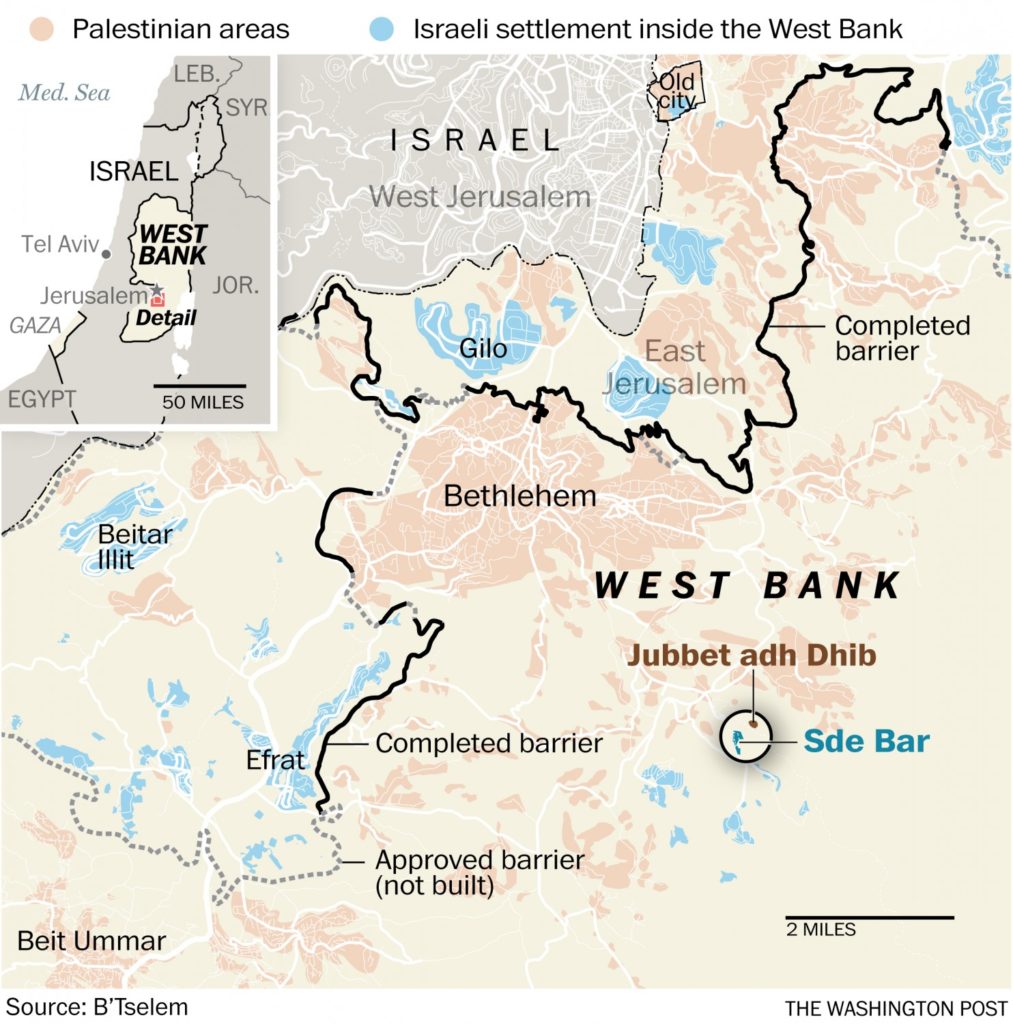 "The Netherlands immediately protested to the Israeli authorities and demanded the return of the confiscated goods," said Dirk-Jan Vermeij, a spokesman for Foreign Minister Bert Koenders, who he said told Dutch parliament Tuesday that "this confiscation is simply unacceptable." He said Dutch Prime Minister Mark Rutte had discussed the issue with Prime Minister Benjamin Netanyahu.
Israeli Foreign Ministry spokesman Emmanuel Nahshon declined to comment in a text exchange but referred questions to Israel's military Coordination of Government Activities in the Territories, known as COGAT. A spokesman for COGAT said in an email that the solar and electric panels were installed without the necessary permits.
COGAT said the parties involved could "file a request for releasing the equipment as long as the organization will promise that the illegal construction will not be established without the necessary permits again."
20 minutes from modern Jerusalem, a Palestinian village is stranded in the past
The incident illustrates a Catch-22 in the West Bank: For years, Israel has denied most permit requests for Palestinian construction in Area C. But if Palestinians build homes or other structures without permits, Israeli authorities say the structures are subject to demolition because they lack permits.
The European Union said in a recent report that there has been an "exceptional upsurge" in seizures or demolitions of European-funded projects by the Israeli government, which faces pressure from Israeli settlers to shut them down.
The report said Israeli forces have seized or demolished 117 European-funded humanitarian projects for Palestinians from September through February: latrines, animal shelters, agricultural projects and emergency shelters for families displaced by Israeli home demolitions.
"E.U. humanitarian activities are carried out in full accordance with international humanitarian law," the E.U. said in a February statement, calling on Israel "to halt demolitions of Palestinian houses and property in accordance with its obligation as an occupying power under international humanitarian law."
Israel's ambassador to the United Nations, Danny Danon, told Army Radio that he saw political motives behind E.U. construction, the Times of Israel reported.
"Like thieves in the night, they are building illegal buildings . . . to create territorial contiguity for the Palestinians," he was quoted as saying. "They are creating facts on the ground."
A May U.N. report said Israeli authorities reportedly rejected permits for 391 of the 428 requests for building in Palestinian communities in Area C in the first half of 2016, the most current figures available.
Most of the permits approved were reportedly issued by Israeli authorities to transfer Bedouin populations, the United Nations said.
" 'Lack of permits' is the cynical pretext used by Israeli authorities to create the illusion that proper procedures exist," B'Tselem, an Israeli human rights group, said in a statement.
A Israeli government proposal to allow thousands of new housing units in the Palestinian town of Qalqilya recently drew outraged public statements from Israeli settler leaders — who call for Israel to annex Area C — and was openly criticized by several right-wing ministers in the Netanyahu government.
Jubbet adh Dhib, a village of 170 people, has requested a hookup to the electrical grid numerous times since 1988, according to Human Rights Watch. European-funded solar streetlights were dismantled in 2009 at the request of Israeli authorities, European diplomats say.
A few hundred yards from it is the Jewish settlement of Sde Bar, founded in 1998, according to the nongovernmental Settlement Watch. Residents say they received Israeli utilities and protection for years before Sde Bar was legalized retroactively in 2005.
Michael Sfard, the legal counsel for Comet-ME, the Israeli-Palestinian nonprofit that installed the solar electricity system, said he would fight the decision to shut it down and would appeal to Israel's highest court, if necessary, on the grounds that Israel was violating international law by damaging humanitarian aid without providing an alternative.
"This has nothing to do with law enforcement," Sfard said. "We have two neighboring communities in the West Bank, one with all the privileges, and another that has nothing. It's cruel."
COGAT said Jubbet adh Dhib has an electricity alternative, an apparent reference to a generator that consumes $100 a day in diesel fuel — villagers say they can afford to run it only a few hours a day.
"I explained to them that we had medicine in the refrigerator, insulin for diabetics," said Amna al-Wahsh, a member of the women's committee. "They said, 'Move away; let us do our job.' "
Anat Ben Nun, external relations director of Peace Now, said demolitions of Palestinian homes reached record levels in 2016, while unauthorized Israeli outposts with roads, water and electricity, "all built completely illegally — are being retroactively legalized."
The solar project in Jubbet adh Dhib was touted as an inspirational success for the women's committee, which is trained to cope with medical emergencies, such as delivering babies.
At a March International Women's Day event in Ramallah, Amna al-Wahsh described the transformation of her village.
"We have refrigerators, washing machines," she said. "Our children can study whenever they like. I used to be afraid to let my children go to the bathroom with a candle, because they could burn down the house."
"We are indescribably happy," she said, as the audience, including European and American donors, applauded.
Go to Original – washingtonpost.com
Join the BDS-BOYCOTT, DIVESTMENT, SANCTIONS campaign to protest the Israeli barbaric siege of Gaza, illegal occupation of the Palestine nation's territory, the apartheid wall, its inhuman and degrading treatment of the Palestinian people, and the more than 7,000 Palestinian men, women, elderly and children arbitrarily locked up in Israeli prisons.
DON'T BUY PRODUCTS WHOSE BARCODE STARTS WITH 729, which indicates that it is produced in Israel. DO YOUR PART! MAKE A DIFFERENCE!
7 2 9: BOYCOTT FOR JUSTICE!
DISCLAIMER: In accordance with title 17 U.S.C. section 107, this material is distributed without profit to those who have expressed a prior interest in receiving the included information for research and educational purposes. TMS has no affiliation whatsoever with the originator of this article nor is TMS endorsed or sponsored by the originator. "GO TO ORIGINAL" links are provided as a convenience to our readers and allow for verification of authenticity. However, as originating pages are often updated by their originating host sites, the versions posted may not match the versions our readers view when clicking the "GO TO ORIGINAL" links. This site contains copyrighted material the use of which has not always been specifically authorized by the copyright owner. We are making such material available in our efforts to advance understanding of environmental, political, human rights, economic, democracy, scientific, and social justice issues, etc. We believe this constitutes a 'fair use' of any such copyrighted material as provided for in section 107 of the US Copyright Law. In accordance with Title 17 U.S.C. Section 107, the material on this site is distributed without profit to those who have expressed a prior interest in receiving the included information for research and educational purposes. For more information go to: http://www.law.cornell.edu/uscode/17/107.shtml. If you wish to use copyrighted material from this site for purposes of your own that go beyond 'fair use', you must obtain permission from the copyright owner.