Ensuring Catastrophe: The Price of Climate Denial
ANGLO AMERICA, 18 Sep 2017
Amy Goodman and Denis Moynihan – Democracy NOW!
13 Sep 2017 – On Sept. 6, 2017, as Houston was reeling from Hurricane Harvey and millions in Florida and the Caribbean were bracing for Hurricane Irma, the most powerful storm ever recorded over the Atlantic Ocean, President Donald Trump traveled to Mandan, North Dakota, where he stood in front of an oil refinery and touted his administration's role in slashing environmental protections and promoting the fossil fuel industry. He hailed construction of the Dakota Access Pipeline and Keystone XL, and boasted about withdrawing from the Paris climate accord.
So as climate-change-fueled disasters ravaged the U.S., Trump — the man who called climate change a Chinese hoax — was doing all he could to ensure future catastrophes.
Trump happened to come to North Dakota around the first anniversary of the "Day of the Dogs" — a vicious attack by dogs unleashed by Dakota Access Pipeline (DAPL) guards against nonviolent Native American water protectors. The guards punched, beat and Maced the protesters, and the dogs bit both water protectors and their horses. One of the dogs had blood dripping from its nose and mouth. "Democracy Now!" news hour was there, recording it all.
DAPL has been an especially powerful symbol for the climate change resistance movement, which is challenging the logic of fossil fuel extraction and demanding a shift to a sustainable economy based on renewable energy.
Native Americans call the Dakota Access Pipeline the "black snake." The 1,172-mile-long, $3.8 billion pipeline was designed to carry up to 500,000 barrels per day of crude, fracked oil from the Bakken Formation in North Dakota, across South Dakota, Iowa and then to southern Illinois, where it would connect to another pipeline for transport to the U.S. Gulf.
Beginning in April 2016, thousands of indigenous people from across Latin America, the U.S. and Canada converged on North Dakota in the largest unification of native tribes in decades. They were led by the Standing Rock Sioux Tribe, which insisted that the pipeline crossing under the Missouri River just upstream from their reservation could irreversibly pollute not only their drinking water supply, but the water for 17 million people downstream.
The resistance camps kept growing. In response, Energy Transfer Partners (ETP), which owns the pipeline, and the Morton County sheriff intensified and militarized the repression. The standoff at Standing Rock was a shining moment in the annals of nonviolent resistance, with wave after wave of courageous acts of creative civil disobedience, conducted prayerfully with indigenous leadership.
Responding to the massive protests and the violent police crackdown, the Obama administration ordered some pipeline construction halted. Victory seemed within reach.
Then Donald Trump won the presidential election.
On Jan. 24, 2017, four days after assuming the presidency, Donald Trump signed executive orders to accelerate completion and operation of DAPL, as well as the controversial Keystone XL pipeline, which President Barack Obama had blocked after being confronted for years by mass protest and civil disobedience. By June 1, ETP claimed in a press release that the pipeline was "operational," presumably meaning oil was flowing through it.
Several days earlier, The Intercept news website reported on 1,100 pages of documents it obtained, detailing how a military/intelligence mercenary group called TigerSwan had been advising ETP and North Dakota law enforcement for months. The Intercept reported, "TigerSwan discusses protesters as 'terrorists,' their direct actions as 'attacks,' and the camps as a 'battlefield,' reveals how the protesters' dissent was not only criminalized but treated as a national security threat."
Last month, Energy Transfer Partners sued Greenpeace International, Earth First! and other environmental groups, accusing them of inciting "eco-terrorism" against the pipeline's construction. Annie Leonard, executive director of Greenpeace, countered that the lawsuit is an attempt "to taint constitutionally protected, science-based free speech advocacy. They're trying to criminalize healthy, righteous protest."
The price: the planet.
As catastrophic hurricanes have laid waste to large areas of the U.S. and Caribbean, it is clear what the real national security threat is: climate change, and the fossil fuel industry that is intensifying it.
"We're basically in an endgame now," 350.org founder Bill McKibben told "Democracy Now!" "We have to go to 100 percent renewable energy, and we have to do it fast."
"For the moment, of course, Trump is ascendant with the fossil fuel industry," said McKibben. "But like many things that Trump touches, I think that this is a last gasp. People are coming to associate the insanity of going full speed ahead into this greenhouse future with the most reckless and crazy president that we've ever had."
________________________________________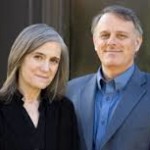 Amy Goodman is the host of "Democracy Now!" a daily international TV/radio news hour airing on more than 900 stations in North America. She is the author of Breaking the Sound Barrier, recently released in paperback and now a New York Times best-seller.
Denis Moynihan is the co-founder of Democracy Now! Since 2002, he has participated in the organization's worldwide distribution, infrastructure development, and the coordination of complex live broadcasts from many continents. He lives in Denver where he is developing a new noncommercial community radio station.
The original content of this program is licensed under a Creative Commons Attribution-Noncommercial-No Derivative Works 3.0 United States License. Please attribute legal copies of this work to democracynow.org.
Go to Original – democracynow.org
DISCLAIMER: The statements, views and opinions expressed in pieces republished here are solely those of the authors and do not necessarily represent those of TMS. In accordance with title 17 U.S.C. section 107, this material is distributed without profit to those who have expressed a prior interest in receiving the included information for research and educational purposes. TMS has no affiliation whatsoever with the originator of this article nor is TMS endorsed or sponsored by the originator. "GO TO ORIGINAL" links are provided as a convenience to our readers and allow for verification of authenticity. However, as originating pages are often updated by their originating host sites, the versions posted may not match the versions our readers view when clicking the "GO TO ORIGINAL" links. This site contains copyrighted material the use of which has not always been specifically authorized by the copyright owner. We are making such material available in our efforts to advance understanding of environmental, political, human rights, economic, democracy, scientific, and social justice issues, etc. We believe this constitutes a 'fair use' of any such copyrighted material as provided for in section 107 of the US Copyright Law. In accordance with Title 17 U.S.C. Section 107, the material on this site is distributed without profit to those who have expressed a prior interest in receiving the included information for research and educational purposes. For more information go to: http://www.law.cornell.edu/uscode/17/107.shtml. If you wish to use copyrighted material from this site for purposes of your own that go beyond 'fair use', you must obtain permission from the copyright owner.