(Français) Esclavage en Libye: merci l'OTAN!
ORIGINAL LANGUAGES, 27 Nov 2017
Bruno Guigue | Investig'Action – TRANSCEND Media Service
Une découverte, les pratiques esclavagistes filmées par CNN ? On tombe vraiment des nues ? Certainement pas. Le 11 avril 2017, l'Office international des migrations publiait un rapport indiquant que des milliers de migrants transitant par la Libye étaient vendus comme du bétail sur des marchés aux esclaves, avant d'être soumis au travail forcé ou à l'exploitation sexuelle. Cette réalité, tout le monde la connaissait, et personne n'a rien fait.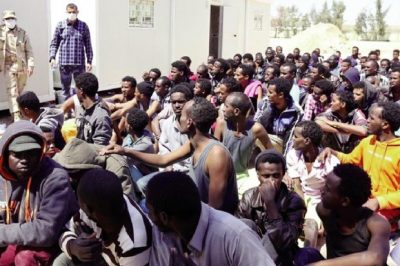 20 Nov 2017 – Lorsque Emmanuel Macron a consacré son premier voyage présidentiel à la région sahélienne, on n'a pas le souvenir qu'il ait dit quelque chose. Mais on le comprend : la sécurité des approvisionnements miniers de l'ex-puissance coloniale est une affaire beaucoup plus sérieuse, et on ne va quand même pas perdre son temps avec des broutilles. C'est vraiment dommage, car la France aurait eu beaucoup à dire sur la situation en Libye.
Il ne faudrait pas l'oublier : si ce pays est à la dérive, s'il est dépecé par les factions rivales, si la violence y règne, c'est parce que la France et ses alliés l'ont anéanti en 2011. Les marchands d'esclaves ne sont pas tombés du ciel : ils sont arrivés dans les bagages de l'OTAN. Sous des prétextes humanitaires fabriqués par la propagande, Paris, Londres et Washington se sont arrogé le droit de détruire un Etat souverain. Ils l'ont remplacé par la loi de la jungle et le chaos milicien. On voit le résultat.
Où sont-ils, ceux qui ont décidé de renverser Mouammar Kadhafi ? On aimerait les entendre, ces visionnaires. Nicolas Sarkozy voulait faire de cette croisade le joyau de son mandat. "Le chef de l'Etat a fait de l'intervention en Libye un combat personnel. Pour le rayonnement de la France", titre "Le Monde" le 23 août 2011. Le rayonnement est aveuglant ! Pour Alain Juppé, l'intervention en Libye est "un investissement pour l'avenir". Il aurait dû préciser que cet investissement n'était pas seulement pétrolier. Les esclavagistes le remercient. Eux aussi, ils investissent.
Du côté de l'opposition de "gauche", ce n'est guère mieux. François Hollande approuve le recours à la force contre Kadhafi "parce que sinon Kadhafi aurait massacré une partie de son peuple". Qu'il se rassure : pour ce qui est des massacres, l'OTAN a fait ses preuves. Le 21 mars 2011, "Libération" demande à Jean-Luc Mélenchon pourquoi il approuve les frappes aériennes en Libye. Il répond : "La première question à se poser est la suivante : y a-t-il un processus révolutionnaire au Maghreb et au Moyen-Orient ? Oui. Qui fait la révolution ? Le peuple. Il est donc décisif que la vague révolutionnaire ne soit pas brisée en Libye."
Il faudrait pourtant que les progressistes ou prétendus tels se mettent sérieusement à méditer la leçon des faits. Car la politique occidentale, c'est toujours le grand écart : on part avec les droits de l'homme et on finit avec le marché aux esclaves. Certains ont beau l'emballer de rhétorique humaniste ou révolutionnaire, l'impérialisme reste l'impérialisme. On peut multiplier à foison les variantes du cache-misère idéologique, le prétendu devoir d'ingérence n'est que le droit que l'on s'arroge à écraser le voisin. C'est le droit du plus fort revu et corrigé par BHL.
Les hypocrites diront que l'esclavage ne date pas d'hier et que cette affaire concerne les Africains, niant la responsabilité du néo-colonialisme. Poussés par la misère, ils sont des centaines de milliers à vouloir franchir la Méditerranée au péril de leur vie. La destruction de l'Etat libyen les a mis à la merci des passeurs qui les vendent comme du bétail. S'ils échappent à leurs griffes, leur calvaire ne fait que commencer. Quel paradoxe ! Victimes d'un monde dual, ces damnés de la terre n'ont d'autre espoir que d'aller traîner leur misère dans les pays qui ont fait leur malheur.
Go to Original – investigaction.net
DISCLAIMER: The statements, views and opinions expressed in pieces republished here are solely those of the authors and do not necessarily represent those of TMS. In accordance with title 17 U.S.C. section 107, this material is distributed without profit to those who have expressed a prior interest in receiving the included information for research and educational purposes. TMS has no affiliation whatsoever with the originator of this article nor is TMS endorsed or sponsored by the originator. "GO TO ORIGINAL" links are provided as a convenience to our readers and allow for verification of authenticity. However, as originating pages are often updated by their originating host sites, the versions posted may not match the versions our readers view when clicking the "GO TO ORIGINAL" links. This site contains copyrighted material the use of which has not always been specifically authorized by the copyright owner. We are making such material available in our efforts to advance understanding of environmental, political, human rights, economic, democracy, scientific, and social justice issues, etc. We believe this constitutes a 'fair use' of any such copyrighted material as provided for in section 107 of the US Copyright Law. In accordance with Title 17 U.S.C. Section 107, the material on this site is distributed without profit to those who have expressed a prior interest in receiving the included information for research and educational purposes. For more information go to: http://www.law.cornell.edu/uscode/17/107.shtml. If you wish to use copyrighted material from this site for purposes of your own that go beyond 'fair use', you must obtain permission from the copyright owner.