Puerto Rico Suffers while Defending against Disaster Capitalism
ANGLO AMERICA, CAPITALISM, 6 Nov 2017
Amy Goodman and Denis Moynihan – Democracy NOW!
2 Nov 2017 – President Donald Trump lavished praise on himself when commenting on the federal response to the disaster that has overwhelmed Puerto Rico in the wake of Hurricane Maria. "I would give myself a 10," he said on Oct. 19. "I think we've done a really great job," he added, as Puerto Rico Gov. Ricardo Rossello sat silently by his side in the Oval Office. This was just two weeks after Trump's visit to the island, where he lobbed rolls of paper towels at hurricane survivors. San Juan Mayor Carmen Yulin Cruz, appearing on the "Democracy Now!" news hour, responded, "If it's a 10 out of 100, I agree, because it's still a failing grade."
Like the mayor, few think Trump has responded effectively. "We can't fail to note the dissimilar urgency and priority given to the emergency response in Puerto Rico, compared to the U.S. states affected by hurricanes in recent months," Leilani Farha, the United Nations special rapporteur on the right to housing, said, comparing post-hurricane relief efforts in Texas and Florida in a damning report issued on Monday by the Office of the United Nations High Commissioner for Human Rights.
"Democracy Now!" traveled to Puerto Rico last weekend to see the devastation firsthand. Well into the second month after Hurricane Maria hit, the island remains dark. By official estimates, almost two-thirds of the island is without electricity. In the meantime, the 3.5 million U.S. citizens of Puerto Rico struggle to obtain the basic essentials of life, as thousands leave the island for the mainland U.S., perhaps never to return.
There are people coming to the island, though: the disaster capitalists. As eloquently articulated by journalist Naomi Klein in her book The Shock Doctrine: The Rise of Disaster Capitalism, disasters both natural and human-made are increasingly being exploited by for-profit corporations and so-called free-market ideologues to reshape vast swaths of impacted societies, undermining social-welfare systems, privatizing public utilities, busting unions and making obscene profits rebuilding. Post-hurricane Puerto Rico is shaping up to be a textbook case of the shock doctrine.
"I wish I had never been introduced to that term," Mayor Carmen Yulin Cruz told us at the Roberto Clemente Coliseum, the large sports arena in San Juan, where she and her staff have been living since the hurricane. "Using chaos to strip employees of their bargaining rights, rights that took 40, 50 years for the unions to be able to determine … it just means taking advantage of people when they are in a life-or-death situation. It's an absolute mistreatment of human rights. It means that the strongest really feed off the weakest, until all that's left is the carcass."
Case in point is the $300 million, no-bid contract awarded to Whitefish Energy to rebuild the island's power grid. The Puerto Rico Electric Power Authority (PREPA) is the largest public electric utility in the U.S., providing electricity to the entire island of Puerto Rico. Hurricane Maria utterly destroyed the grid. Before Hurricane Maria hit, Whitefish, named after the town in Montana where it is based, had only two employees, and had never handled a contract larger than about $1.4 million. Whitefish just happens to be where Trump's interior secretary, Ryan Zinke, is from. Zinke's son had worked for Whitefish Energy in the past. We were in the Coliseum speaking with the mayor when San Juan Vice Mayor Rafael Jaume entered, carrying a copy of the Whitefish contract.
"'In no event shall PREPA, the Commonwealth of Puerto Rico, the FEMA administrator, the Comptroller General of the United States or any other authorized representatives have the right to audit or review the cost and profit elements of the labor rates specified herein,'" Jaume read, expressing outrage. "You can read about it yourself. That's black and white." Both Mayor Cruz and Vice Mayor Jaume called the contract illegal, and demanded its immediate cancellation.
They were joined in that call by Angel Figueroa Jaramillo, head of UTIER, the Puerto Rico electrical workers union. We visited him in his office in San Juan, which is still without power. As we spoke, news broke that Gov. Rossello had called for the cancellation of the contract. Jaramillo demanded not only that, but also the firing of the head of PREPA, who signed the contract, and a full criminal investigation into all those responsible for it. Like Mayor Cruz, Jaramillo is working to incorporate solar power into the rebuilt power grid, without privatizing the grid in the process.
In the meantime, Fortune 500 Fluor Corp. has also received a $200 million contract to work on the power grid. As Whitefish eventually heads back to Montana, there are two things you can be sure of: More disaster capitalists will be lining up to take its place, and the proud, resilient population of Puerto Rico, growing intolerant of the delays and the corruption, will be increasingly vigilant, while building momentum for renewable alternatives to the fossil-fuel power grid that has failed them.
________________________________________________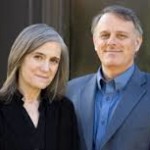 Amy Goodman is the host of "Democracy Now!" a daily international TV/radio news hour airing on more than 900 stations in North America. She is the author of Breaking the Sound Barrier, recently released in paperback and now a New York Times best-seller.
Denis Moynihan is the co-founder of Democracy Now! Since 2002, he has participated in the organization's worldwide distribution, infrastructure development, and the coordination of complex live broadcasts from many continents. He lives in Denver where he is developing a new noncommercial community radio station.
The original content of this program is licensed under a Creative Commons Attribution-Noncommercial-No Derivative Works 3.0 United States License.
Go to Original – democracynow.org
DISCLAIMER: The statements, views and opinions expressed in pieces republished here are solely those of the authors and do not necessarily represent those of TMS. In accordance with title 17 U.S.C. section 107, this material is distributed without profit to those who have expressed a prior interest in receiving the included information for research and educational purposes. TMS has no affiliation whatsoever with the originator of this article nor is TMS endorsed or sponsored by the originator. "GO TO ORIGINAL" links are provided as a convenience to our readers and allow for verification of authenticity. However, as originating pages are often updated by their originating host sites, the versions posted may not match the versions our readers view when clicking the "GO TO ORIGINAL" links. This site contains copyrighted material the use of which has not always been specifically authorized by the copyright owner. We are making such material available in our efforts to advance understanding of environmental, political, human rights, economic, democracy, scientific, and social justice issues, etc. We believe this constitutes a 'fair use' of any such copyrighted material as provided for in section 107 of the US Copyright Law. In accordance with Title 17 U.S.C. Section 107, the material on this site is distributed without profit to those who have expressed a prior interest in receiving the included information for research and educational purposes. For more information go to: http://www.law.cornell.edu/uscode/17/107.shtml. If you wish to use copyrighted material from this site for purposes of your own that go beyond 'fair use', you must obtain permission from the copyright owner.