(Français) Fausse nouvelle par omission : l'exemple de Haïti
ORIGINAL LANGUAGES, 12 Mar 2018
William Blum | Investig'Action – TRANSCEND Media Service
« Je suis fier d'avoir un président qui dira crûment la vérité dans les négociations » a déclaré Éric Prince sur Breitbart News. « Si le président dit que certains endroits sont des trous à merde, il a raison. » C'est ainsi que M. Éric Prince a rendu hommage à M. Donald Trump. Prince étant bien sûr le célèbre fondateur de Blackwater, l'armée privée qui, en septembre 2007, a ouvert le feu sur une place bondée à Bagdad, tuant 17 civils irakiens et en blessant gravement 20 autres.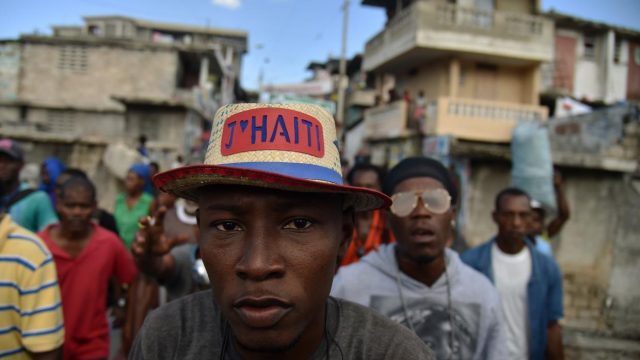 9 Mar 2018 – Parlant de Haïti et autres « trous à merde » Prince à déclaré :
« C'est une triste caractérisation de beaucoup de ces endroits. Ça n'a rien à voir avec la race. Cela à voir avec des gouvernements incompétents et corrompus qui maltraitent leurs citoyens, et cela se traduit par l'absence totale d'infrastructures, notamment des égouts à ciel ouvert, l'eau polluée et la criminalité. C'est quelque chose que nous ne voulons pas en Amérique. »
À l'instar des médias américains, Prince n'a pas mentionné qu'en deux occasions récentes, lorsque Haïti avait un gouvernement correct dirigé par Jean-Bertrand Aristide, qui était motivé pour améliorer les conditions, les États-Unis ont joué un rôle primordial pour en annuler les effets. Cela s'est ajouté au soutien total à la dictature des Duvalier pendant près des 30 ans précédant l'arrivée d'Aristide.
Aristide, un prêtre réformiste, a été élu à la présidence en 1991 mais en a été chassé huit mois plus tard par un coup d'État militaire. La Maison Blanche de Clinton s'est ainsi retrouvée dans la situation délicate de devoir prétendre – à cause de toute sa rhétorique sur la « démocratie » – qu'elle soutenait le retour au pouvoir d'Aristide, démocratiquement élu, de son exil aux États-Unis. Après avoir reporté son retour pendant plus de deux ans, Washington a réinstallé militairement Aristide au pouvoir, mais seulement après avoir contraint le prêtre à garantir qu'il n'aiderait pas les pauvres aux dépens des riches – littéralement ! – et qu'il s'en tiendrait à l'économie de marché. Cela signifiait que Haïti continuerait d'être l'usine d'assemblage de l'hémisphère occidental, ses ouvriers touchant des salaires de famine, littéralement ! Si Aristide songeait à rompre l'accord imposé, il lui suffisait de regarder par la fenêtre – les troupes américaines étaient stationnées en Haïti pour le reste de son mandat.
En 2004, Aristide de nouveau élu à la présidence, les États-Unis ont mis en scène l'un des coups d'État les plus éhontés de leur histoire. Le 28 février 2004, du personnel diplomatique et militaire américain arriva au domicile d'Aristide pour l'informer que ses agents de sécurité privés américains devaient soit partir immédiatement pour retourner aux États-Unis, soit combattre et mourir ; que les 25 agents de sécurité américains restants engagés par le gouvernement haïtien, qui devaient arriver le lendemain, avaient été bloqués par les États-Unis ; que des rebelles étrangers et haïtiens étaient tout près, lourdement armés, déterminés et prêts à tuer des milliers de gens dans un bain de sang. Aristide a été pressé de signer une « lettre de démission »avant d'être renvoyé en exil par les États-Unis.
Ensuite de quoi, le Secrétaire d'État Colin Powell, sur le ton le plus sincère qu'il a pu trouver, a déclaré au monde qu'Aristide « n'avait pas été enlevé. Nous ne l'avons pas forcé à monter dans l'avion. Il y est allé de son plein gré. C'est la vérité. » Powell avait l'air aussi sincère qu'il l'avait été une année avant lorsqu'il a présenté à l'ONU un inventaire détaillé (quoique imaginaire) des armes chimiques, biologiques et nucléaires en Irak, peu avant l'invasion étasunienne.
Jean-Bertrand Aristide était classé, par ses paroles et ses actes, comme n'étant pas un grand amoureux de la mondialisation ou du capitalisme. Ce n'était pas le genre d'homme que la mafia impérialiste voulait pour diriger l'usine d'assemblage de l'hémisphère occidental. Ce n'était qu'une question de temps avant qu'elle intervienne.
Il faut également relever que les États-Unis ont aussi maintenu des progressistes à l'écart du pouvoir au Salvador, un autre des pays « trous à merde » de Trump.
 ____________________________________________
Traduit de l'anglais par Diane (Le Saker)
Source: Fake News by Omission: the Haiti Example, Counterpunch
William Blum est l'auteur de l'Etat voyou. Son dernier ouvrage : America's Deadliest Export : Democracy.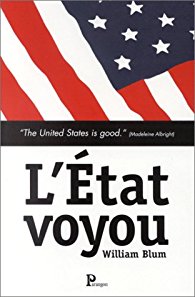 Go to Original – investigaction.net
DISCLAIMER: The statements, views and opinions expressed in pieces republished here are solely those of the authors and do not necessarily represent those of TMS. In accordance with title 17 U.S.C. section 107, this material is distributed without profit to those who have expressed a prior interest in receiving the included information for research and educational purposes. TMS has no affiliation whatsoever with the originator of this article nor is TMS endorsed or sponsored by the originator. "GO TO ORIGINAL" links are provided as a convenience to our readers and allow for verification of authenticity. However, as originating pages are often updated by their originating host sites, the versions posted may not match the versions our readers view when clicking the "GO TO ORIGINAL" links. This site contains copyrighted material the use of which has not always been specifically authorized by the copyright owner. We are making such material available in our efforts to advance understanding of environmental, political, human rights, economic, democracy, scientific, and social justice issues, etc. We believe this constitutes a 'fair use' of any such copyrighted material as provided for in section 107 of the US Copyright Law. In accordance with Title 17 U.S.C. Section 107, the material on this site is distributed without profit to those who have expressed a prior interest in receiving the included information for research and educational purposes. For more information go to: http://www.law.cornell.edu/uscode/17/107.shtml. If you wish to use copyrighted material from this site for purposes of your own that go beyond 'fair use', you must obtain permission from the copyright owner.