The U.S. War in Iraq: 15 Years and Counting… the Dead and Displaced
ANGLO AMERICA, 26 Mar 2018
Amy Goodman & Denis Moynihan – Democracy NOW!
22 Mar 2018 – Fifteen years have passed since President George W. Bush, Vice President Dick Cheney and a coterie of neoconservatives, enabled by mainstream media cheerleaders, launched the invasion of Iraq with a murderous bombardment of Baghdad they branded "shock and awe." Far from delivering the promised freedom and democracy and exposing stockpiles of weapons of mass destruction, the illegal war killed, wounded and displaced millions of civilians. More than 4,500 U.S. service members were killed, seven of them as recently as last week. Death and destruction on this scale would be more than enough to crush any society; yet the Iraqi people have persevered, countering war with determination and hope.
"We have to name it as a criminal war," Zahra Ali told us on the "Democracy Now!" news hour, "the destruction of Iraq as a functioning state and society." A French-Iraqi sociologist, she was raised in Paris because her Iraqi parents fled Saddam Hussein as political exiles. "The post-2003 Iraqi regime has proven to be very anti-democratic," she added.
Matt Howard enlisted in the Marines before Sept. 11, 2001. "I watched the invasion from Okinawa, Japan, where I was stationed at the time, and had a gnawing sense of dread that we were making a decision we could never step back from," he said on "Democracy Now!" Deployed twice to Iraq, in 2004 and 2005, by 2008 he was back in the U.S., opposed to war. He joined Iraq Veterans Against the War [IVAW], and now is co-director of the group, which recently changed its name to About Face.
He went on: "I really went down a path of challenging everything that had been told to me. When we were guarding Iraqi men who were laborers on our forward operating base, [they] basically spelled out that their quality of life had taken a dramatic hit, and that everything that we were being told, in terms of hearts and minds and how we were going to make this place better, was as far from the truth as could possibly be."
About Face/IVAW organized a march in 2012 to confront a meeting of NATO generals held in Chicago. Scores of decorated veterans marched to the gates of the meeting site, and each, in turn, made a statement against war and hurled their war medals over the fence.
"Deployments occur many times for some folks, sometimes as many as 10 times," Matt Howard continued. "The kind of invisible wounds of the war, whether that's post-traumatic stress, traumatic brain injury or military sexual trauma, are often not tallied. And if that goes for the military, that very definitely goes for the Iraqi civilians that are continuing to deal with the aftereffects of this war."
One person confronting these aftereffects is Sami Rasouli. An Iraqi native, Rasouli immigrated to the United States, and, over 30 years, became a successful restaurateur and beloved member of the community in Minneapolis. After the U.S. invasion of his home country in 2003, he formed Muslim Peacemakers and moved back. He has been living there since.
"Iraq entered in a tunnel in 2003 with no light at the end," Rasouli told us, "from the invasion to occupation to sectarianism, then terrorism, ISIS and Iranian expansion. Our Muslim Peacemaker Teams have been working since 2005 in a form of outreach and advocacy for peace, promoting the principles of peace building throughout the country between all factions, regardless whether they are Kurds, Arabs, Sunni, Shia, Muslims or Christians."
His latest project is creating person-to-person connections to foster reconciliation between Iraq and the United States. He explained: "I started … trying to bring so-called infidels from the West to meet so-called terrorists (according to the American mainstream media) in the east of Iraq, to a roundtable, break bread together, see each other's eyes. They found out nothing of that nonsense is true. They are nothing but brother and sister, meeting, belonging to the same human race … establishing lasting friendship that's based on respect, mutual understanding and trust."
Zahra Ali studies feminist and women's equality in Iraq, and sees enormous obstacles to securing full citizenship for Iraqi women. But, she says, "Despite the very terrible situation, we do have very strong social movements … we have very strong grass-roots, popular movements that question the very legitimacy of the post-2003 regime."
Anniversaries afford a moment to reflect, but also to look forward. Fifteen years after the calamitous invasion of Iraq, those who precipitated the war still walk free. But those most deeply affected, from Iraqi civilians to U.S. veterans, are organizing, against tremendous odds, for peace.
_______________________________________________________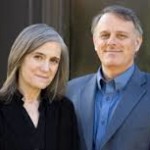 Amy Goodman is the host of "Democracy Now!" a daily international TV/radio news hour airing on more than 900 stations in North America. She is the author of Breaking the Sound Barrier, recently released in paperback and now a New York Times best-seller.
Denis Moynihan is the co-founder of Democracy Now! Since 2002, he has participated in the organization's worldwide distribution, infrastructure development, and the coordination of complex live broadcasts from many continents. He lives in Denver where he is developing a new noncommercial community radio station.
The original content of this program is licensed under a Creative Commons Attribution-Noncommercial-No Derivative Works 3.0 United States License. Please attribute legal copies of this work to democracynow.org.
Go to Original – democracynow.org
DISCLAIMER: The statements, views and opinions expressed in pieces republished here are solely those of the authors and do not necessarily represent those of TMS. In accordance with title 17 U.S.C. section 107, this material is distributed without profit to those who have expressed a prior interest in receiving the included information for research and educational purposes. TMS has no affiliation whatsoever with the originator of this article nor is TMS endorsed or sponsored by the originator. "GO TO ORIGINAL" links are provided as a convenience to our readers and allow for verification of authenticity. However, as originating pages are often updated by their originating host sites, the versions posted may not match the versions our readers view when clicking the "GO TO ORIGINAL" links. This site contains copyrighted material the use of which has not always been specifically authorized by the copyright owner. We are making such material available in our efforts to advance understanding of environmental, political, human rights, economic, democracy, scientific, and social justice issues, etc. We believe this constitutes a 'fair use' of any such copyrighted material as provided for in section 107 of the US Copyright Law. In accordance with Title 17 U.S.C. Section 107, the material on this site is distributed without profit to those who have expressed a prior interest in receiving the included information for research and educational purposes. For more information go to: http://www.law.cornell.edu/uscode/17/107.shtml. If you wish to use copyrighted material from this site for purposes of your own that go beyond 'fair use', you must obtain permission from the copyright owner.