Will Reason, Wisdom, and Justice Find Refuge?
ANALYSIS, 26 Nov 2018
Juan Eugenio Corradi | Opinion Sur – TRANSCEND Media Service
21 Nov 2018 – A spectrum is cycling the globe. Neo fascism has taken over several governments and the imagination of many as well. The last to fall into this state was Brazil. It is urgent to review a not-too-distant past in which this happened and appreciate the resources of resistance and history of an eventual recovery of culture and civilization. Meanwhile, today as yesterday, the media wants to make us believe otherwise.
Looking around my library, I realize that we are at the verge of a social and cultural catastrophe. I linger on some volumes. Thus, I see that historian Dolores Pla has published several studies regarding the exile of Spanish republicans in Latin America after the triumph of Franco in the civil war. I read that Latin America occupied the second place in importance, after France, in receiving republican exiles. Every Latin American country received some of those exiles, but they concentrated mainly in Mexico (18,000), Argentina (10,000), Venezuela (5,000) and also Dominican Republic, Chile, Colombia and Puerto Rico. For different reasons—mainly ideological and political—they did not enjoy the same reception in all of them. Without a doubt, the best reception and integration of the Spanish exiles was Mexico's, but also in Argentina, those Spaniards could establish and not emigrate again, despite the pressure of the rights and Catholic Church. As usual, they did not find the moral support (or only occasional and opportunistic) in the economic managers, whose only concern was profit[1].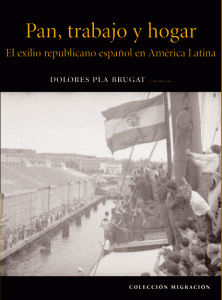 Spanish exiles arrive to Latin America
The contribution of that exile to the material and intellectual development of Latin America was very valuable. It was the contribution that some of the best-prepared Spanish men and women made in the first decades of the XX century: intellectuals and scientists, together with qualified workers accelerated the modernization of the societies that welcomed them.
Something similar—but on a larger scale—happened with the German exiles in United States after National Socialism came to power. Do you remember those movies from the golden age of Hollywood? Bride of Frankenstein, The Adventures of Robin Hood, Ninotchka, Double Indemnity, Casablanca … In all of them there were actors, directors, or musicians who established themselves in Los Angeles escaping from the Nazi regime and the persecutions of the Jews unleashed in Europe before and after WWII. Therefore, the mecca of motion pictures was a refuge and the place where they could freely develop their great talents. Other refuges were the universities and research institutes in Great Britain and United States. Among the exiled physicists were Albert Einstein, Edward Teller, and Hans Bethe, together with Enrico Fermi and Leo Szilard. Among the architects, there were Walter Gropius and Mies van der Rohe; among the psychoanalysts there were Bruno Bettelheim, Karen Horney, and Erich Fromm; musicians such as Erich Leinsdorf; among philosophers, there were Hannah Arendt, Leo Strauss, and Herbert Marcuse; among the writers, we can mention Thomas Mann and Bertolt Brecht.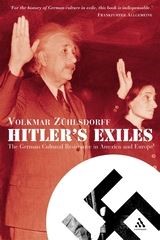 German exiles become American citizens
If this type of barbarism and persecution were to recur, where would these new exiles find refuge? It is time to pose the question.
Why do I review this history, which I have known and profit from its last breaths? At Brandeis University, I could study with some of the most brilliant intellectuals trained in Weimar's Republic.  In Argentina, I remember the contribution of the Spanish exiles who founded the editorial houses Losada, Emecé, and Sudamericana and they enriched colleges and universities. Among the exiles from the Italian fascism were Rodolfo Mondolfo, Renato Treves, and Gino Germani, among many more.
At that time, several recipient countries had right-wing governments. Some of them even sympathized with European fascist regimes. However, by neglect or simple decency, they knew how to profit from the contribution of a world in which brutality and stupidity displaced the best. I return to the question: why should we reassess the case? The answer is clear: Bolsonaro's triumph in Brazil can produce, once again and now inside Latin America, the exile of the best. Some might stay to resist, but at a great risk.  Many might go to neighboring countries: Uruguay, Argentina, Chile, Peru, Ecuador, etc. Others might go to further latitudes. Unfortunately, United States have lost attractiveness as refuge, on the contrary, being the country that today officially stimulates the worst in several countries where persecution has started[2]. Where are the future recipients of those who carry with them the torch of a better world? If there are, will the new recipients be able to profit from the contributions of the exile? The Brazilian will be one of many to come.
It is painful for me to foresee this possible development, but it is urgent for me to think that while the world takes a lot of time to digest and finally expel the fascist wave that is currently invading it, it does not lose the people and the work of those who will be indispensable in a future reconstruction.
Meanwhile, as in other ominous times, the most chic press tries to disguise the situation. I will give an example. Recently, I have read an editorial article in which a distinguished "expert" or opinion guru in the highly respected Financial Times says with such admirable nerve that Donald Trump is a historical figure comparable with Alejandro Magnus, Julius Caesar, and Napoleon Bonaparte[3]. According to this author, like the rest of those figures, Trump is changing the world. In truth, the author apologizes for the comparison by saying that the American President, as those great figures, is not very likeable but that does not matter, because what is worth, today as yesterday, are his contributions to a new and different world. To reinforce such an audacious proposal, the writer seeks justification in more than one quote by Hegel. In fact, we know that such great philosopher supposedly affirmed that on the eve of the battle of Jena (the city where he finished his masterpiece—The Phenomenology of the Spirit), Napoleon was "the spirit of the time on horseback (Zeitgeist)." The parallelism with Trump seems quite daring. Au contraire, I would say that today we have a horse that represents the spirit of the time (with the pardon of such noble animal). Napoleon was a military expert in parabolic calculus who imposed the Civil Code and the metric system onto a decadent and backward Europe. Trump is an ignorant cheater that pretends to impose American decadence and backwardness onto what is left of a rational and judicious project in the world. In another apocryphal but widely disseminated reference to Hegel, it is told that at the end of one of his master lectures a student approached the teacher and said "Professor, your discourse seems contradictory with the facts." To which the great thinker answered "too bad for the facts." ("Um so schlimmer für die Tatsachen!").  This quote does resemble Mr. Trump more.
Quoting out of context the alleged words of complex authors whom they have not read about is a repeated exercise done by many commentators, to whom the access to important opinion platforms gives them the right to say whatever and even receive a salary for it. Another one, more famous than the one I am referring to, not long ago, also by quoting Hegel, he proclaimed that history has come to an end with the universal and definitive triumph of American liberal democracy [4]. Today, he can say just the opposite with the same nerve, without a doubt betting on his readers' amnesia. What is important is to remain current for the public opinion.
As antidote against and correction of the verbiage of our late philosophers, I propose to draw on a more modest and local thinker: Enrique Santos Discepolo, in the lyrics of his famous tango Cambalache. Unlike shoddy Hegelians, Discepolin´s verses are accurate, and quoting some of his verses is safer for characterizing the spirit of our times:
Today it happens it is the same
to be decent or a traitor!
To be an ignorant, a genius, a pickpocket,
a generous person or a swindler!
All is the same! Nothing is better!
They are the same, an idiot ass
and a great professor!
There are no failing grades or merit valuations,
the immoral have caught up with us.
If one lives in a pose
and another, in his ambition, steals,
it's the same if it's a priest,
a mattress maker, a king of clubs,
a cad or a tramp.

What a lack of respect,
what a way to run over reason!
Anybody is a gentleman!
Anybody is a thief!
Mixed with Stavisky, you have Don Bosco
and La Mignon
don Chicho and Napoleon,
Carnera and San Martin.
Like in the disrespectful window
of the bazaars,
life is mixed up,
and wounded by a sword without rivets
you can see a Bible crying
next to a water heater.[5]
In his column in the Financial Times, without realizing, Mr. Gideon Rachman has contributed to the philosophy of cambalache. If Trump is Napoleon, then, Bolsonaro is San Martin. Keep it up! All is the same: nothing is better. Meanwhile, let's prepare the resistance and prepare to help the coming exile.
NOTES:
[1] . In Argentina, a noble exception among entrepreneurs was the industrialist Torcuato Di Tella, who helped those who were the exiles of the European fascism.
[2] . https://www.lavanguardia.com/internacional/20170131/413846509140/celebridades-inmigracion-donald-trump.html
[3] . Gideon Rachman, "Trump embodies the spirit of our age," Financial Times, 23 de octubre de 2018, 9.
[4] . Francis Fukuyama, The End of History and the Last Man, 1992
[5] . Translation taken from site: https://letrasdetango.wordpress.com/2011/02/15/cambalache/
Go to Original – opinionsur.org.ar
DISCLAIMER: The statements, views and opinions expressed in pieces republished here are solely those of the authors and do not necessarily represent those of TMS. In accordance with title 17 U.S.C. section 107, this material is distributed without profit to those who have expressed a prior interest in receiving the included information for research and educational purposes. TMS has no affiliation whatsoever with the originator of this article nor is TMS endorsed or sponsored by the originator. "GO TO ORIGINAL" links are provided as a convenience to our readers and allow for verification of authenticity. However, as originating pages are often updated by their originating host sites, the versions posted may not match the versions our readers view when clicking the "GO TO ORIGINAL" links. This site contains copyrighted material the use of which has not always been specifically authorized by the copyright owner. We are making such material available in our efforts to advance understanding of environmental, political, human rights, economic, democracy, scientific, and social justice issues, etc. We believe this constitutes a 'fair use' of any such copyrighted material as provided for in section 107 of the US Copyright Law. In accordance with Title 17 U.S.C. Section 107, the material on this site is distributed without profit to those who have expressed a prior interest in receiving the included information for research and educational purposes. For more information go to: http://www.law.cornell.edu/uscode/17/107.shtml. If you wish to use copyrighted material from this site for purposes of your own that go beyond 'fair use', you must obtain permission from the copyright owner.