(Português) Elefante luta contra suas correntes antes de desmaiar e morrer em parque nacional indiano
ORIGINAL LANGUAGES, 6 May 2019
ANDA Agência de Notícias de Direitos Animais – TRANSCEND Media Service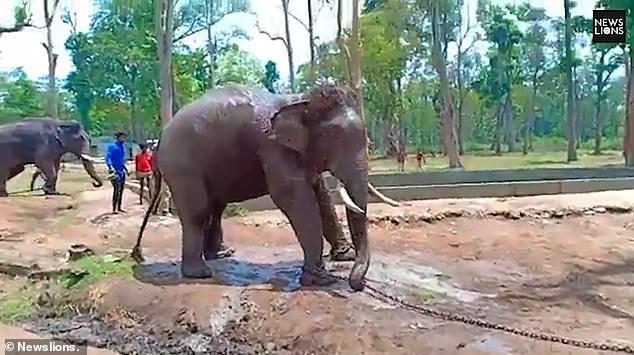 29 Apr 2019 – Explorados até as últimas consequências os elefantes são utilizados na indústria do turismo e também no dia a dia dos indianos, para transportar cargas e em celebrações religiosas.
Livres e altamente sociais por natureza, esses animais inteligentes e belos são submetidos a vontade humana sem o mínimo respeito por sua individualidade, mortos por caçadores por seu marfim ou por troféus, outras vezes obrigados a carregar turistas em suas costas ou serem vestidos e adereços e fantasias e terem seus corpos pintados para enfeitar eventos.
Desrespeitados, agredidos e cruelmente acorrentados esses animais tem mortes tristes e solitárias, a maioria das vezes antes da previsão natural de vida de um elefante em estado selvagem, presos eles morrem afastados dos seus iguais e de seu habitat.
Esse é o caso de Drona, um elefante indiano de 37 anos que teve sua morte documentada em um vídeo triste e chocante.
Após a morte do elefante os mahouts (tratadores e manipuladores de elefantes) na Índia acusaram as autoridades de negligência quando as imagens de vídeo surgiram e se propagaram pelas mídias sociais, mostrando o animal explorado para trabalho desmaiando e em seguida morrendo.
Esses manipuladores (fruto da cultura local de exploração aos animais), disseram à mídia local que ja haviam notados que o elefante, identificado em relatórios pelo nome de Drona, não estava bem, mas seus pedidos por um veterinário ficaram sem resposta.
O vídeo comovente foi filmado na última sexta feira, 26 de abril, no Nagarahole National Park, no estado de Karanatka (Índia), no sudoeste do país.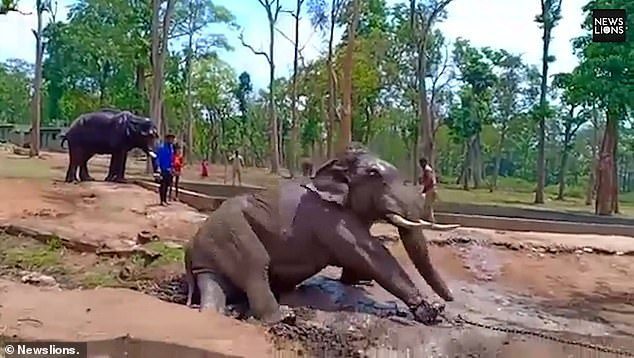 Homens são vistos jogando baldes de água no imenso elefantes, numa tentativa desesperada de ajudá-lo, que se agita em suas correntes, trêmulo e já quase sem equilíbrio ou forças para se manter de pé.
Sua perna esta presa por uma corrente que ele tenta em vão se librar com a tromba.
O elefante então desmorona sob seu peso de quatro toneladas e cai sob seu lado esquerdo.
Oficiais do campo de elefantes disseram que Drona morreu quando foi beber água em um tanque, e de repente desmoronou.
Ele teria mostrado sintomas de alguma doença desde a manhã de sexta-feira.
O primeiro mahout a ver Drona morto disse que suspeitava que um ataque cardíaco fosse a causa, porém não há dados oficiais ou médicos divulgados.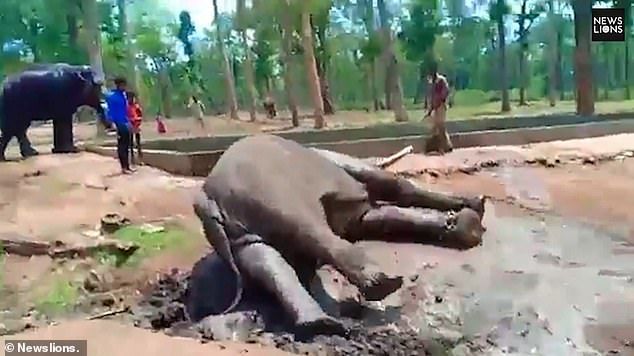 Está prevista a realização de uma autópsia por veterinários para determinar a causa da morte do elefante.
Drona ganhou fama em 2017 e 2018 quando carregou o howdah dourado, ou platfrom, em procissões para marcar o festival religioso hindu de Dasara na cidade de Mysuru.
A cavalgada anual de 15 elefantes coloridos trazidos da floresta de Nagarahole é o destaque da procissão religiosa de cinco quilômetros.
Onde os animais são obrigados a carregar humanos e adereços religiosos por todo o percurso
A morte é uma cena triste em qualquer espécie, o momento em que a vida deixa um corpo é marcante e cruel, porém real.
Drona encerra sua jornada de exploração e crueldade e finalmente esta livre de seus captores.
Infelizmente da pior maneira possível.
Mortes de elefante na Índia
Acidentes de trem, caça ou envenenamento são algumas das causas, mas a eletrocussão, sozinha, causou mais de 60% das mortes, segundo dados obtidos sob a Lei de Direito à Informação (RTI).
A ANDA já noticiou sobre os perigos das cercas elétricas e cabos de força para os elefantes. Usadas como bloqueio, as cercas impedem a entrada de animais e humanos indesejados em propriedades e protege o gado e a vida selvagem que ali habitam, as também tem um efeito colateral letal: ela mata elefantes e dezenas de outras espécies.
Desde 2009 até 31 de dezembro de 2018, 565 elefantes morreram devido à eletrocussão, de acordo com os dados da Divisão de Projetos do Ministério do Meio Ambiente e Florestas.
Outros 151 elefantes morreram em acidentes com trens, enquanto 150 foram caçados e mortos, afirmou o ministério. O envenenamento foi a causa da morte de 62 elefantes.
"O gasto orçamentário total para o ano fiscal de 2018/2019, sob o censo 'Projeto Elefante', para proteger os elefantes, seu habitat e corredores e para abordar questões de conflitos e bem-estar dos elefantes cativos é de 30 crore", disse Ranjan Tomar, advogado de Noida (New Okhla, uma cidade satélite de Delhi). As informações são do New Indian Express.
No entanto, o número de mortes de elefantes devido à caça (150) difere do divulgado pelo Departamento de Controle de Crimes contra a Vida Selvagem (WCCB).
O WCCB declarou em janeiro que 429 elefantes foram caçados e mortos desde 2008 no país.
Tomar, também ativista da vida selvagem e dos direitos humanos, disse que a diferença provavelmente se deve ao fato de que os números do Projeto Elefante são limitados a reservas, enquanto os dados do WCCB são para todo o país.
____________________________________________

A imprensa não apenas informa. Ela forma conceitos. Modifica ideias. Influencia decisões. Define valores. Participa das grandes mudanças sociais e políticas trazendo o mundo para o indivíduo pensar, agir e ser. É justamente este o objetivo da ANDA – Agência de Notícias de Direitos Animais: informar para transformar. A ANDA difunde na mídia os valores de uma nova cultura, mais ética, mais justa e preocupada com a defesa e a garantia dos direitos animais. É o primeiro portal jornalístico do mundo voltado exclusivamente a fatos e informações do universo animal. Com profissionalismo, seriedade e coragem, a ANDA abre um importante canal com jornalistas de todas as mídias e coloca em pauta assuntos que até hoje não tiveram o merecido espaço ou foram mal debatidos na imprensa.
Tags:
Animal Justice
,
Animal rights
,
Conflict
,
Cruelty
,
Exploitation
,
Veganism
,
Vegetarianism
,
Violence
DISCLAIMER: The statements, views and opinions expressed in pieces republished here are solely those of the authors and do not necessarily represent those of TMS. In accordance with title 17 U.S.C. section 107, this material is distributed without profit to those who have expressed a prior interest in receiving the included information for research and educational purposes. TMS has no affiliation whatsoever with the originator of this article nor is TMS endorsed or sponsored by the originator. "GO TO ORIGINAL" links are provided as a convenience to our readers and allow for verification of authenticity. However, as originating pages are often updated by their originating host sites, the versions posted may not match the versions our readers view when clicking the "GO TO ORIGINAL" links. This site contains copyrighted material the use of which has not always been specifically authorized by the copyright owner. We are making such material available in our efforts to advance understanding of environmental, political, human rights, economic, democracy, scientific, and social justice issues, etc. We believe this constitutes a 'fair use' of any such copyrighted material as provided for in section 107 of the US Copyright Law. In accordance with Title 17 U.S.C. Section 107, the material on this site is distributed without profit to those who have expressed a prior interest in receiving the included information for research and educational purposes. For more information go to: http://www.law.cornell.edu/uscode/17/107.shtml. If you wish to use copyrighted material from this site for purposes of your own that go beyond 'fair use', you must obtain permission from the copyright owner.