The Lie of Global Prosperity: How Neoliberals Distort Data to Mask Poverty and Exploitation
REVIEWS, ECONOMICS, CAPITALISM, 26 Aug 2019
Seth Donnelly | Monthly Review – TRANSCEND Media Service
"We're making headway on global poverty," trills billionaire philanthropist Bill Gates. "Decline of Global Extreme Poverty Continues," reports the World Bank. And "How did the global poverty rate halve in 20 years?" inquires The Economist magazine.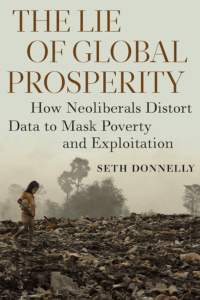 Seth Donnelly answers: "It didn't!" In fact, according to Donnelly's The Lie of Global Prosperity, virtually nothing about these glad tidings proclaiming plummeting global poverty rates is true. It's just that trend-setting neoliberal experts and institutions need us to believe that global capitalism, now unfettered in the wake of the Cold War and bolstered by Information Technology, has ushered in a new phase of international human prosperity.
This short book deconstructs the assumption that global poverty has fallen dramatically, and lays bare the spurious methods of poverty measurement and data on which the dominant prosperity narrative depends. Here is carefully researched documentation that global poverty—and the inequalities and misery that flourish within it—remains massive, afflicting the majority of the world's population. Donnelly goes further to analyze just how global poverty, rather than being reduced, is actually reproduced by the imperatives of capital accumulation on a global scale. Just as the global, environmental catastrophe cannot be resolved within capitalism, rooted as it is in contemporary mechanisms of exploitation and plunder, neither can human poverty be effectively eliminated by neoliberal "advances."
This is an important book. It systematically examines and deconstructs the World Bank and dominant narrative that global poverty has been declining. While there have been other critiques of the World Bank's methodology of measuring poverty, this book unifies them into a broader, accessible critique that will be of use to revolutionary social movements and activists the world over.
—Christopher Feise, Professor Emeritus, Washington State University
The Lie of Global Prosperity convincingly exposes the spurious arguments used to justify economic policies that exacerbate hunger, misery, and environmental degradation worldwide, revealing the absurdity of the claim that poverty has been dramatically declining under global capitalism in the new millennium. This book is much needed in the struggle for a world truly free from poverty, exploitation, and the denial of basic human rights.
—Pierre Labossiere, Co-Founder of the Haiti Action Committee; Board Member, Haiti Emergency Relief Fund; Labor and Human Rights Activist
In this short, incisive, no-nonsense, and easily accessible book, Seth Donnelly demonstrates the great lengths taken by international organizations, such as the World Bank, the Organization for Economic Cooperation and Development, and United Nations Food and Agricultural Organization, to disguise the dire realities of global poverty and world hunger through the flagrant misuse of statistics. Unable substantially to reduce world poverty under the current imperialist system, the dominant interests of the capitalist world economy seek to do "the next best thing": to define it away, even while world hunger and deprivation increases. Reading The Lie of Global Prosperity will leave you shocked, angry, and, most important, informed.
—John Bellamy Foster, coauthor, The Endless Crisis
A bleak look at the propagandistic world of development goals and the international comparisons of poverty, hunger, housing, and health on which they rest. Global statisticians have ways of making the data talk, but as with all forms of torture, the result is not the truth. It is, merely, what the sponsor would like to hear, and what he would like the rest of us to believe.
—James K. Galbraith, author, Inequality: What Everyone Needs to Know
Donnelly shows how militarism and neoliberal trickle down capitalism are continually putting millions in extreme misery and deprivation, part of the policies leading to the phenomenon of massive displacement and forced migration. It's a book complex in its analysis, yet accessible to academics and activists alike. The Myth of Global Prosperity is a great contribution to all those struggling to make a different world.
—Judith Mirkinson, President of the Comfort Women's Justice Coalition; author, "The Lasalin Massacre and the Human Rights Crisis in Haiti Today," 2019 National Lawyers Guild report
_________________________________________________
Seth Donnelly is a public high school teacher in the Bay Area of California, where he has taught social studies for nearly two decades. He has been an activist with the Puerto Rican independence and Black liberation movements, particularly those led by prisoners. He has also been involved in the Haiti Action Committee since 2004. Donnelly has co-authored human rights reports censuring the U.S. and Brazilian governments for their role in the killings of Haitian civilians following the 2004 coup. This is his first book.
Go to Original – monthlyreview.org
Tags:
Capitalism
,
Economics
,
Neoliberalism
,
Poverty
,
Reviews
DISCLAIMER: The statements, views and opinions expressed in pieces republished here are solely those of the authors and do not necessarily represent those of TMS. In accordance with title 17 U.S.C. section 107, this material is distributed without profit to those who have expressed a prior interest in receiving the included information for research and educational purposes. TMS has no affiliation whatsoever with the originator of this article nor is TMS endorsed or sponsored by the originator. "GO TO ORIGINAL" links are provided as a convenience to our readers and allow for verification of authenticity. However, as originating pages are often updated by their originating host sites, the versions posted may not match the versions our readers view when clicking the "GO TO ORIGINAL" links. This site contains copyrighted material the use of which has not always been specifically authorized by the copyright owner. We are making such material available in our efforts to advance understanding of environmental, political, human rights, economic, democracy, scientific, and social justice issues, etc. We believe this constitutes a 'fair use' of any such copyrighted material as provided for in section 107 of the US Copyright Law. In accordance with Title 17 U.S.C. Section 107, the material on this site is distributed without profit to those who have expressed a prior interest in receiving the included information for research and educational purposes. For more information go to: http://www.law.cornell.edu/uscode/17/107.shtml. If you wish to use copyrighted material from this site for purposes of your own that go beyond 'fair use', you must obtain permission from the copyright owner.