(Italiano) Chiamata alle armi, la NATO mobilitata su due fronti
ORIGINAL LANGUAGES, 27 Jan 2020
Manlio Dinucci | Il Manifesto – Centro Studi Sereno Regis
14 Gennaio 2020 – NATOME: così il presidente Trump, che si vanta del proprio talento nel creare acronimi, ha già battezzato lo spiegamento  della Nato in Medio Oriente, da lui richiesto per telefono al segretario generale dell'Alleanza Stoltenberg.
Questi ha immediatamente acconsentito che la Nato debba avere «un accresciuto ruolo in Medio Oriente, in particolare nelle missioni di addestramento». Ha quindi partecipato alla riunione dei ministri degli esteri della Ue, sottolineando che l'Unione europea deve restare a fianco degli Stati uniti e della Nato poiché, «anche se abbiamo fatto enormi progressi, Daesh può ritornare».
Gli Stati uniti cercano in tal modo di coinvolgere gli alleati europei nella caotica situazione provocata dall'assassinio, autorizzato dallo stesso Trump, del generale iraniano Soleimani appena sbarcato all'aeroporto di Baghdad.
Dopo che il parlamento iracheno ha deliberato l'espulsione degli oltre 5.000 soldati Usa, presenti nel paese insieme a migliaia di contractor del Pentagono, il primo ministro Abdul-Mahdi ha chiesto al Dipartimento di Stato di inviare una delegazione per stabilire la procedura del ritiro. Gli Usa – ha risposto il Dipartimento – invieranno una delegazione «non per discutere il ritiro di truppe, ma l'adeguato dispositivo di forze in Medio Oriente», aggiungendo che a Washington si sta concordando «il rafforzamento del ruolo della Nato in Iraq in linea con il desiderio del Presidente che gli Alleati condividano l'onere in tutti gli sforzi per la nostra difesa collettiva».
Il piano è chiaro: sostituire, totalmente o in parte, le truppe Usa in Iraq con quelle degli alleati europei, che verrebbero a trovarsi nelle situazioni più rischiose, come dimostra il fatto che la stessa Nato, dopo l'assassinio di Soleimani, ha sospeso le missioni di addestramento in Iraq.
Oltre che sul fronte meridionale, la Nato viene mobilitata su quello orientale. Per «difendere l'Europa dalla minaccia russa», si sta preparando l'esercitazione Defender Europe 20, che vedrà in aprile e maggio il più grande spiegamento di forze Usa in Europa degli ultimi 25 anni.
Arriveranno dagli Stati uniti 20.000 soldati, tra cui alcune migliaia della Guardia Nazionale provenienti da 12 Stati Usa, che si uniranno a 9.000 già presenti in Europa portando il totale a circa 30.000. Essi saranno affiancati da 7.000 soldati di 13 paesi europei della Nato, tra cui l'Italia, e 2 partner, Georgia e Finlandia.
Oltre agli armamenti che arriveranno da oltreatlantico, le truppe Usa impiegheranno 13.000 carri armati, cannoni semoventi, blindati e altri mezzi militari provenienti da «depositi preposizionati» Usa in Europa. Convogli militari con mezzi corazzati percorreranno 4.000 km attraverso 12 arterie, operando insieme ad aerei, elicotteri, droni e unità navali.
Paracadutisti Usa della 173a Brigata e italiani delle Brigata Folgore si lanceranno insieme in Lettonia.
L'esercitazione Defender Europe 20  assume ulteriore rilievo, nella strategia Usa/Nato, in seguito all'acuirsi della crisi mediorientale. Il Pentagono, che l'anno scorso ha inviato altri 14.000 soldati in Medio Oriente, sta dirottando nella stessa regione alcune forze che si stavano preparando all'esercitazione di guerra in Europa: 4.000 paracadutisti  della 82a Divisione aviotrasportata (comprese alcune centinaia da Vicenza) e 4.500 marinai e marines della nave da assalto anfibio USS Bataan. Altre forze, prima o dopo l'esercitazione in Europa, potrebbero essere inviate in Medio Oriente.
La pianificazione della Defender Europe 20, precisa il Pentagono, resta però immutata. In altre parole, 30.000 soldati Usa si eserciteranno a difendere l'Europa da una aggressione russa, scenario che mai potrebbe verificarsi anche perché nello scontro si userebbero non carri armati ma missili nucleari.
Scenario comunque utile per seminare tensione e alimentare l'idea del nemico.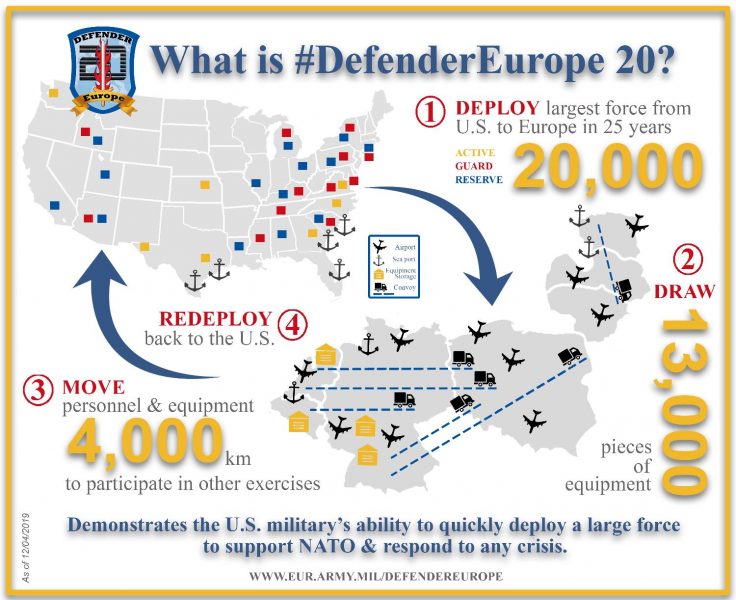 ________________________________________________

Manlio Dinucci, geografo e giornalista e saggista geopolitico, ha vissuto e lavorato a Pechino negli anni '60, contribuendo alla pubblicazione della prima rivista in lingua cinese in italiano. Sulla base di questa esperienza ha pubblicato, con Mazzotta Editore, La lotta di Classe in Cina / 1949-1974 (1975) e Economia e organizzazione del lavoro in Cina (1976). Negli anni '80 dirige la rivista Lotta per la pace (nata dall '"Appello contro l'installazione di missili nucleari in Italia") ed è stato direttore esecutivo per l'Italia dei Medici internazionali per la prevenzione della guerra nucleare, vincendo l'associazione del Premio Nobel del Pace nel 1985. Ultime pubblicazioni: L'arte della guerra / Annali della strategia Usa / Nato 1990-2016, Zambon 2016; Nuclear War Il Giorno Prima, Zambon Editore; 2017.
Go to Original – serenoregis.org
Tags:
European Union
,
Imperialism
,
Military
,
NATO
,
Nuclear Weapons
,
Pentagon
,
Politics
,
Power
,
US Military
,
USA
,
Violence
,
War
,
West
,
World
DISCLAIMER: The statements, views and opinions expressed in pieces republished here are solely those of the authors and do not necessarily represent those of TMS. In accordance with title 17 U.S.C. section 107, this material is distributed without profit to those who have expressed a prior interest in receiving the included information for research and educational purposes. TMS has no affiliation whatsoever with the originator of this article nor is TMS endorsed or sponsored by the originator. "GO TO ORIGINAL" links are provided as a convenience to our readers and allow for verification of authenticity. However, as originating pages are often updated by their originating host sites, the versions posted may not match the versions our readers view when clicking the "GO TO ORIGINAL" links. This site contains copyrighted material the use of which has not always been specifically authorized by the copyright owner. We are making such material available in our efforts to advance understanding of environmental, political, human rights, economic, democracy, scientific, and social justice issues, etc. We believe this constitutes a 'fair use' of any such copyrighted material as provided for in section 107 of the US Copyright Law. In accordance with Title 17 U.S.C. Section 107, the material on this site is distributed without profit to those who have expressed a prior interest in receiving the included information for research and educational purposes. For more information go to: http://www.law.cornell.edu/uscode/17/107.shtml. If you wish to use copyrighted material from this site for purposes of your own that go beyond 'fair use', you must obtain permission from the copyright owner.