World: Positive News in the Difficult Year of The Pandemic
TMS PEACE JOURNALISM, 4 Jan 2021
Pressenza - TRANSCEND Media Service
This post is also available in: French, Greek
3 Jan 2020 – Is there any positive news in this era that was accompanied by the outbreak of a pandemic? Here are some news and texts that, as human beings, fill us with pride. Because, they allow us to move forward, breaking down the walls of intolerance and racism, lighting the way and bringing hope, solidarity and cooperation.
Peace and Disarmament
Humanity can rejoice: nuclear weapons will be banned
With the signing of Honduras on October 24, 2020, 50 countries ratified the Treaty on the Prohibition of Nuclear Weapons, an essential condition for its entry into force. Read the full article here.
Israel: Jews and Arabs together for peace in Tel Aviv
About 1,000 people, Jews and Arabs, marched together on February 1 to protest with the following text: "The Trump-Netanyahu deal is a threat to the future of both nations. It is a one-sided deal that will not bring peace, justice or conflict resolution, but will further spread violence. Read the full article here.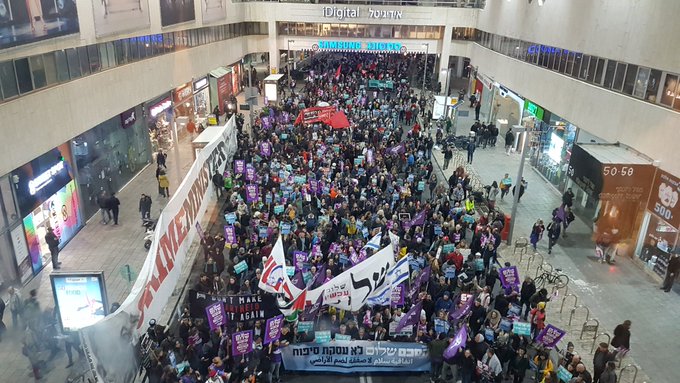 About 1,000 people demonstrated in Tel Aviv against the "Deal of the Century".
Germany: The Stuttgart Peace Prize goes to Julian Assange
Julian Assange, the founder of Wikileaks imprisoned in London for a year, received the Stuttgart Peace Prize 2020. The prize is awarded by Die Anstifter and seeks to promote the right to unconditional freedom of information and of the press. Read the full article here.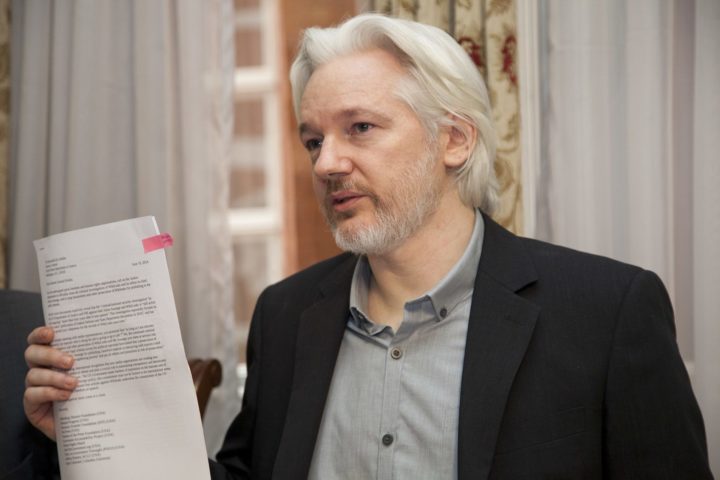 Julian Assange
Mass mobilizations
Video: "Chile woke up"
Millions of people in Chile were on the streets every day from October 18, 2019, until the outbreak of the coronavirus pandemic, asserting their lost dignity following the implementation of capitalist and conservative policies for more than 30 years.
Philippines: student movement and people against the anti-terrorism law
Given the general definition of what could be considered a terrorist and therefore arrested on this charge in the proposed bill, it has been widely criticized by groups, citizens and the student movement. It is therefore not surprising that protesters have taken to the streets to protest outrage, despite the continued quarantine over the pandemic. Read the full article here.
What Floyd Means on Roosevelt Avenue, Queens, NY, USA
Floyd's name is reminiscent of the painful words "I can't breathe". Those words were repeated by George Floyd and are now on posters as a political slogan. But we are also looking for a different meaning of Floyd. Many see it as an opportunity to create a common element among all races in the struggle for justice. Read the full article here.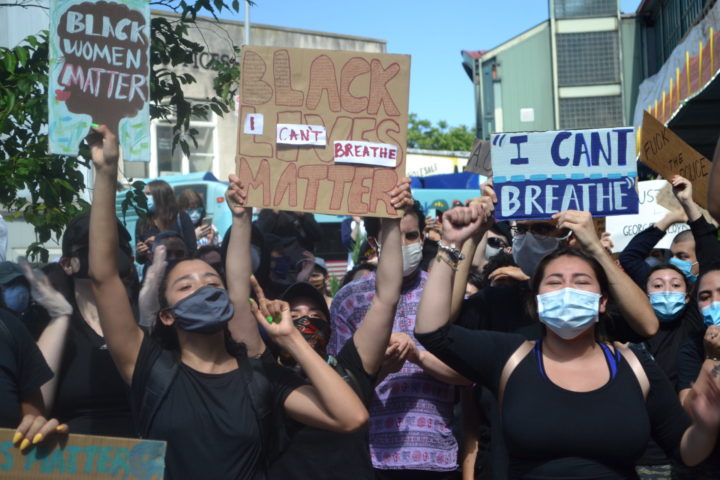 "I can't breathe", protests in the United States
Adama Traoré echoing Georges Floyd: thousands of demonstrators in the streets of France
People no longer want this police violence, or these terrible injustices, racial discrimination. They will not let it happen anymore. Neither here nor elsewhere.
In France, despite the ban pronounced by the Paris police prefect, thousands of demonstrators gathered in front of the court on Tuesday evening, June 2, 2020, responding to the appeal of the Adama Traoré family support committee, a 24-year-old black man who died in 2016 after his arrest. Read the full article here.
Actions for the pandemic
Open source 3D prints save lives in Italy
In Italy, which has acted too slowly to limit exposure, this has already happened: hospitals in the north of the country have exceeded their capacity and the equipment is insufficient. This resulted in a very large number of deaths. But when an Italian hospital ran out of valves for respirators, local manufacturers began replacing them with 3D printing. Read the full article here.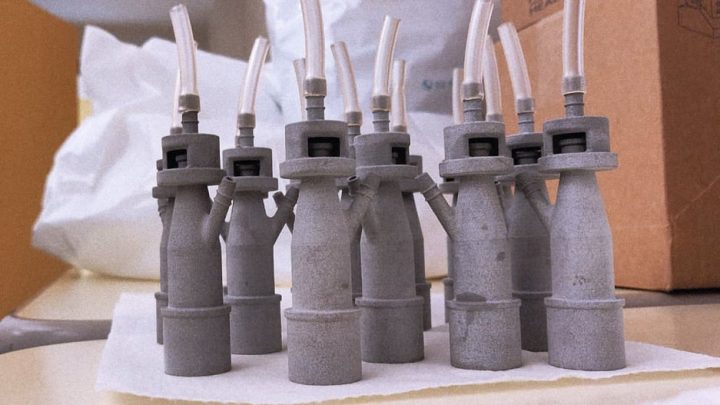 Respiratory valves made with 3D prints
Canada, 3D models to meet the needs of mass production of masks
Different scientists around the world are involved in the battle to meet the need for consumables, especially masks and stethoscopes. Their weapon is 3D printing, which apparently can help in many areas. Read the full article here.
Appeal: "Nobel Peace Prize for Cuban Doctors"
From the start and in more than twenty countries, Cuba sent contingents of its "International Medical Brigades Henry Reeve", offering free medical assistance in solidarity, without asking for any "political exchange" concerning the harsh embargo that the island has since suffered from for years. In some cases, such as in Italy, it was local governments that requested help from the Cuban medical brigades, which quickly arrived with doctors, medical staff, equipment and supplies. Read the full article here.
MAKERS. Revolution in post-COVID-19 production
By joining the MAKERS initiative, the Municipality of Barcelona has made available to the community the potential of Ateneos de Fabricación Digital to produce, through the technique of 3D printing, some of the personal protective equipment and materials most requested by the medical community and by the sectors most exposed to infection by the Covid-19 virus. Read the full article here.
Human rights
In Sudan, female genital mutilation will be banned
On April 30, the transitional government of Sudan announced a new article in the penal code prohibiting female genital mutilation. According to local human rights organizations, well over half of girls are still subjected to this barbaric practice. According to Unicef, nine in ten women aged 15 to 49 have had infibulation. Read the full article here.
Marriage for all in Switzerland and access to sperm donation for lesbian couples
In Switzerland, same-sex couples should also be allowed to marry in the future. It was the Grand Chamber of Parliament that decided so. The National Council has also spoken out in favor of the authorization of sperm donation for lesbian couples. However, the bill still has to overcome other obstacles. Read the full article here.
Europe: Aspen cuts prices for cancer drugs
The European Consumers Union (BEUC) hails the European Commission for pushing pharmaceutical company Aspen to reduce the price of six cancer drugs by 73% on average in Europe over the next 10 years. Read the full article here.
Thailand: more than 700 Cambodian families will be able to sue a sugar factory
On July 31, the Civil Court in Bangkok, the capital of Thailand, granted more than 700 Cambodian families the right to join a class action, a class-action lawsuit, against Mitr Phol, the world's largest sugar producer from Thailand, whose activities in Cambodia led to the forced eviction of families in 2008 and 2009. Read the full article here.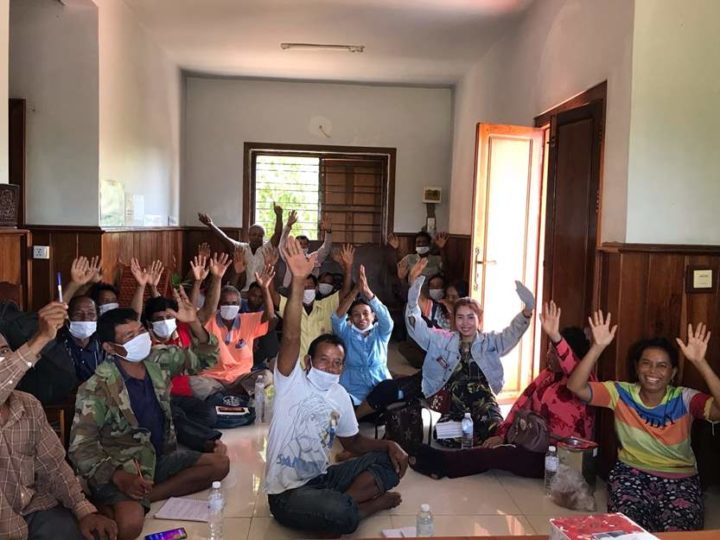 Some of the Cambodian families participating in the collective action in Thailand.
Massive support for Las Tesis
The feminist group who created the performance "A rapist on your way" known as the Las Tesis group, was denounced by the Carabinieri de Chile for having tried to create an intentional animosity towards this institution. This is after the group created and circulated throughout May a video of them demonstrating peacefully outside a police station, dressed in red overalls, masks and a black Chilean flag. Faced with this, support from around the world, mainly through social media, quickly turned into an avalanche. Read the full article here.
Australia, Victoria State Parliament says no to "conversion therapy"
On December 10, World Human Rights Day, the Lower House in the Australian state of Victoria banned "conversion therapy". This is cruel and degrading pseudo-scientific treatment, still in effect in many states, which aims to change a person's sexual orientation from homosexuality or bisexuality to heterosexuality, also through electroshock. Read the full article here.
Edward Snowden received a permanent residence permit in Russia
Snowden's lawyer Anatoly Kucherena today announced the Russian government's decision to grant him an indefinite residence permit. Russia had granted Snowden a residence permit since 2013, which expired in 2020. Read the full article here.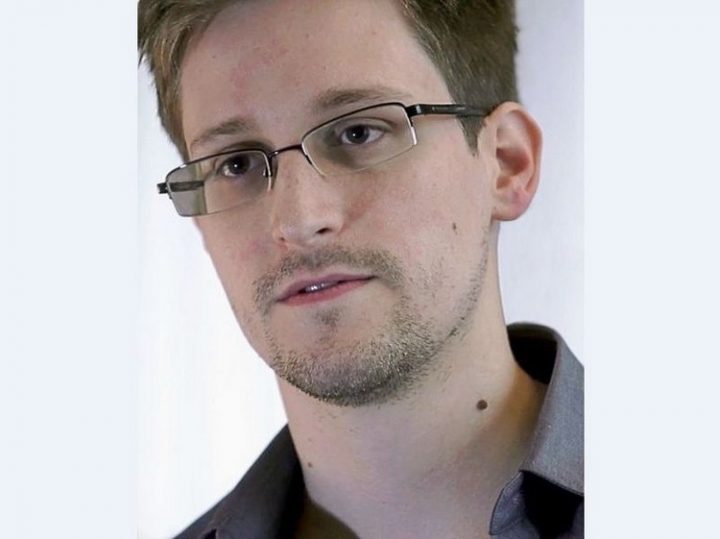 Edward Snowden
New Zealand Prime Minister appoints Maori woman as Chancellor
In November, New Zealand Prime Minister Yassinda Artnern elected Nanaa Mahuta, a Maori woman who four years ago was the first woman in the country to wear the traditional moko kauae tattoo made by the natives of the ethnic group. Read the full article here.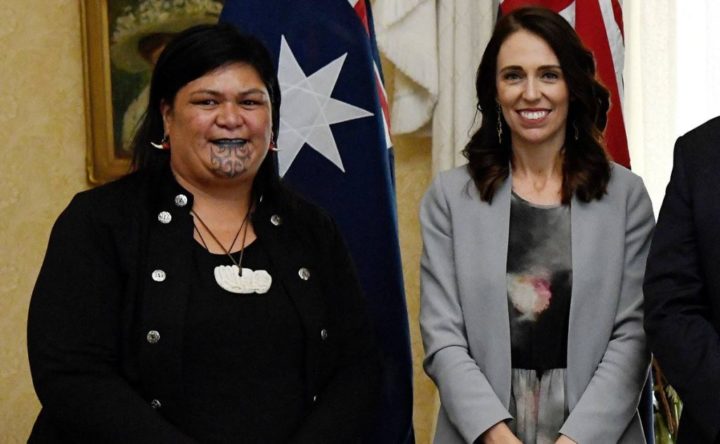 From left to right: Nanaia Mahuta and Jacinda Ardern.
Public history
Germany: Women in the Shadow, a monument to Asian "relief women".
There are often celebrations of the horrors of WWII. The focus is almost always on Europe, but we forget that war was also raging in Asia. In October 2020, a monument was unveiled to commemorate a very specific aspect of the war in Asia and the Pacific: the "relief women". Read the full article here.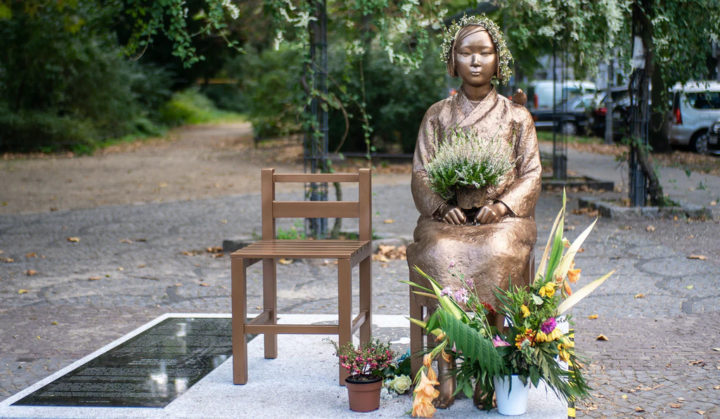 View of the monument in Germany.
Economy
Germany: Parliament examines the special request for basic income
The petition, supported by various Basic Income 'groups in Germany and signed by more than 176,000 people, was debated by the German Parliament's Petitions Committee (Bundestag) in October. Read the full article here.
Glasgow City Council calls for funding to experiment with Universal Basic Income
In late October, Glasgow City Council voted in favor of a proposal to ask the governments of the UK and Scotland to fund a Universal Basic Income (UBI) pilot project. Read the full article here.
Tags:
Positive News
DISCLAIMER: The statements, views and opinions expressed in pieces republished here are solely those of the authors and do not necessarily represent those of TMS. In accordance with title 17 U.S.C. section 107, this material is distributed without profit to those who have expressed a prior interest in receiving the included information for research and educational purposes. TMS has no affiliation whatsoever with the originator of this article nor is TMS endorsed or sponsored by the originator. "GO TO ORIGINAL" links are provided as a convenience to our readers and allow for verification of authenticity. However, as originating pages are often updated by their originating host sites, the versions posted may not match the versions our readers view when clicking the "GO TO ORIGINAL" links. This site contains copyrighted material the use of which has not always been specifically authorized by the copyright owner. We are making such material available in our efforts to advance understanding of environmental, political, human rights, economic, democracy, scientific, and social justice issues, etc. We believe this constitutes a 'fair use' of any such copyrighted material as provided for in section 107 of the US Copyright Law. In accordance with Title 17 U.S.C. Section 107, the material on this site is distributed without profit to those who have expressed a prior interest in receiving the included information for research and educational purposes. For more information go to: http://www.law.cornell.edu/uscode/17/107.shtml. If you wish to use copyrighted material from this site for purposes of your own that go beyond 'fair use', you must obtain permission from the copyright owner.
Join the discussion!
We welcome debate and dissent, but personal — ad hominem — attacks (on authors, other users or any individual), abuse and defamatory language will not be tolerated. Nor will we tolerate attempts to deliberately disrupt discussions. We aim to maintain an inviting space to focus on intelligent interactions and debates.