Philosopher Martin Buber on What Trees Teach Us about Being More Human…
INSPIRATIONAL, 8 Mar 2021
Maria Popova | Brain Pickings – TRANSCEND Media Service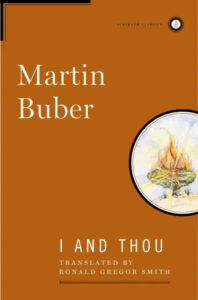 … and Mastering the Difficult Art of Seeing Others as They Truly Are
"Let no attempt be made to sap the strength from the meaning of the relation: relation is mutual."
When Walt Whitman contemplated the wisdom of trees, he saw in them qualities "almost emotional, palpably artistic, heroic," and found in their resolute being a counterpoint to the human charade of seeming. "When we have learned how to listen to trees," Hermann Hesse rhapsodized in his lyrical love letter to our arboreal companions, "then the brevity and the quickness and the childlike hastiness of our thoughts achieve an incomparable joy." A century and a half earlier, William Blake wrote in his most beautiful letter: "The tree which moves some to tears of joy is in the eyes of others only a green thing which stands in the way… As a man is, so he sees."
But to truly see and listen to a tree — or to any being beyond ourselves — as more than a teaching, more than an object of envy or worship or desire, more than a metaphor for our own lives, requires a special kind of regard — the kind to which Ursula K. Le Guin alluded in contemplating the difference between objectifying and subjectifying the universe.
This unsolipsistic orientation to another's reality does not come easily to us, being such colonizers of the experience and essence of others as we are. What it takes to cultivate it is what philosopher Martin Buber (February 8, 1878–June 13, 1965) explores in poignant passage from I and Thou (public library) — his 1923 existentialist masterpiece, laying out Buber's visionary lens on what makes us real to one another and extracting from it abiding insight into the meaning of love and presence.
Buber illustrates the distinction between I-It and I-Thou relationships — the redignifying shift of perspective at the heart of his philosophy — with the example of how one regards a tree:
I consider a tree.

I can look on it as a picture: stiff column in a shock of light, or splash of green shot with the delicate blue and silver of the background.

I can perceive it as movement: flowing veins on clinging, pressing pith, suck of the roots, breathing of the leaves, ceaseless commerce with earth and air—and the obscure growth itself.

I can classify it in a species and study it as a type in its structure and mode of life.

I can subdue its actual presence and form so sternly that I recognise it only as an expression of law — of the laws in accordance with which a constant opposition of forces is continually adjusted, or of those in accordance with which the component substances mingle and separate.

I can dissipate it and perpetuate it in number, in pure numerical relation.

In all this the tree remains my object, occupies space and time, and has its nature and constitution.

It can, however, also come about, if I have both will and grace, that in considering the tree I become bound up in relation to it. The tree is now no longer It. I have been seized by the power of exclusiveness.

To effect this it is not necessary for me to give up any of the ways in which I consider the tree. There is nothing from which I would have to turn my eyes away in order to see, and no knowledge that I would have to forget. Rather is everything, picture and movement, species and type, law and number, indivisibly united in this event.

Everything belonging to the tree is in this: its form and structure, its colours and chemical composition, its intercourse with the elements and with the stars, are all present in a single whole.

The tree is no impression, no play of my imagination, no value depending on my mood; but it is bodied over against me and has to do with me, as I with it — only in a different way.

Let no attempt be made to sap the strength from the meaning of the relation: relation is mutual.
Decades before scientists came to uncover what trees feel and how they communicate, Buber adds:
The tree will have a consciousness, then, similar to our own? Of that I have no experience. But do you wish, through seeming to succeed in it with yourself, once again to disintegrate that which cannot be disintegrated? I encounter no soul or dryad of the tree, but the tree itself.
Complement this particular fragment of I and Thou with Henry David Thoreau on the language of trees and biologist David George Haskell on what a dozen of the world's most unusual trees taught him about the art of relationship, then revisit bryologist and Native American storyteller Robin Wall Kimmerer on how to regard non-human life with dignity.
_______________________________________

Brain Pickings is the brain child of Maria Popova, an interestingness hunter-gatherer and curious mind at large obsessed with combinatorial creativity who also writes for Wired UK and The Atlantic, among others, and is an MIT Futures of Entertainment Fellow. She has gotten occasional help from a handful of guest contributors. Email: brainpicker@brainpickings.org
Go to Original – brainpickings.org
Tags:
I-Thou
,
Inspirational
,
Literature
,
Martin Buber
,
Philosophy
,
Psychology
DISCLAIMER: The statements, views and opinions expressed in pieces republished here are solely those of the authors and do not necessarily represent those of TMS. In accordance with title 17 U.S.C. section 107, this material is distributed without profit to those who have expressed a prior interest in receiving the included information for research and educational purposes. TMS has no affiliation whatsoever with the originator of this article nor is TMS endorsed or sponsored by the originator. "GO TO ORIGINAL" links are provided as a convenience to our readers and allow for verification of authenticity. However, as originating pages are often updated by their originating host sites, the versions posted may not match the versions our readers view when clicking the "GO TO ORIGINAL" links. This site contains copyrighted material the use of which has not always been specifically authorized by the copyright owner. We are making such material available in our efforts to advance understanding of environmental, political, human rights, economic, democracy, scientific, and social justice issues, etc. We believe this constitutes a 'fair use' of any such copyrighted material as provided for in section 107 of the US Copyright Law. In accordance with Title 17 U.S.C. Section 107, the material on this site is distributed without profit to those who have expressed a prior interest in receiving the included information for research and educational purposes. For more information go to: http://www.law.cornell.edu/uscode/17/107.shtml. If you wish to use copyrighted material from this site for purposes of your own that go beyond 'fair use', you must obtain permission from the copyright owner.