Creativity Is Our Superpower — 13 Stories of Inventive Nonviolence
NONVIOLENCE, 3 May 2021
Rivera Sun | Waging Nonviolence – TRANSCEND Media Service
This collection of stories from the news showcases the incredible versatility, imagination, and super creativity of nonviolence in action.
21 Apr 2021 – At Pace e Bene/Campaign Nonviolence, we strive to build a culture of active nonviolence. Invariably, we're asked, "What is (or isn't) nonviolence?" While we speak about everything from protests to direct action to restorative justice to self-care, it's hard to illuminate the incredible range of what the word "nonviolence" includes. Nonviolence is a field, a toolbox, a science, a philosophy, a way of life and an art form all rolled into one. It's also off-the-wall, zany and creative as all get-out. Nonviolence can blow your mind with its dazzling creativity. Here are 13 stories from recent Nonviolence News round-ups that may help expand your notion of nonviolence.
Amidst the rubble of a city under siege from Assad's regime, a group of people have an unusual mission: to rescue books from the wreckage. Digging through bombed buildings, they collect books for their underground library — underground in both the literal and figurative sense. The books offer knowledge and respite from the horrors of the ongoing war. They also serve as what the field of nonviolence calls an "alternative institution" and a constructive program.
When the boys were sent on a field trip to a hardware store and girls went to get their hair done, this modern dad didn't get mad, he got hilarious. He wrote a letter notifying the school that there was a rift in the time space continuum somewhere in the school and that his kids had been sent back to 1968. He requested that the administration fix the timewarp immediately. This kind of humor is a hallmark of creative nonviolence.
Girls' Day was founded by female students in China who objected to International Women's Day on the grounds that being called women (funü) made them sound old. But the shift to Girls' Day brought out new forms of harassment, including demeaning slogans and slurs from male students. Now, China's female students are trying to abolish Girls' Day and reclaim the feminist meaning of International Women's Day. This includes protesting wearing Grumpy Cat masks.
In a first for Canadians, the Magpie River (Muteshekau-shipu in the Innu Coet) has been granted legal personhood. It is the latest in an ever-growing list of ecosystems to be respected with legal personhood. Rights of Nature are one of the most radical (and sensible) frontlines of revolutionary respect. They're also one of the oldest. Human cultures around the world understood the beingness of the natural world. Folktales speak of living rivers, deities that are the sky and rocks, and the creatures that are now called forests, lakes or oceans. Rights of Nature turns this ancient understanding into contemporary law, challenging the centuries of extractivism and conquest that relegated the natural beings into objects that could be bought, sold and plundered. Just as respecting the rights of women, people of color, and LGBTQIA persons involves policies rooted in nonviolence, so too does respecting the Rights of Nature.
During the early stages of the pandemic, the policy of providing free rides on buses — thus not dealing with money — had kept bus drivers safe in Silicon Valley. When management tried to force the drivers to resume collecting fares, the bus drivers took matters into their own hands. They simply refused to open the front doors or collect fares. Passengers got free rides and boarded more safely at the back door. This bold act of total noncooperation kept the bus drivers and the passengers safe.
As resistance to the Enbridge Line 3 pipeline ramped up, supporters across the country took action in an unusual way: They flooded the calendars of CEOs at Chase Bank, Bank of America, TD Bank, and Citi Bank with hundreds of invitations to remind them to break up with Enbridge and defund Line 3. Impossible to ignore, it delivered the message even if the executives never replied. It also surprised them — a good example of how creative nonviolence is excellent at keeping power holders on their toes.
As Myanmar citizens resist the recent military coup and face down deadly repression, protesters have come up with an unusual — but surprisingly effective — action to slow down police and soldiers. Knowing that walking beneath women's garments is traditionally considered bad luck for men, they strung women's clothing on lines across the streets. The wraparound cloths, known as longyi, are hung on washing lines. Sometimes women's underwear is used too. The tactic has caused police and soldiers to detour to avoid the garments, giving protesters a margin of escape.
In Oslo, Norway, climate activists used snowpeople to blockade the Ministry of Justice in protest of the heavy fines imposed on civil disobedience. The snowpeople themselves could not be fined. They could not be arrested, either. The soundtrack to the Disney hit, Frozen played during their blockade. Inventiveness keeps our nonviolent movements nimble, effective and strategic.
Did they walkout or dance out? Either way, Kyrgyzstan's ballerinas are protesting their low wages. Since productions involving Russian stars bring in big money, they chose to take action during the visit of their better-paid Russian colleagues. Local dancers do not see any extra money from these visits. Opposing the unfairness of this pay structure, the Kyrgyzstan ballet troupe took dramatic action to make a point (though not "on pointe" in classical ballet fashion).
The Forest Occupation Movement in Germany has grown large and broad. People are taking up residence in the forests, often in treehouses, to stop lignite mining, express highways, gravel mining, parking lots, lime pits and candy factories. So, the next time the kids want to build a treefort in the backyard, train them to resist forest destruction while they're at it.
You've heard of the Water Protectors . . . but have you heard of the Herring Protectors? An Alaskan activist group called the Herring Protectors demonstrated against the Department of Fish and Game's reckless plan to overfish during the approaching commercial herring fishing season. The group advocates for herring and subsistence harvesters, and calls into question the state's management of the commercial herring fishery. They think there's something fishy in the plan.
Forget Dungeons and Dragons. The role playing game that's generating buzz is the one that imagines a future on Turtle Island (North America) without colonization. It's a crowdfunding campaign has raised 10 times its goal. In re-imagining the future, it offers to Indigenous cultural resistance something akin to what Afro-Futurism has offered to Black struggles. It's an idea whose time has not only come, but is long overdue.
The local news journal in Camden, UK, is called the Camden New Journal. Recently, the area's climate transition group convinced them to publish under a different name for a very special edition: an issue from the future. The Camden Future Journal reported from 2040 — after a successful climate transition — and included news of bike lane improvements, community gardens, solar investments and more. Nonviolence includes envisioning the world to come . . . and then building it in the shell of the old world.
From timewarps to futurism, these stories show the incredible versatility of nonviolence. It's imaginative and mindblowing all at the same time. These are just some of the hundreds of examples. Maybe your actions will be the next to contribute to this incredible lineage. As we seek to build a culture of active nonviolence, our creativity is our superpower. Get creative. Get active. You are the next inventive — and awesome — story just waiting to happen.
_________________________________________________
These stories were collected from Nonviolence News' weekly round-up for Pace e Bene/Campaign Nonviolence. You can find them and hundreds more at NonviolenceNews.org.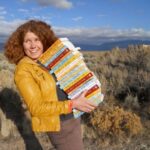 Author/Activist Rivera Sun is the editor of Nonviolence News, author of The Dandelion Insurrection and other books, and the Programs Coordinator for Campaign Nonviolence. She is a nationwide trainer in strategy for nonviolent campaigns. www.riverasun.com
Tags:
Activism
,
Nonviolence
,
Nonviolent Action
DISCLAIMER: The statements, views and opinions expressed in pieces republished here are solely those of the authors and do not necessarily represent those of TMS. In accordance with title 17 U.S.C. section 107, this material is distributed without profit to those who have expressed a prior interest in receiving the included information for research and educational purposes. TMS has no affiliation whatsoever with the originator of this article nor is TMS endorsed or sponsored by the originator. "GO TO ORIGINAL" links are provided as a convenience to our readers and allow for verification of authenticity. However, as originating pages are often updated by their originating host sites, the versions posted may not match the versions our readers view when clicking the "GO TO ORIGINAL" links. This site contains copyrighted material the use of which has not always been specifically authorized by the copyright owner. We are making such material available in our efforts to advance understanding of environmental, political, human rights, economic, democracy, scientific, and social justice issues, etc. We believe this constitutes a 'fair use' of any such copyrighted material as provided for in section 107 of the US Copyright Law. In accordance with Title 17 U.S.C. Section 107, the material on this site is distributed without profit to those who have expressed a prior interest in receiving the included information for research and educational purposes. For more information go to: http://www.law.cornell.edu/uscode/17/107.shtml. If you wish to use copyrighted material from this site for purposes of your own that go beyond 'fair use', you must obtain permission from the copyright owner.