(Français) Rétrospective 2021: Le Regard du CETRI
ORIGINAL LANGUAGES, 3 Jan 2022
CETRI Centre Tricontinental - TRANSCEND Media Service
23 décembre 2021 – L'année 2021 s'est ouverte sur l'investiture à la présidence de Joe Biden, et se clôt par la victoire aux élections chiliennes de Gabriel Boric, à la tête d'une vaste alliance de gauche, face au candidat d'extrême droite, nostalgique de Pinochet. Ces tiraillements, entre héritages du passé et espoirs de changements, entre désillusions et élans populaires, furent au cœur du travail d'analyse et de formation du CETRI.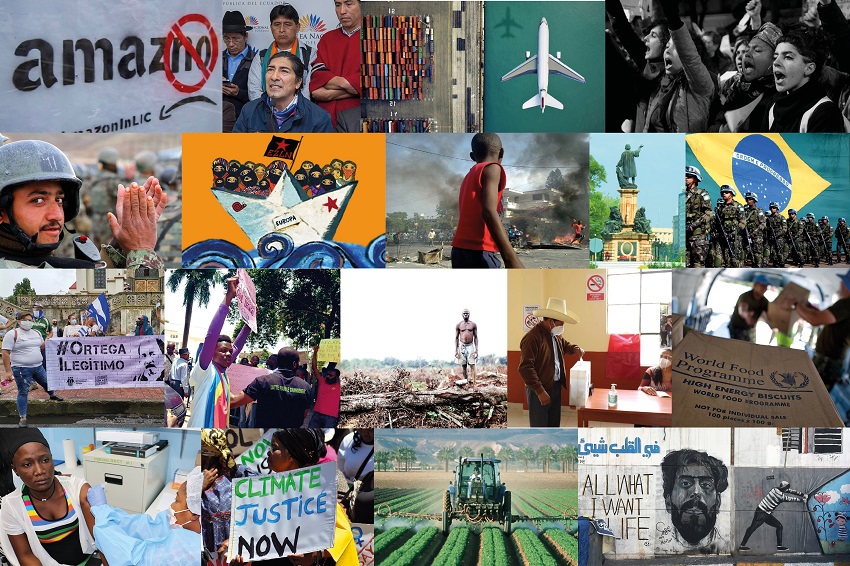 La pandémie, les changements climatiques, la crise migratoire, l'insécurité alimentaire, les violences de genre (et les résistances à celles-ci)… autant de questions d'actualité, qui traversent tous les pays, mais se déclinent différemment en fonction (notamment) des rapports Nord-Sud. Le covid-19 a ainsi été étudié par le CETRI sous l'angle de la double inégalité des rapports de genre et des politiques sanitaires mondiales. La COP26 a remis au centre des débats l'urgence écologique. Celle-ci a fait l'objet de multiples articles et interventions de Bernard Duterme, interrogeant cet enjeu sous l'angle décolonial, en démontrant au passage les faux-semblants du « capitalisme vert ».
Le renouvellement de la crise des migrants à la frontière Sud des États-Unis jette une lumière crue sur les sociétés d'Amérique centrale, dont une partie importante de la population cherche à fuir les violences de toutes sortes. Le premier volume de la collection Alternatives Sud (AS), en 2022, y sera consacré.
À l'heure où l'insécurité alimentaire connaît une croissance vertigineuse, au point de toucher près d'un tiers de la population mondiale, il nous a semblé pertinent de passer au crible d'une analyse critique l'ensemble de la chaîne, depuis le système agro-industriel mondialisé jusqu'aux mouvements paysans en lutte pour changer de modèle. Cette question a été étudiée par Laurent Delcourt à travers nombre d'entretiens et la coordination du dernier volume AS de cette année .
Soucieux de souligner à la fois le caractère commun de questionnements et leurs déclinaisons distinctes selon l'axe Nord-Sud, des faits d'actualité au Nord, et plus spécifiquement en Belgique – voyage des zapatistes en Europe ; implantation d'Ali Baba à l'aéroport de Liège ; campagne « Balance ton bar » ; etc. – ont été analysés sous un angle différent. De façon plus directe, le CETRI fut la cheville ouvrière de la campagne de mobilisation et de plaidoyer « Stop silence Haïti ».
Enfin, de manière transversale, l'expertise critique sur les logiques de l'humanitaire, de la coopération internationale et l'aide en général s'est poursuivie.
Un nouvel ordre mondial ?
Au cours de cette année, les élections qui se sont tenues au Nicaragua, au Honduras et au Chili furent l'occasion d'en éclairer les contextes sociohistoriques et les enjeux. Au-delà du cadre électoral, sur le plan politique, le Brésil, Haïti, la Colombie, la République démocratique du Congo, l'Afghanistan et la Chine attirèrent également, à des degrés divers, l'attention de notre organisation.
Plus globalement, c'est toute l'architecture des rapports et institutions de la mondialisation capitaliste qui est demeurée au centre de notre réflexion, par le biais d'approches aussi bien spécifiques que générales : le néolibéralisme, l'extractivisme, l'économie numérique et la démondialisation. Ces deux dernières thématiques ont ainsi fait l'objet de conférences internationales, ainsi que d'un AS coordonné par François Polet.
L'essor de la Chine, cette « autre superpuissance », participe-t-il de la consolidation de l'ordre mondial ou le conteste-t-il ? En faveur de relations internationales moins hiérarchisées ou, au contraire, d'une forme inédite d'impérialisme ? Un AS coordonné par Cédric Leterme a été consacré à ces questions.
Alors que le débat autour du décolonial prend de l'ampleur en Europe et que l'on célèbre les soixante ans du décès de Frantz Fanon (mort à 36 ans, le 6 décembre 1961), le CETRI a organisé une série de formations afin d'analyser les enjeux internationaux au prisme de l'héritage colonial et néocolonial et des luttes sociales en cours. C'est également sous cet angle, faisant le lien entre le passé et le présent, qu'une soirée d'hommage à l'économiste franco-égyptien Samir Amin (1931-2018) a été organisée.
Enfin, le travail d'accompagnement de l'ONG belge Solsoc autour de l'économie sociale et solidaire s'est poursuivi, toujours sous la coordination de Jacques Bastin. Il s'est doublé d'une étude, réalisée par Frédéric Thomas cette année, autour des lois sur le devoir de vigilance (en cours de discussion au sein des parlements belge et européen) au regard du contexte colombien.
Une accélération des mobilisations ?
Dans un de ces derniers articles, Aurélie Leroy, qui a par ailleurs coordonné l'AS autour des Violences de genre et résistances, fait l'hypothèse d'une accélération de la prise de conscience des dominations à travers les explosions mobilisatrices récentes – des soulèvements populaires à Black Lives Matter, en passant par les révoltes féministes.
Hypothèse séduisante à l'approfondissement de laquelle le CETRI veut contribuer, fidèle à sa vision. En 2021, nous avons tenté de le faire par le biais d'articles, d'interventions et d'études consacrés plus directement aux mouvements citoyens en RDC et au Sénégal, aux grèves et mobilisations sociales de grande ampleur en Inde et en Colombie, et aux suites des insurrections en Irak, au Chili et en Haïti. De ces luttes et d'autres dépendront en grande partie les contours de l'année 2022.
_________________________________________________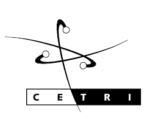 Le Centre tricontinental (CETRI), organisation non gouvernementale fondée en 1976 et basée à Louvain-la-Neuve (Belgique), est un centre d'étude, de publication, de documentation et d'éducation permanente sur le développement et les rapports Nord-Sud. Le CETRI a pour objectif de faire entendre des points de vue du Sud et de contribuer à une réflexion critique sur les conceptions et les pratiques dominantes du développement à l'heure de la mondialisation néolibérale. Il s'attache en particulier à la compréhension et à la discussion du rôle des acteurs sociaux et politiques du Sud en lutte pour la reconnaissance des droits sociaux, politiques, culturels et écologiques. Les activités du CETRI sont de quatre types : étude, formation, publication, documentation. Le rôle des mouvements sociaux dans le Sud, la dynamique du mouvement altermondialiste, l'évolution des démocraties en Amérique latine, la portée des alternatives sociales et politiques dans le Sud, les logiques et conséquences des ajustements structurels et de l'aide au développement… constituent les principaux thèmes des travaux de ces dernières années.
Tags:
Conflict Analysis
,
World
DISCLAIMER: The statements, views and opinions expressed in pieces republished here are solely those of the authors and do not necessarily represent those of TMS. In accordance with title 17 U.S.C. section 107, this material is distributed without profit to those who have expressed a prior interest in receiving the included information for research and educational purposes. TMS has no affiliation whatsoever with the originator of this article nor is TMS endorsed or sponsored by the originator. "GO TO ORIGINAL" links are provided as a convenience to our readers and allow for verification of authenticity. However, as originating pages are often updated by their originating host sites, the versions posted may not match the versions our readers view when clicking the "GO TO ORIGINAL" links. This site contains copyrighted material the use of which has not always been specifically authorized by the copyright owner. We are making such material available in our efforts to advance understanding of environmental, political, human rights, economic, democracy, scientific, and social justice issues, etc. We believe this constitutes a 'fair use' of any such copyrighted material as provided for in section 107 of the US Copyright Law. In accordance with Title 17 U.S.C. Section 107, the material on this site is distributed without profit to those who have expressed a prior interest in receiving the included information for research and educational purposes. For more information go to: http://www.law.cornell.edu/uscode/17/107.shtml. If you wish to use copyrighted material from this site for purposes of your own that go beyond 'fair use', you must obtain permission from the copyright owner.
Join the discussion!
We welcome debate and dissent, but personal — ad hominem — attacks (on authors, other users or any individual), abuse and defamatory language will not be tolerated. Nor will we tolerate attempts to deliberately disrupt discussions. We aim to maintain an inviting space to focus on intelligent interactions and debates.