Elon Musk Offers $43 Billion in Cash to Buy Twitter in Bid to 'Save Free Speech'
MEDIA, 18 Apr 2022
David Charbonneau, Ph.D. | The Defender - TRANSCEND Media Service
14 Apr 2022 – The world's richest person, Elon Musk, yesterday offered $43 billion — cash — to buy Twitter so he can "unlock" its "potential to be the platform for free speech around the globe."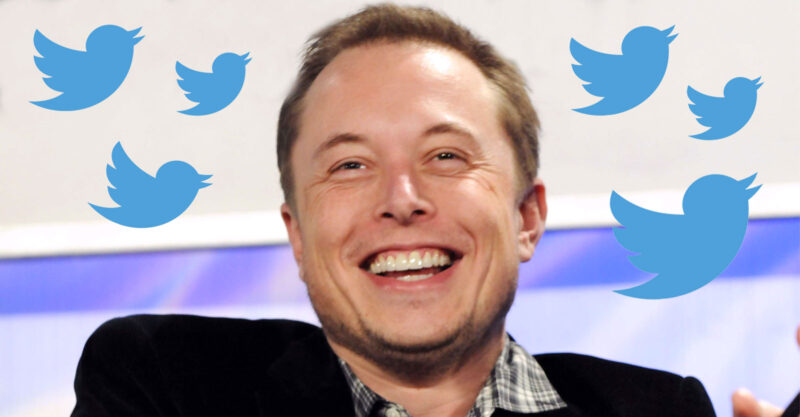 The world's richest person, Elon Musk, Wednesday offered $43 billion — cash — to buy Twitter so he can "unlock" the social media platform's "extraordinary potential."
In a U.S. Securities and Exchange Commission (SEC) filing, Musk offered to buy Twitter's remaining shares for $54.20 per share.
I made an offer https://t.co/VvreuPMeLu

— Elon Musk (@elonmusk) April 14, 2022
The Tesla and SpaceX CEO earlier this week declined an offer to join Twitter's board. The board extended the invitation after Musk revealed he bought 9.2% of the company's stock over the past few months, making him the largest single shareholder.
In a letter attached to Wednesday's filing, Musk told Twitter Chairman Bret Taylor:
"I invested in Twitter as I believe in its potential to be the platform for free speech around the globe, and I believe free speech is a societal imperative for a functioning democracy.

"However, since making my investment I now realize the company will neither thrive nor serve this societal imperative in its current form. Twitter needs to be transformed as a private company."
In a statement, Twitter acknowledged Musk's offer and said the board "will carefully review the proposal to determine the course of action that it believes is in the best interest of the company and all Twitter stockholders."
Responding to the news and Musk's intention to make Twitter a platform for free speech, political commentator Kim Iversen said, "Hey, it's worth a shot. Let the guy run it … It's better than what's going on now."
Iversen acknowledged, however, that there's a lot more to running a social media platform than just saying "free speech for everyone."
Iversen also couched her support for Musk by saying:
"It's not like Elon Musk doesn't have his own interest as someone whose wealth is kind of historically unprecedented and who has plenty of reasons to want to have certain kinds of information flowing or not flowing."
How the offer went down
Musk's latest offer followed weeks of back-and-forth between the billionaire and Twitter executives.
On April 4, Musk announced he was joining the board. But on Monday, Twitter CEO Parag Agrawal tweeted Musk would not join the board after all.
The board's initial invitation was contingent on a number of factors, including the requirement that Musk cap his ownership at 15%.
Musk gave no reason for declining the invitation, but it was widely reported that he probably did so because of the 15% ownership cap.
Chester Spatt, a finance professor at Carnegie Mellon University and former chief economist at the SEC, told U.S. News & World Report:
"While Musk's board role could have made him a 'thorn in the side of management' and given him an influential voice in the platform's future, it could have also discouraged him from rocking the boat too much.

"There's an old cliché about keeping somebody inside the tent. There were advantages to having him constrained a bit."
According to Spatt, Musk, an identified "edgelord" in social media circles, is potentially freer to force his will on the company from a position outside the board — either through acquiring a controlling interest or by leveraging his current share to force changes in Twitter leadership.
Musk's bid to take Twitter private under his ownership, if successful, would give him total control over the platform.
Musk's motivation: lots of speculation, few facts so far
Musk has been outspoken about what he perceives to be Twitter censorship.
He threatened last month to create a rival network, even as he was secretly amassing Twitter stock in possible violation of SEC rules.
Meanwhile, in a Twitter poll he posted March 25, Musk said, "Free speech is essential to a functioning democracy."
He asked users whether they thought "Twitter rigorously adheres to this principle." More than 2 million Twitter users responded to the poll with 70.4% saying "no" and 29.6% saying "yes."
Free speech is essential to a functioning democracy.

Do you believe Twitter rigorously adheres to this principle?

— Elon Musk (@elonmusk) March 25, 2022
According to a retweet by Musk from World of Statistics, he has more than 81 million Twitter followers, which makes him the eighth most popular account on the platform — just behind Lady Gaga and just ahead of Narendra Modi, the prime minister of India.
TOP 10 most followed Twitter accounts:

1. @BarackObama 131.4M
2. @justinbieber 114.3M
3. @katyperry 108.8M
4. @rihanna 105.9M
5. @Cristiano 98.8M
6. @taylorswift13 90.3M
7. @ladygaga 84.5M
8. @elonmusk 81M
9. @narendramodi 77.7M
10. @TheEllenShow 77.5M

— World of Statistics (@stats_feed) April 9, 2022
In an interview on CNBC's "Squawk Box" last week, Musk's friend Joe Lonsdale, co-founder of Palantir Technologies, a software company that specializes in big data analytics, said:
"Elon has made clear that we need free speech in the public square, and I think one of the things you are going to see is that the board of Twitter right now has plausible deniability and doesn't get very good reporting on what the cabals inside of Twitter are doing.

"There are some real political extremists running Twitter on the inside — what they're censoring, what they're not censoring and what they're shifting to not spread: It's called shadow banning … I think the board sometimes kind of knows what these extremists are doing but also sometimes likes that they have deniability.

"I think Elon is very likely to take away that plausible deniability and really force people to confront what kind of censorship is going on."
Lonsdale told "Squawk Box" host Andrew Ross Sorkin that Musk is a "free speech extremist," and that he held the same values as America's Founding Fathers held in allowing the marketplace of ideas free rein.
"I think it's very insidious to say that I believe in free speech except when it interferes with certain special values one holds," Lonsdale said.
New York Times technology reporter Casey Newton, speaking with host Kara Swisher on "Sway," said:
"So I couldn't tell you what the Twitter policy is that Elon has such a strong objection to, although you brought up the COVID misinformation stuff. Twitter will sort of slap a label on it or remove it if you're spreading misinformation about the vaccines.

"Maybe he thinks Twitter shouldn't do that. We may very well hear more from him about that subject. But he's clearly said that he just doesn't think that platforms should be weighing in that much on these things."
Some media, even before Musk announced his $43 billion cash offer, greeted the news about the billionaire's interest in Twitter with dire warnings of a potential loss of free speech under his influence.
An MSNBC headline read: "The Tesla CEO thinks he's protecting free speech. He's showing us how easily it could all go away."
The MSNBC article focused less on the concept of free speech and more on speculations that "hate speech and disinformation" would increase on Twitter under Musk:
"While many progressives on Twitter say the site has done too little to crack down on harassment, hate speech and disinformation, signs suggest Musk is likely to push Twitter in the opposite direction. Musk has expressed interest in a more decentralized internet and has used the platform to be adversarial and provocative to the point that he has gotten embroiled in a defamation lawsuit.

"Given his inclination to use the platform like a troll, he's likely to lobby for Twitter to adopt more lax content regulation, many observers of the technology industry say. There's also been significant speculation as to whether that mission would entail ending Twitter's ban on former President Donald Trump's account."
Musk has made no statements in regards to reinstating Trump's banned Twitter account. However, Trump said Wednesday, "I probably wouldn't have any interest" in returning to Twitter if Musk bought the company.
However, Musk did say last December that Trump, Biden and anyone over 70 should be banned from running for office.
Writing for the American Conservative, Sohrab Ahmari doubted Musk could "save free speech:"
"There is a power structure in this country — a tangle of private capital, managerial interests, and governmental authority — and that power structure has become supremely adept at seeing off potential challengers.

"One free-speech-defending owner here or there won't alter this structural dynamic; media, including social media, will always reflect the social and political balance of forces.

"We should of course wish Musk well. But starting with enforcement of this nation's venerable antitrust laws, and reform of the legal architecture that permits Big Tech firms to act as censorious publishers without any of a traditional publisher's liability, the surer path to online free speech runs through power politics, not stock-market positions."
Speculation about Musk's motives clearly exceeds the known facts, prompting Trevor Noah to offer a more droll perspective:
"And look, I know a lot of people don't like Elon Musk, they think he's controversial, all these things. I will say this: One thing you have to admit is he makes being a billionaire look fun. It has its perks.

"Elon was annoyed by Twitter, so what did he do? He bought it. Yeah. Tell me we all wish we didn't have that power, huh? Imagine if, when the airline told you that you were bumped from your flight, you could just buy the airline."
Watch here:
________________________________________

David Charbonneau, Ph.D. is a fellow for The Defender.
Go to Original-childrenshealthdefense.org
Tags:
Casino Capitalism
,
Corruption
,
Elon Musk
,
Media
,
Monopoly Capitalism
,
Predatory Capitalism
,
Savage Capitalism
,
Social media
,
Twitter
DISCLAIMER: The statements, views and opinions expressed in pieces republished here are solely those of the authors and do not necessarily represent those of TMS. In accordance with title 17 U.S.C. section 107, this material is distributed without profit to those who have expressed a prior interest in receiving the included information for research and educational purposes. TMS has no affiliation whatsoever with the originator of this article nor is TMS endorsed or sponsored by the originator. "GO TO ORIGINAL" links are provided as a convenience to our readers and allow for verification of authenticity. However, as originating pages are often updated by their originating host sites, the versions posted may not match the versions our readers view when clicking the "GO TO ORIGINAL" links. This site contains copyrighted material the use of which has not always been specifically authorized by the copyright owner. We are making such material available in our efforts to advance understanding of environmental, political, human rights, economic, democracy, scientific, and social justice issues, etc. We believe this constitutes a 'fair use' of any such copyrighted material as provided for in section 107 of the US Copyright Law. In accordance with Title 17 U.S.C. Section 107, the material on this site is distributed without profit to those who have expressed a prior interest in receiving the included information for research and educational purposes. For more information go to: http://www.law.cornell.edu/uscode/17/107.shtml. If you wish to use copyrighted material from this site for purposes of your own that go beyond 'fair use', you must obtain permission from the copyright owner.