Mass Shootings: American Exceptionalism of the Worst Kind
ANGLO AMERICA, 30 May 2022
Amy Goodman and Denis Moynihan | Democracy NOW! – TRANSCEND Media Service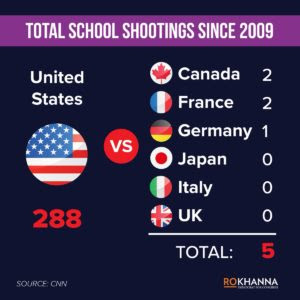 26 May 2022 – "Together we rise," reads the motto on a wall of the Robb Elementary School in Uvalde, Texas. The school serves about 600 students in the second thru fourth grades. Over ninety percent are Latinx. Nineteen children between the ages of nine and eleven and two of their teachers were murdered there Tuesday, by an 18-year-old gunman armed with a semiautomatic AR-15 rifle. The shooter, Salvador Ramos, was killed at the school by a U.S. Border Patrol agent. At a news conference on Wednesday, Texas Governor Greg Abbott, a Republican who consistently rejects gun control, blamed the shortage of mental health services for the atrocity.
Manny Oliver, whose son Joaquin was killed in the Parkland, Florida school massacre in 2018, said on the Democracy Now! news hour: "This is not about mental health—that happens all around the planet. This is about guns, and easy access to guns."
In the middle of Governor Abbott's briefing, Beto O'Rourke, who is running against Abbott in the upcoming gubernatorial election, interrupted, saying, "The time to stop the next shooting is right now and you are doing nothing…You said this is not predictable. This is totally predictable." Others on the stage cursed at O'Rourke, demanding he leave. As police closed in, O'Rourke exited.
His accusations were echoed in a Tweet by Amanda Gorman, the youngest presidential inaugural poet in US history, who wrote, "It takes a monster to kill children. But to watch monsters kill children again and again and do nothing isn't just insanity – it's inhumanity."
Many U.S. politicians parrot the line that this is the greatest nation on earth. "American Exceptionalism" is ingrained in our culture. We have the most number of weapons, with an estimated 400 million guns in circulation – that's more guns than people in the United States, and almost half of the civilian-owned guns on the planet. We are without question number one when it comes to mass shootings. The Gun Violence Archive has counted 213 so far this year alone, and more than 3,000 since 2014.
A shocking number of U.S. mass shootings take place in schools. According to the U.S. Naval Postgraduate School, there have been 2,054 school shootings in the United States since 1970, with 681 deaths. Canada has had a total of eight school shootings in about the same time frame, from 1975, with a total of 31 victims killed. Mexico has had 17 school shootings since 2004, with 15 victims killed.
In Australia in 1996, a young man with an AR-15 semiautomatic rifle massacred 35 people in the tourist town of Port Arthur, Tasmania. Australia is a country of gun lovers, but reaction to the shooting was swift, with a popular, national mandatory gun buyback for semi-automatic guns. Some 643,000 guns were collected and destroyed. Since then, Australia has experienced just one mass shooting of the type that occurs almost daily in the U.S.
Similar policies were established in other wealthy, industrialized nations in the wake of mass shootings, in Canada, New Zealand, the United Kingdom, and Norway. When access to guns is restricted, and gun ownership is more difficult, gun violence dramatically drops.
There is consensus on tightening gun laws here in the United States. Preventing those suffering from mental illness from owning or accessing guns has between 85-90% bipartisan support, according to the Pew Research Center. Banning clips that hold more than ten bullets has 64% bipartisan support. A federal database tracking every gun sale enjoys 66% support. Why won't elected officials heed the electorate? One clear reason is the decades of lobbying by the National Rifle Association.
"The American gun lobby, supported by American gun manufacturers, is alive and well," Robin Lloyd, managing director of Giffords, the organization dedicated to preventing gun violence led by former Congressmember Gabby Giffords, who was shot in the head in a mass shooting in Tucson. "The National Rifle Association has been weakened by self-inflicted wounds of greed and mismanagement of funds. Another organization is the National Shooting Sports Foundation [which] spends more on lobbying against gun violence prevention measures here in Washington than the NRA does. They are the true face of the American corporate gun lobby."
Nicole Golden, executive director of Texas Gun Sense, organizes for common sense gun control in the Lone Star State. "I've been involved in gun violence prevention in Texas for almost a decade," she said on Democracy Now! "Our work has basically been shut down." Despite the power of the gun lobby, she is not without hope. "We're here for the long haul. We're not going anywhere," she added. "We'll keep chipping away, working in our communities to pass meaningful change and building this extremely strong movement."
As the children of Robb Elementary School proclaim, together we rise.
___________________________________________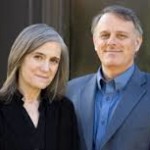 Amy Goodman is the host of "Democracy Now!" a daily international TV/radio news hour airing on more than 900 stations in North America. She is the author of Breaking the Sound Barrier, released in paperback and now a New York Times best-seller.
Denis Moynihan is the co-founder of Democracy Now! Since 2002, he has participated in the organization's worldwide distribution, infrastructure development, and the coordination of complex live broadcasts from many continents. He lives in Denver where he is developing a new noncommercial community radio station.
The original content of this program is licensed under a Creative Commons Attribution-Noncommercial-No Derivative Works 3.0 United States License.
Go to Original – democracynow.org
Tags:
Anglo America
,
Cultural violence
,
Culture of Violence
,
Exceptionalism
,
Gun Control
,
Mass Shooting
,
Massacre
,
Mental Health
,
School shootings
,
Structural violence
,
USA
DISCLAIMER: The statements, views and opinions expressed in pieces republished here are solely those of the authors and do not necessarily represent those of TMS. In accordance with title 17 U.S.C. section 107, this material is distributed without profit to those who have expressed a prior interest in receiving the included information for research and educational purposes. TMS has no affiliation whatsoever with the originator of this article nor is TMS endorsed or sponsored by the originator. "GO TO ORIGINAL" links are provided as a convenience to our readers and allow for verification of authenticity. However, as originating pages are often updated by their originating host sites, the versions posted may not match the versions our readers view when clicking the "GO TO ORIGINAL" links. This site contains copyrighted material the use of which has not always been specifically authorized by the copyright owner. We are making such material available in our efforts to advance understanding of environmental, political, human rights, economic, democracy, scientific, and social justice issues, etc. We believe this constitutes a 'fair use' of any such copyrighted material as provided for in section 107 of the US Copyright Law. In accordance with Title 17 U.S.C. Section 107, the material on this site is distributed without profit to those who have expressed a prior interest in receiving the included information for research and educational purposes. For more information go to: http://www.law.cornell.edu/uscode/17/107.shtml. If you wish to use copyrighted material from this site for purposes of your own that go beyond 'fair use', you must obtain permission from the copyright owner.