Story Killers (Part 2): "Team Jorge"–In the Heart of a Global Disinformation Machine
MEDIA, 20 Feb 2023
Cécile Andrzejewski | Forbidden Stories/Story Killers – TRANSCEND Media Service
In Part 2 of the "Story Killers" project, the Forbidden Stories consortium investigated an ultra-secret Israeli company involved in manipulating elections and hacking African politicians. We took an unprecedented dive into a world where troll armies, cyber espionage and influencers are intertwined.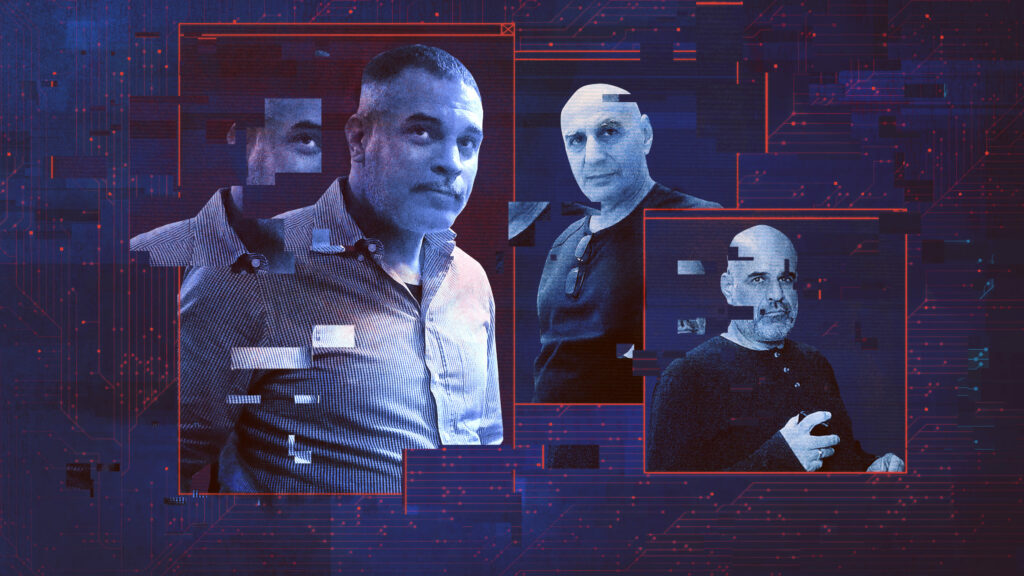 15 Feb 2023 – "Things don't necessarily have to be true, as long as they are believed" is a quote that could be attributed to many philosophers, but instead originates from a man named Alexander Nix. If his name is unfamiliar, the company he ran is not: Cambridge Analytica.
In 2018, the eponymous scandal revealed how the British company acquired the personal data of nearly 87 million Facebook users to influence voters on "an industrial scale." The company, which sold its services in some 60 states—from the Iranian regime to the Malaysian national oil company—is accused of manipulating numerous elections; it contributed to Donald Trump's 2016 victory in the US and the Brexit vote in England. When the affair made headlines, the name Cambridge Analytica became synonymous with disinformation worldwide.
However, not everything about this scandal has been revealed. Some of the most feared culprits inside this world have managed to hide in the shadows, among them mysterious Israeli hacking experts. Brittany Kaiser, the company's former development director and one of the now-famous whistleblowers in the scandal, described the hackers as a team in charge of "opposition research." In anonymous testimonies published in the British press in 2018, former employees describe "Israeli hackers" barging into the company's offices with USB drives loaded with what appeared to contain hacked private emails of politicians. "People panicked, they wanted nothing to do with it," a former employee told the Guardian at the time. According to the Guardian's reporting, these "hackers offered personal data about future Nigerian president and future PM of St Kitts and Nevis."
The Cambridge Analytica scandal revealed the existence and methods of these mysterious hackers. But until now, the press has been unable to pierce the anonymity of these shady "opposition researchers" or attribute them to a company. When he refers to "Israeli black ops" in an internal e-mail, Nix mentions neither an identity nor a company name. Instead, he designates an alias for the boss of this ultra-secret entity: "Jorge."
For over six months, Forbidden Stories and its partners followed Jorge's trail. In this parallel market of disinformation, companies—both official and underground—have become masters in the art of manipulating reality and diffusing misleading stories. Continuing the work of Gauri Lankesh, an Indian journalist murdered in 2017 who investigated disinformation and "lie factories," the "Story Killers" project penetrated an industry that uses every weapon at its disposal to manipulate the media and public opinion at the expense of information and democracy.
Almost five years after the Cambridge Analytica scandal, journalists from the Forbidden Stories consortium managed to identify and track down Jorge. Using dubious methods, the Israeli "consultant" still goes by this same pseudonym and continues to sell his influence and manipulation services to the highest bidder. His tools, though, have since adapted to the latest technological developments: artificial intelligence now writes on-demand viral posts and the remote hacking of Telegram accounts has enriched his catalog of services.
In the summer of 2022, a potential client, presenting himself as a representative for an African leader hoping to postpone, or even cancel, an election, asked Jorge for a demonstration. The job, Jorge told him, would cost some 6 million euros. During several Zoom discussions, Jorge maintained his anonymity.
What "Jorge" didn't know is that the man on his screen was not an intermediary, nor did he work in Africa. He was, in fact, a journalist from Radio France and was soon joined by colleagues from TheMarker and Haaretz, reporters who are members of the Story Killers project.
"33 presidential campaigns, 27 of which were successful"
Between July and December 2022, journalists posing as clients attended several meetings with Jorge: three online and one in his office in Israel. The consortium decided it was in the public interest to go undercover, which was the only method to gain access to this closed world and obtain evidence of global manipulation. To reach Jorge, reporters needed to pass through a series of intermediaries, from former intelligence officers to communications and security experts. This method presented an otherwise-impossible opportunity to discuss Jorge's manipulation services–"mainly intelligence and influence," he said–and attend live demonstrations. Apart from the "technological" "capacities" Jorge presented, he explained how to "build a narrative," which he could then propagate with an impressive range of services: bot networks, false information, and hacking of opponents.
Jorge boasted of having used such tactics on "33 presidential campaigns, 27 of which were successful," a claim that is difficult to verify. Jorge did not reveal any details about his clients, preferring instead to demonstrate his impressive range of services.
He eventually divulged information on secret operations, including one that had provoked a recent media storm in France. Earlier this month, the French press disclosed the existence of an internal investigation at BFM TV, a popular television channel after one of its most prominent figures, Rachid M'Barki, allegedly broadcast unverified content.
What the French press didn't know was that Jorge, a loquacious salesman, was simultaneously bragging to undercover journalists at an office in Modiin, Israel, that he could get his stories placed on French television. To prove his point, he pulled up an excerpt of a report broadcast on BFM TV in December 2022. "The European Union announces a new set of sanctions against Russia," it read, adding that the sanctions "make yacht builders in Monaco fear the worst" and that "the freezing of assets of oligarchs puts their sector in great difficulty." The text of this brief broadcast – not in keeping with the channel's editorial line – was read by M'Barki at midnight.
To verify the authenticity of this video and others that Jorge's network of bots had shared, the consortium submitted them to BFM TV's management in January, which quickly suspended the journalist and launched an internal audit. In a statement to Forbidden Stories, Marc-Olivier Fogiel, the channel's managing director, said: "I have an ethical suspicion [about why the] news was broadcast while it had no editorial consistency with the rest of the channel." In response, M'Barki asserted his "editorial free will" and explained that he had followed the instructions of Jean-Pierre Duthion, an intermediary. Media consultant and lobbyist, Duthion is known in the world of influence agencies. In internal documents, one agency described him as a disinformation "mercenary," who is "mainly motivated by profit." When contacted by Forbidden Stories, he confirmed that he "worked on the seizing of Russian yachts in Monaco, which led to job losses at the local level," but declined to reveal his client, arguing such a deal goes through a series of intermediaries, "who do not themselves know who the final client is."
He claims he did not pay M'Barki, who also told BFM TV management that he did not receive payment to broadcast these stories. According to a source familiar with the industry, such services could be worth some €3,000 for a journalist. M'Barki, who declined to answer our questions, acknowledged that he "did not necessarily follow the usual editorial line," and said: "Maybe I was tricked. I did not have the impression that was the case, or that I was participating in an operation, otherwise I wouldn't have done it."
Advanced lie-spreading technologies
The BFM TV example, meant to illustrate Jorge's ability to reach French news channels, is not the only selling point he advanced. In addition to having journalists on his payroll, Jorge also explained how he could spread stories using an army of avatars hosted in and run with an online platform. (Forbidden Stories and its partners subsequently verified the existence of these fake accounts.) This tool, not searchable on the web, is called AIMS: "Advanced Impact Media Solutions." As early as 2017, Jorge had offered Cambridge Analytica a "Semi-Auto Avatar creation and network deployment system," accompanied by a demo video illustrating how simple it was to create avatars on a platform that allowed for seamless navigation from one account to another. In 2022, Jorge had a catalog of more than 30,000 automated profiles of virtual people with real accounts on Facebook, Twitter, Instagram, Amazon, and Bitcoin. Jorge used these fake accounts to post a flurry of comments on social networks, stir up controversy and even purchase sex toys on Amazon. Jorge recounted how one pretty, blond-haired avatar named Shannon Aiken used an Amazon account to order sex toys to the house of a political rival of one of his clients, leaving the rival candidate's wife to believe he had been unfaithful. "After that, the story was leaked, and he couldn't go home. The campaign turned around," Jorge said.
To prove the effectiveness of his digital army, Jorge agreed to trend a hashtag on behalf of the undercover reporters. The journalists suggested "#RIP_Emmanuel," named after an emu that became an internet star in the summer of 2022. The goal: spread a rumor about the death of the animal to test the success of the AIMS avatars. (The emu's owner has since been notified.) With the social media campaign fully rolled out, our consortium then traced the hashtag to identify additional accounts controlled by Team Jorge. From here, we tracked some 20 disinformation campaigns on almost every continent. (Identifying the clients of these campaigns, however, was not always possible.)
In the UK, in Fall 2021, AIMS avatars took a hard line against the UK Health Safety Agency. The agency had launched an investigation into a laboratory accused of providing some 43,000 false negative Covid test results to its patients. The group that owns this laboratory denied any link with "Jorge," arguing that it was unaware of his existence. In 2020, some of the same avatars participated in an aggressive smear campaign against Hong Kong businessman George Chang, who owns 90 percent of the Port of Panama. The same year, AIMS bots came to the rescue of Tomás Zerón de Lucio, a former high-level Mexican official who was the subject of an international arrest warrant. The former director of the agency in charge of criminal investigations in Mexico between 2013 to 2016, Zerón is accused of kidnapping, torture and tampering with evidence in the investigation of the disappearance of 43 students in 2014. Zerón authorized the acquisition of Pegasus spyware in Mexico and is now on the run in Israel, which has refused to extradite him. But according to Jorge's bots, these accusations are merely a campaign orchestrated against an "innocent" man by Mexico's "corrupt president," Andrés Manuel López Obrador. ("M. Zerón is not responsible for any advertising campaign on his behalf, and doesn't know who is behind each comment on social media," his lawyer Liora Turlevsky said.)
The AIMS tool doesn't just offer avatar creation. The latest version, shown to the undercover journalists, can also create and disseminate automated content. Using keywords, the tool can create posts, articles, comments or tweets in any language with a "positive," "negative," or "neutral" tone. After entering the words "Chad," "president," "brother," and "Déby," for instance, Jorge commanded the tool to produce 10 negative tweets about the Chadian government. Twelve seconds later, they appeared. "Enough is enough, we need to put an end to incompetence and nepotism of president of Chad brother Déby," one read. "The Chad people have suffered enough under the rule of President Brother Déby," read another. "One operator can hold 300 profiles, so in two hours, all the country will speak the messages or the narrative [we] want,"one of Jorge's associates said.
Tags:
Corporate Media
,
Corruption
,
Fake News
,
Fake Report
,
Forbidden Stories
,
Integrity
,
Investigative Journalism
,
Journalistic Ethics
,
Mainstream Media MSM
,
Media
,
Military Industrial Media Complex
,
Official Lies and Narratives
,
War Journalism
DISCLAIMER: The statements, views and opinions expressed in pieces republished here are solely those of the authors and do not necessarily represent those of TMS. In accordance with title 17 U.S.C. section 107, this material is distributed without profit to those who have expressed a prior interest in receiving the included information for research and educational purposes. TMS has no affiliation whatsoever with the originator of this article nor is TMS endorsed or sponsored by the originator. "GO TO ORIGINAL" links are provided as a convenience to our readers and allow for verification of authenticity. However, as originating pages are often updated by their originating host sites, the versions posted may not match the versions our readers view when clicking the "GO TO ORIGINAL" links. This site contains copyrighted material the use of which has not always been specifically authorized by the copyright owner. We are making such material available in our efforts to advance understanding of environmental, political, human rights, economic, democracy, scientific, and social justice issues, etc. We believe this constitutes a 'fair use' of any such copyrighted material as provided for in section 107 of the US Copyright Law. In accordance with Title 17 U.S.C. Section 107, the material on this site is distributed without profit to those who have expressed a prior interest in receiving the included information for research and educational purposes. For more information go to: http://www.law.cornell.edu/uscode/17/107.shtml. If you wish to use copyrighted material from this site for purposes of your own that go beyond 'fair use', you must obtain permission from the copyright owner.