The Trillion Dollar Silencer: Why There Is so Little Anti-War Protest in the United States
REVIEWS, 27 Feb 2023
Joan Roelofs | Clarity Press - TRANSCEND Media Service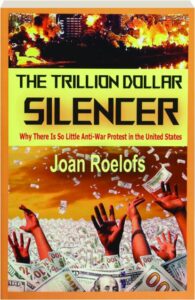 The Trillion Dollar Silencer: Why There Is so Little Anti-War Protest in the United States, by Joan Roelofs, Clarity Press, Jan 2023, 218 pp.
How Military Spending Infests Civil Society Sectors
The Trillion Dollar Silencer investigates the astounding lack of popular protest at the death and destruction that the military industrial complex is inflicting on people, nations, and the environment, and its budget-draining costs. Where is the antiwar protest by progressives, libertarians, environmentalists, civil rights advocates, academics, clergy, community volunteers, artists, et al? This book focuses on how military largesse infests such public sectors' interests.
Contractors and bases serve as the economic hubs of their regions. State and local governments are intertwined with the DoD; some states have Military Departments. National Guard annual subsidies are large. Joint projects include aid to state environmental departments for restoration, and government-environmental organization teams to create buffer zones for bombing ranges. Economic development commissions aim to attract military industries and keep the existing bases and corporations. Veterans Administration hospitals are boons to their communities.
Universities, colleges, and faculty get contracts and grants from the DoD and its agencies, such as the Defense Advanced Research Projects Agency. The Minerva Initiative. Reserve Officers' Training Corps programs are subsidized by the DoD. Civilian jobs in the DoD provide opportunities for scientists, engineers, policy analysts, and others.
Every kind of business and nonprofit, including environmental and charitable organizations like The Nature Conservancy and Goodwill Industries feeds at the DoD trough via contracts and grants.
Individuals, arts institutions, charities, churches, and universities succumb to the profitability of military-related investments. Pension funds of public and private employees are replete with military stocks.
Philanthropy is another silencer. The DoD itself donates equipment to organizations, especially those of youth, and lends equipped battalions to Hollywood. The weapons firms give generously to the arts and charities, heavily to youth and minorities. They also initiate joint programs such as providing tutors and mentors for robotics teams in public schools.
Our militarized economy is destructive and wasteful. How can we replace the multitude of dependencies on military funding and restore the boundary between it and civil society? Surely a first step is to see how military spending results in the complicity of civil society in its pernicious outcomes. That is what this book tries to reveal.
REVIEWS:
"It is perhaps the most fraught question of our time, whatever happened to the anti-war movement?  In this provocative and illuminating book, Joan Roelofs penetrates deep into the inner-workings of the vast political economy of war-making, revealing how the arms cartel has consolidated its power, captured our political system, infiltrated the media and stifled dissent.  At a perilous moment in history, Roelofs has given us a call to action, loud and clear enough to awaken our anesthetized consciences." 
— JEFFREY ST CLAIR, Editor of CounterPunch, Author, Grand Theft Pentagon
"The Trillion Dollar Silencer is a masterful primer on an institution – the United States military — that has literally thousands of facets and functions, and about a thousand billion dollars each year to support its role in preparing for and making war around the world.  Rich in explanatory images, charts and maps, the pieces of the puzzle that Joan Roelofs identifies are so many and so complex that even the most informed readers will learn something in every chapter.  The book's central question is how the military industrial complex has been able to acquire so many taxpayer dollars year after year and so much cultural assent to its overwrought, violent mission.  The answers she gives will help us to reverse our otherwise continuing deadly and expensive course."
— CATHARINE LUTZ, Professor Emerita of Anthropology and International Studies, Co-Director, Costs of War Project,  Brown University
"The world's leading weapons dealer and warmaker, the United States, may also have the least popular resistance to militarism. Why the quiet acceptance? This book helps us to become aware that darn near every inch of U.S. society has been infiltrated by the normalization or celebration of war preparations, that essentially our culture, not just our elected officials, has been bought. This book also provides guidance on what we can do about it."
— DAVID SWANSON, Executive Director of World Beyond War and author of War Is A Lie
"Why is there so much acceptance of, and so little protest against, our war policies and all the other tactics of subversion employed by the military-intelligence-industrial complex to sustain hegemony. While the peace movement answers this question with reference to propaganda, fear and distractions, this book focuses on the enormity of the war machine's penetration into numerous aspects of civilian life. The sections in the book on this penetration into philanthropy, nonprofit organizations and NGO's are probably the most eye-popping portions of the book. Roelofs shows that the real goal is the construction of "the normal" in ways functional to the interests of the Pentagon, unconventional warfare institutions and military contractors."
— PAUL SHANNON, Executive Committee of Mass[achusetts] Peace Action
"Now is exactly the right time for her highly recommended book." 
— W.T. WHITNEY, Counterpunch
_______________________________________________

Joan Roelofs is Professor Emerita of Political Science, Keene State College. She currently teaches in the Cheshire Academy for Lifelong Learning and writes for scholarly and political publications. She is the author of Foundations and Public Policy: The Mask of Pluralism (2003) and Greening Cities: Building Just and Sustainable Communities (1996), the translator of Victor Considerant's Principles of Socialism (2006), and co-translator, with Shawn P. Wilbur, of Charles Fourier's antiwar fantasy, The World War of Small Pastries (2015). She has been an antiwar activist ever since she protested the Korean War.
Go to Original – claritypress.com
Tags:
Anti-militarism
,
Demilitarization
,
Military Industrial Media Complex
,
Reviews
DISCLAIMER: The statements, views and opinions expressed in pieces republished here are solely those of the authors and do not necessarily represent those of TMS. In accordance with title 17 U.S.C. section 107, this material is distributed without profit to those who have expressed a prior interest in receiving the included information for research and educational purposes. TMS has no affiliation whatsoever with the originator of this article nor is TMS endorsed or sponsored by the originator. "GO TO ORIGINAL" links are provided as a convenience to our readers and allow for verification of authenticity. However, as originating pages are often updated by their originating host sites, the versions posted may not match the versions our readers view when clicking the "GO TO ORIGINAL" links. This site contains copyrighted material the use of which has not always been specifically authorized by the copyright owner. We are making such material available in our efforts to advance understanding of environmental, political, human rights, economic, democracy, scientific, and social justice issues, etc. We believe this constitutes a 'fair use' of any such copyrighted material as provided for in section 107 of the US Copyright Law. In accordance with Title 17 U.S.C. Section 107, the material on this site is distributed without profit to those who have expressed a prior interest in receiving the included information for research and educational purposes. For more information go to: http://www.law.cornell.edu/uscode/17/107.shtml. If you wish to use copyrighted material from this site for purposes of your own that go beyond 'fair use', you must obtain permission from the copyright owner.