The Trump-Russia Saga and the Death Spiral of US Journalism
MEDIA, 27 Feb 2023
The Chris Hedges Report – TRANSCEND Media Service
The media caters to a particular demographic, telling that demographic what it already believes — even when it is unverified or false. This pandering defines the coverage of the Trump-Russia saga.
25 Feb 2023 – Reporters make mistakes. It is the nature of the trade. There are always a few stories we wish were reported more carefully. Writing on deadline with often only a few hours before publication is an imperfect art. But when mistakes occur, they must be acknowledged and publicized. To cover them up, to pretend they did not happen, destroys our credibility. Once this credibility is gone, the press becomes nothing more than an echo chamber for a selected demographic. This, unfortunately, is the model that now defines the commerical media.
The failure to report accurately on the Trump-Russia saga for the four years of the Trump presidency is bad enough. What is worse, major media organizations, which produced thousands of stories and reports that were false, refuse to engage in a serious postmortem. The systematic failure was so egregious and widespread that it casts a very troubling shadow over the press. How do CNN, ABC, NBC, CBS, MSNBC, The Washington Post, The New York Times and Mother Jones admit that for four years they reported salacious, unverified gossip as fact? How do they level with viewers and readers that the most basic rules of journalism were ignored to participate in a witch hunt, a virulent New McCarthyism? How do they explain to the public that their hatred for Trump led them to accuse him, for years, of activities and crimes he did not commit? How do they justify their current lack of transparency and dishonesty? It is not a pretty confession, which is why it won't happen. The U.S. media has the lowest credibility — 26 percent — among 46 nations, according to a 2022 report from the Reuters Institute for the Study of Journalism. And with good reason.
The commercial model of journalism has changed from when I began working as a reporter, covering conflicts in Central America in the early 1980s. In those days, there were a few large media outlets that sought to reach a broad public. I do not want to romanticize the old press. Those who reported stories that challenged the dominant narrative were targets, not only of the U.S. government but also of the hierarchies within news organizations such as The New York Times. Ray Bonner, for example, was reprimanded by the editors at The New York Times when he exposed egregious human rights violations committed by the El Salvadoran government, which the Reagan administration funded and armed. He quit shortly after being transferred to a dead-end job at the financial desk. Sydney Schanberg won a Pulitzer Prize for his reporting in Cambodia on the Khmer Rouge, which was the basis for the film "The Killing Fields." He was subsequently appointed metropolitan editor at The New York Times where he assigned reporters to cover the homeless, the poor and those being driven from their homes and apartments by Manhattan real estate developers. The paper's Executive Editor, Abe Rosenthal, Schanberg told me, derisively referred to him as his "resident commie." He terminated Schanberg's twice-weekly column and forced him out. I saw my career at the paper end when I publicly criticized the invasion of Iraq. The career-killing campaigns against those who reported controversial stories or expressed controversial opinions was not lost on other reporters and editors who, to protect themselves, practiced self-censorship.
But the old media, because it sought to reach a broad public, reported on events and issues that did not please all of its readers. It left a lot out, to be sure. It gave too much credibility to officialdom, but, as Schanberg told me, the old model of news arguably kept "the swamp from getting any deeper, from rising higher."
The advent of digital media and the compartmentalizing of the public into antagonistic demographics has destroyed the traditional model of commercial journalism. Devastated by a loss of advertising revenue and a steep decline in viewers and readers, the commercial media has a vested interest in catering to those who remain. The approximately three and a half million digital news subscribers The New York Times gained during the Trump presidency were, internal surveys found, overwhelmingly anti-Trump. A feedback loop began where the paper fed its digital subscribers what they wanted to hear. Digital subscribers, it turns out, are also very thin-skinned.
"If the paper reported something that could be interpreted as supportive of Trump or not sufficiently critical of Trump," Jeff Gerth, an investigative journalist who spent many years at The New York Times recently told me, they would sometimes "drop their subscription or go on social media and complain about it."
Giving subscribers what they want makes commercial sense. However, it is not journalism.
News organizations, whose future is digital, have at the same time filled newsrooms with those who are tech-savvy and able to attract followers on social media, even if they lack reportorial skills. Margaret Coker, the bureau chief for The New York Times in Baghdad, was fired by the newspaper's editors in 2018, after management claimed she was responsible for its star terrorism reporter, Rukmini Callimachi, being barred from re-entering Iraq, a charge Coker consistently denied. It was well known, however, by many at the paper, that Coker filed a number of complaints about Callimachi's work and considered Callimachi to be untrustworthy. The paper would later have to retract a highly acclaimed 12-part podcast, "Caliphate," hosted by Callimachi in 2018, because it was based on the testimony of an imposter. "'Caliphate' represents the modern New York Times," Sam Dolnick, an assistant managing editor, said in announcing the launch of the podcast. The statement proved true, although in a way Dolnick probably did not anticipate.
Gerth, a Pulitzer Prize-winning investigative reporter who worked at The New York Times from 1976 until 2005, spent the last two years writing an exhaustive look at the systemic failure of the press during the Trump-Russia story, authoring a four-part series of 24,000 words that has been published by The Columbia Journalism Review. It is an important, if depressing, read. News organizations repeatedly seized on any story, he documents, no matter how unverified, to discredit Trump and routinely ignored reports that cast doubt on the rumors they presented as fact. You can see my interview with Gerth here.
The New York Times, for example, in January 2018, ignored a publicly available document showing that the FBI's lead investigator, after a ten month inquiry, did not find evidence of collusion between Trump and Moscow. The lie of omission was combined with reliance on sources that peddled fictions designed to cater to Trump-haters, as well as a failure to interview those being accused of collaborating with Russia.
The Washington Post and NPR reported, incorrectly, that Trump had weakened the GOP's stance on Ukraine in the party platform because he opposed language calling for arming Ukraine with so-called "lethal defensive weapons" — a position identical to that of his predecessor President Barack Obama. These outlets ignored the platform's support for sanctions against Russia as well its call for "appropriate assistance to the armed forces of Ukraine and greater coordination with NATO defense planning." News organizations amplified this charge. In a New York Times column that called Trump the "Siberian candidate," Paul Krugman wrote that the platform was "watered down to blandness" by the Republican president. Jeffrey Goldberg, editor of The Atlantic, described Trump as a "de facto agent" of Vladimir Putin. Those who tried to call out this shoddy reporting, including Russian-American journalist and Putin critic Masha Gessen were ignored.
After Trump's first meeting as president with Putin, he was attacked as if the meeting itself proved he was a Russian stooge. Then New York Times columnist Roger Cohen wrote of the "disgusting spectacle of the American president kowtowing in Helsinki to Vladimir Putin." Rachel Maddow, MSNBC's most popular host, said that the meeting between Trump and Putin validated her covering the Trump-Russia allegations "more than anyone else in the national press" and strongly implied — and her show's Twitter account and YouTube page explicitly stated — that Americans were now "coming to grips with a worst-case scenario that the U.S. president is compromised by a hostile foreign power."
The anti-Trump reporting, Gerth notes, hid behind the wall of anonymous sources, frequently identified as "people (or person) familiar with" — The New York Times used it over a thousand times in stories involving Trump and Russia, between October 2016 and the end of his presidency, Gerth found. Any rumor or smear was picked up in the news cycle with the sources often unidentified and the information unverified.
A routine soon took shape in the Trump-Russia saga. "First, a federal agency like the CIA or FBI secretly briefs Congress," Gerth writes. "Then Democrats or Republicans selectively leak snippets. Finally, the story comes out, using vague attribution." These cherry-picked pieces of information largely distorted the conclusions of the briefings.
The reports that Trump was a Russian asset began with the so-called Steele dossier, financed at first by Republican opponents of Trump and later by Hillary Clinton's campaign. The charges in the dossier — which included reports of Trump receiving a "golden shower" from prostituted women in a Moscow hotel room and claims that Trump and the Kremlin had ties going back five years — were discredited by the FBI.
"Bob Woodward, appearing on Fox News, called the dossier a 'garbage document' that 'never should have' been part of an intelligence briefing," Gerth writes in his report. "He later told me that the Post wasn't interested in his harsh criticism of the dossier. After his remarks on Fox, Woodward said he 'reached out to people who covered this' at the paper, identifying them only generically as 'reporters,' to explain why he was so critical. Asked how they reacted, Woodward said: 'To be honest, there was a lack of curiosity on the part of the people at the Post about what I had said, why I said this, and I accepted that and I didn't force it on anyone.'"
Other reporters who exposed the fabrications — Glenn Greenwald at The Intercept, Matt Taibbi at Rolling Stone and Aaron Mate at The Nation — ran afoul of their news organizations and now work as independent journalists.
The New York Times and The Washington Post shared Pulitzer Prizes in 2019 for their reporting on "Russian interference in the 2016 presidential election and its connection to the Trump campaign, the President-elect's transition team and his eventual administration."
The silence by news organizations that for years perpetuated this fraud is ominous. It cements into place a new media model, one without credibility or accountability. The handful of reporters who have responded to Gerth's investigative piece, such as David Corn at Mother Jones, have doubled down on the old lies, as if the mountain of evidence discrediting their reporting, most of it coming from the FBI and the Mueller Report, does not exist.
Once fact becomes interchangeable with opinion, once truth is irrelevant, once people are told only what they wish to hear, journalism ceases to be journalism and becomes propaganda.
______________________________________________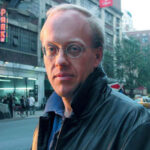 Chris Hedges is a Pulitzer Prize–winning journalist who was a foreign correspondent for fifteen years for The New York Times, where he served as the Middle East Bureau Chief and Balkan Bureau Chief. He previously worked overseas for The Dallas Morning News, The Christian Science Monitor, and NPR. He used to be the host of the Emmy Award-nominated RT America show On Contact.
Copyright 2022 Chris Hedges
Go to Original – chrishedges.substack.com
Tags:
Anglo America
,
Corporate Media
,
Fake News
,
Fake Report
,
Journalism
,
Mainstream Media MSM
,
Media
,
Official Lies and Narratives
,
Russia
,
Trump
,
USA
,
War Journalism
DISCLAIMER: The statements, views and opinions expressed in pieces republished here are solely those of the authors and do not necessarily represent those of TMS. In accordance with title 17 U.S.C. section 107, this material is distributed without profit to those who have expressed a prior interest in receiving the included information for research and educational purposes. TMS has no affiliation whatsoever with the originator of this article nor is TMS endorsed or sponsored by the originator. "GO TO ORIGINAL" links are provided as a convenience to our readers and allow for verification of authenticity. However, as originating pages are often updated by their originating host sites, the versions posted may not match the versions our readers view when clicking the "GO TO ORIGINAL" links. This site contains copyrighted material the use of which has not always been specifically authorized by the copyright owner. We are making such material available in our efforts to advance understanding of environmental, political, human rights, economic, democracy, scientific, and social justice issues, etc. We believe this constitutes a 'fair use' of any such copyrighted material as provided for in section 107 of the US Copyright Law. In accordance with Title 17 U.S.C. Section 107, the material on this site is distributed without profit to those who have expressed a prior interest in receiving the included information for research and educational purposes. For more information go to: http://www.law.cornell.edu/uscode/17/107.shtml. If you wish to use copyrighted material from this site for purposes of your own that go beyond 'fair use', you must obtain permission from the copyright owner.