The Vital Difference between Work and Labor: Lewis Hyde on Sustaining the Creative Spirit
INSPIRATIONAL, 6 Mar 2023
Maria Popova | The Marginalian – TRANSCEND Media Service
"The gifts of the inner world must be accepted as gifts in the outer world if they are to retain their vitality."
It is a gladness to be able to call one's daily work a labor of love, and to have that labor put food on the table the way any work does, dishwashing or dentistry. And yet such labors of diligence and devotion — the kind William Blake called "eternal work" — are somehow different, different and more vulnerable, for they enter the world in a singular spirit and are recompensed in a singular spirit, distinct from dentistry or dishwashing.
That spirit is the spirit of a gift — not the transaction of two commodities but the interchange of two mutual generosities, passing between people who share in the project of a life worth living.
A year before I was born, the poet Lewis Hyde taxonomized that vital and delicate distinction between work and labor in his eternally giving book The Gift: How the Creative Spirit Transforms the World (public library) — a timeless inquiry into what it takes to harmonize "the inner gift that we accept as the object of our labor, and the outer gift that has become a vehicle of culture."
Hyde writes:
Work is what we do by the hour. It begins and ends at a specific time and, if possible, we do it for money. Welding car bodies on an assembly line is work; washing dishes, computing taxes, walking the rounds in a psychiatric ward, picking asparagus — these are work. Labor, on the other hand, sets its own pace. We may get paid for it, but it's harder to quantify. "Getting the program" in AA is a labor. It is likewise apt to speak of "mourning labor": when a loved one dies, the soul undergoes a period of travail, a change that draws energy. Writing a poem, raising a child, developing a new calculus, resolving a neurosis, invention in all forms — these are labors. Work is an intended activity that is accomplished through the will. A labor can be intended but only to the extent of doing the groundwork, or of not doing things that would clearly prevent the labor. Beyond that, labor has its own schedule. Things get done, but we often have the odd sense that we didn't do them… We wake up to discover the fruits of labor.
At the heart of the distinction is the recognition that those fruits are offered to the world not as a service or a transaction but as a gift — "the gift we long for, the gift that, when it comes, speaks commandingly to the soul and irresistibly moves us." The challenge arises when we try to reconcile the spiritual ecosystem of gifts with the material market economy within which they dwell — the economy of sustenance and solvency of which every modern person partakes just in the course of staying alive.
An epoch before Patreon and Kickstarter and Substack, Hyde issues a clarion call for honoring the gifts we receive:
If we really valued these gift labors, couldn't we pay them well? Couldn't we pay social workers as we pay doctors, pay poets as we do bankers, pay the cellist in the orchestra as we pay the advertising executive in the box seat? Yes, we could. We could — we should — reward gift labors where we value them. My point here is simply that where we do so we shall have to recognize that the pay they receive has not been "made" the way fortunes are made in the market, that it is a gift bestowed by the group. The costs and benefits of tasks whose procedures are adversarial and whose ends are easily quantified can be expressed through a market system. The costs and rewards of gift labors cannot.
In a sentiment that gladdens those of us who offer the fruits of our labors freely and are sustained by what is given freely in return, he adds:
The spirit of a gift is kept alive by its constant donation… The gifts of the inner world must be accepted as gifts in the outer world if they are to retain their vitality.
The Gift remains a vitalizing read, all the more nourishing and necessary in our present culture that so commodifies creative labor and our market economy that so devalues those works of thought and tenderness that most help us live our lives: music, poetry, philosophy, art. Complement these fragments from it with some Hyde-fomented thoughts on music and the price of what we cherish, then revisit the story of how Van Gogh found his gift that revolutionized art and how Jeanne Villepreux-Power turned her gift into a breakthrough of science.
_______________________________________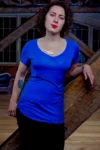 My name is Maria Popova — a reader, a wonderer, and a lover of reality who makes sense of the world and herself through the essential inner dialogue that is the act of writing. The Marginalian (which bore the unbearable name Brain Pickings for its first 15 years) is my one-woman labor of love, exploring what it means to live a decent, inspired, substantive life of purpose and gladness. Founded in 2006 as a weekly email to seven friends, eventually brought online and now included in the Library of Congress permanent web archive, it is a record of my own becoming as a person — intellectually, creatively, spiritually, poetically — drawn from my extended marginalia on the search for meaning across literature, science, art, philosophy, and the various other tendrils of human thought and feeling. A private inquiry irradiated by the ultimate question, the great quickening of wonderment that binds us all: What is all this? (More…)
Go to Original – themarginalian.org
Tags:
Work
DISCLAIMER: The statements, views and opinions expressed in pieces republished here are solely those of the authors and do not necessarily represent those of TMS. In accordance with title 17 U.S.C. section 107, this material is distributed without profit to those who have expressed a prior interest in receiving the included information for research and educational purposes. TMS has no affiliation whatsoever with the originator of this article nor is TMS endorsed or sponsored by the originator. "GO TO ORIGINAL" links are provided as a convenience to our readers and allow for verification of authenticity. However, as originating pages are often updated by their originating host sites, the versions posted may not match the versions our readers view when clicking the "GO TO ORIGINAL" links. This site contains copyrighted material the use of which has not always been specifically authorized by the copyright owner. We are making such material available in our efforts to advance understanding of environmental, political, human rights, economic, democracy, scientific, and social justice issues, etc. We believe this constitutes a 'fair use' of any such copyrighted material as provided for in section 107 of the US Copyright Law. In accordance with Title 17 U.S.C. Section 107, the material on this site is distributed without profit to those who have expressed a prior interest in receiving the included information for research and educational purposes. For more information go to: http://www.law.cornell.edu/uscode/17/107.shtml. If you wish to use copyrighted material from this site for purposes of your own that go beyond 'fair use', you must obtain permission from the copyright owner.
Join the discussion!
We welcome debate and dissent, but personal — ad hominem — attacks (on authors, other users or any individual), abuse and defamatory language will not be tolerated. Nor will we tolerate attempts to deliberately disrupt discussions. We aim to maintain an inviting space to focus on intelligent interactions and debates.