Sinéad O'Connor, Fiery and Uncompromising Singer, Dead at 56
OBITUARIES, 31 Jul 2023
Keith Harris | Rolling Stone - TRANSCEND Media Service
Polarizing Irish singer-songwriter was unlikely pop superstar, though mental-health issues persisted throughout her career. RIP

[Her most successful recording was Prince's 'Nothing Compares 2 U' (on TMS Music Video of the Week). — TMS Editor]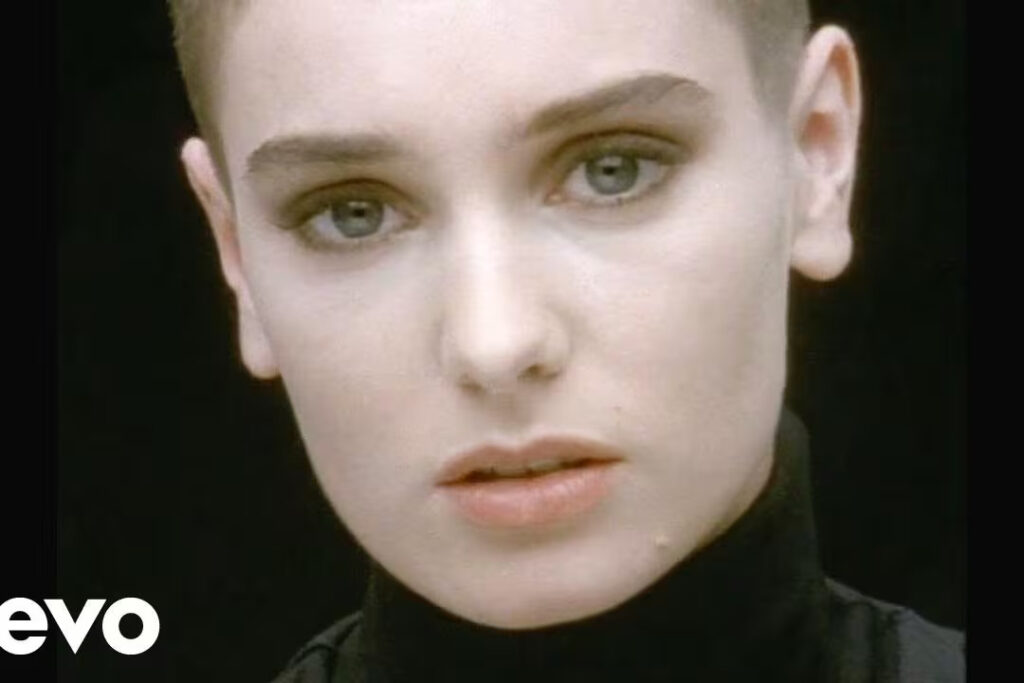 26 Jul 2023 – Sinéad O'Connor, the fiery Irish singer-songwriter whose striking voice briefly made her an unlikely pop superstar while her bold public stances on child abuse, war, and organized religion made her a controversial figure, has died today at the age of 56.
O'Connor's family confirmed the singer's death in a statement to Irish news network RTE. "It is with great sadness that we announce the passing of our beloved Sinéad. Her family and friends are devastated and have requested privacy at this very difficult time." No cause of death was provided.
Already a rising star in the late Eighties, O'Connor shot to fame in 1990 when her version of the Prince song "Nothing Compares 2 U" became a Number One hit. Her Celtic-tinged vocal style, marked by breathy swoops that were by turns soothing and abrasive, would echo throughout the Nineties, influencing singers such as Sarah McLachlan and Alanis Morissette, who said O'Connor's music was "really moving for me, and very inspiring, before I wrote Jagged Little Pill."
Though her singing was passionate and sensual, O'Connor avoided the clichéd images that often straitjacketed female rock stars of that era. She was neither a girlish sexpot nor a hippie free spirit nor a posturing tough chick, and her fiercely idiosyncratic personal style — shaved head, emotionally ambiguous facial expressions, loose outfits — helped younger female artists discover new ways to reinvent themselves.
Sinéad Marie Bernadette O'Connor was born on Dec. 8, 1966, in Glenageary, County Dublin, Ireland. Her parents separated when she was eight, and Sinéad, along with two of her four siblings, went to live with her mother. O'Connor would later claim that her mother, who died in a 1985 car accident, physically abused her. She sang about the effects of this abuse on her 1994 song "Fire on Babylon," and consistently advocated for abused children throughout her life. "The cause of all the world's problems, as far as I'm concerned, is child abuse," she said in 1991.
Fellow musicians recognized O'Connor's gifts early on. When she was 15, she co-wrote "Take My Hand," the first single for the soon-to-be successful Irish rock band In Tua Nua. In 1984, she and Colm Farrelly formed Ton Ton Macoute, and the group made a name for itself on the Dublin rock scene. But O'Connor outshone her bandmates and was soon signed to Ensign Records. She moved to London and co-wrote "Heroine" with the Edge for the film Captive. U2 were early supporters of O'Connor's music, but she alienated them by dismissing the band as "bombastic" and defending the violent tactics of the Irish Republican Army. She also shaved her head. "[The heads of Ensign] wanted me to wear high-heel boots and tight jeans and grow my hair," O'Connor told Rolling Stone in 1991. "And I decided that they were so pathetic that I shaved my head so there couldn't be any further discussion."
The recording sessions for O'Connor's debut album got off to a rocky start. She clashed with her initial producer, industry veteran Mick Glossip, firing him, scrapping the initial recordings, and badmouthing him to the press. O'Connor convinced her label to let her produce the album herself, with recording assistance from drummer John Reynolds — who was also the father of O'Connor's first son, Jake, born during this time. When The Lion and the Cobra came out in 1987, it went gold, was critically lauded, and earned O'Connor her first Grammy nomination. The track "Mandinka" became a modern rock hit. O'Connor, who was among the first rock musicians to embrace hip-hop, also crossed over to urban audiences with a remix of "I Want Your (Hands on Me)" that featured MC Lyte.
But it was O'Connor's 1990 follow-up album, I Do Not Want What I Haven't Got, anchored by her haunting rendition of Prince's "Nothing Compares 2 U" (a song he originally wrote for his side project, the Family), that would make the singer an international star. The album was heavily inspired by O'Connor's mother. "The songs on this record were really about her," she said in 2009. "Even the fucking title I got from having a dream about her, and in this dream she said to me, 'I do not want what I haven't got.' In my mind, even 'Nothing Compares 2 U' was me thinking about her." A critical success that also went double platinum, I Do Not Want What I Haven't Got seemed like the start of a long, unpredictably great career. But O'Connor's music would never again be this popular, or this celebrated.
In 1990, O'Connor became nearly as well-known for her unyielding public actions as for her music. She refused to appear as a musical guest on an episode of Saturday Night Live hosted by misogynist comic Andrew Dice Clay. That summer, she would not allow a New Jersey concert venue to play the U.S. national anthem before a performance; in response, some radio stations stopped playing her music and Frank Sinatra threatened to "kick her in the ass." Along with Public Enemy, she boycotted the 1991 Grammy Awards to protest the first Gulf War. But her most controversial act was yet to come.
In 1992, O'Connor released her third album, Am I Not Your Girl?, a collection of lushly orchestrated cover songs, mostly jazz and pre-rock pop standards, that puzzled critics and fans alike. That October, shortly after the album's release, she was the musical guest on Saturday Night Live. She sang an a cappella version of Bob Marley's "War," the lyrics modified slightly to protest sexual abuse in the Catholic Church, and as she sang the word "evil," she showed a photo of Pope John Paul II, which she then ripped apart. Saying "Fight the real enemy," O'Connor then flung the scraps at the camera. The audience responded with silence.
The public response was explosive, ranging from fierce outrage to dismissive mockery. Joe Pesci, SNL's host the following week, threatened O'Connor, saying, "I would have gave her such a smack." Even Madonna (perhaps a little envious that an equally skilled pop provocateur might upstage her) called O'Connor's actions inappropriate, and parodied the act on SNL in 1993. Just two weeks after her SNL performance, O'Connor took the stage at Madison Square Garden to perform "I Believe in You" at a Bob Dylan tribute concert, where she could barely be heard over the roars of the audience, which was split between supporters and detractors. Defiantly, she again sang "War."
With her new album foundering on the charts and the public outcry becoming a distraction, O'Connor took some time off — according to some reports she'd retired. In 1994, she released Universal Mother, which included an astounding version of Nirvana's "All Apologies," but the album struggled commercially and her career never stabilized. The only other music O'Connor would release in the Nineties was the Gospel Oak EP in 1997. Meanwhile, her personal life stayed in the news. She and Irish journalist John Waters engaged in a nasty public dispute over custody of their daughter, Roisin (O'Connor's second child). Then, in 1999, O'Connor was ordained as a priest in a splinter Catholic sect, the Latin Tridentine Church, as Mother Bernadette Mary.
In 2000, O'Connor signed with Atlantic Records. Her debut for the label, Faith and Courage, sounded like an attempt to regain commercial relevance, but with its too-broad range of producers — from Wyclef Jean and Kevin "She'kspere" Briggs to Dave Stewart and Brian Eno — it came off as unfocused. O'Connor regrouped musically with the 2002 collection of Irish folk, Sean-Nós Nua, and an even more successful collection of reggae classics, Throw Down Your Arms, with Jamaican superproducers Sly and Robbie, in 2005.
O'Connor continued to record, releasing the albums Theology (2007), How About I Be Me (And You Be You)? (2012), and I'm Not Bossy, I'm the Boss (2014). But the world paid more attention to her public statements than her art. In 2013, O'Connor wrote a much-discussed "open letter" to Miley Cyrus, "to send healthier messages to your peers … they and you are worth more than what is currently going on in your career."
O'Connor had long been critical of Prince, who penned "Nothing Compares 2 U," telling Rolling Stone in 1991 that meeting him "spoiled the song completely for me. I feel a connection with the song, but the experience was a very disturbing one. At the moment I really don't like the idea of singing the song. I need to get to the stage where I can separate the writer from the song — which I suppose I always did before. But I'm just very angry with him." After Prince's death in 2016, she called the late superstar "a longtime hard drug user."
O'Connor was believed to have suffered from mental-health issues for years. On The Oprah Winfrey Show in 2007, O'Connor said she'd been diagnosed with bipolar disorder, and that she'd attempted suicide in 1999 on her 33rd birthday. However, she reappeared on the program seven years later to say that she'd gotten several second opinions and believed she'd been misdiagnosed. O'Connor posted what appeared to be a suicide note on her Facebook page in November 2015, lashing out at her family members. When she disappeared during a biking trip in suburban Chicago in May 2016, there were widespread fears for her life. A yearlong stay in a trauma and addiction-treatment program followed in 2020.
O'Connor's legacy enjoyed a resurgence in recent years with a memoir and an acclaimed documentary, but just as quickly tragedy struck as the singer revealed that her 17-year-old son, Shane, died by suicide in January 2022, just days after he went missing from an Irish hospital's suicide watch. O'Connor's own death came 18 months after that of her son.
Irish President Michael Higgins said in a statement Wednesday, "My first reaction on hearing the news of Sinéad's loss was to remember her extraordinarily beautiful, unique voice. What was striking in all of the recordings she made and in all of her appearances was the authenticity of the performance, while her commitment to the delivery of the song and its meaning was total."
Higgins continued, "What Ireland has lost at such a relatively young age is one of our greatest and most gifted composers, songwriters and performers of recent decades, one who had a unique talent and extraordinary connection with her audience, all of whom held such love and warmth for her… Sinéad O'Connor's voice and delivery was in so many different ways original, extraordinary and left one with a deep deep impression that to have accomplished all she did while carrying the burden which she did was a powerful achievement in its own way. Her contribution joins those great contributions of Irish women who contributed to our lives, its culture and its history in their own unique but unforgettable ways."
In 1991, following the national-anthem incident that drew the ire of Sinatra, O'Connor told Rolling Stone, "It's not like I got up in the morning and said, 'OK, now let's start a new controversy.' I don't do anything in order to cause trouble. It just so happens that what I do naturally causes trouble. And that's fine with me. I'm proud to be a troublemaker."
Go to Original – rollingstone.com
Tags:
Catholic Church
,
Ireland
,
Music
,
Obituary
,
Religion
,
Sinéad O'Connor
DISCLAIMER: The statements, views and opinions expressed in pieces republished here are solely those of the authors and do not necessarily represent those of TMS. In accordance with title 17 U.S.C. section 107, this material is distributed without profit to those who have expressed a prior interest in receiving the included information for research and educational purposes. TMS has no affiliation whatsoever with the originator of this article nor is TMS endorsed or sponsored by the originator. "GO TO ORIGINAL" links are provided as a convenience to our readers and allow for verification of authenticity. However, as originating pages are often updated by their originating host sites, the versions posted may not match the versions our readers view when clicking the "GO TO ORIGINAL" links. This site contains copyrighted material the use of which has not always been specifically authorized by the copyright owner. We are making such material available in our efforts to advance understanding of environmental, political, human rights, economic, democracy, scientific, and social justice issues, etc. We believe this constitutes a 'fair use' of any such copyrighted material as provided for in section 107 of the US Copyright Law. In accordance with Title 17 U.S.C. Section 107, the material on this site is distributed without profit to those who have expressed a prior interest in receiving the included information for research and educational purposes. For more information go to: http://www.law.cornell.edu/uscode/17/107.shtml. If you wish to use copyrighted material from this site for purposes of your own that go beyond 'fair use', you must obtain permission from the copyright owner.
Join the discussion!
We welcome debate and dissent, but personal — ad hominem — attacks (on authors, other users or any individual), abuse and defamatory language will not be tolerated. Nor will we tolerate attempts to deliberately disrupt discussions. We aim to maintain an inviting space to focus on intelligent interactions and debates.