Articles by Alison Weir
We found 7 results.
---
Minnesota Cops Trained by Israeli Police, Who Often Use Knee-on-Neck Restraint
Alison Weir | Israel-Palestine News - TRANSCEND Media Service, 15 Jun 2020
* Over 100 Minnesota law enforcement officers attended a 2012 conference organized by the Israeli consulate in which Israeli police trained them. Israeli forces often use the knee-on-neck restraint on Palestinians.
* Israel has been training law enforcement officers around the US for many years, despite the fact that Israeli forces have a long record of human rights violations.
→ read full article
---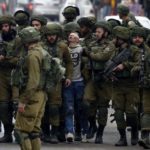 Associated Press Double Standard in Israel-Palestine Reporting
Kathryn Shihadah and Alison Weir | If Americans Knew – TRANSCEND Media Service, 12 Feb 2018
Associated Press is one of those news sources we expect to be objective and reliable. But when it comes to the subject of Israel-Palestine, things are not always as they seem.
→ read full article
---
In Memoriam: Donald Neff, Journalist (1930-2015)
Alison Weir, If Americans New – TRANSCEND Media Service, 13 Jul 2015
One of the top journalists to report on Palestine-Israel has died May 10. Many activists in the growing Palestine solidarity movement are unaware that he exposed critical facts about Palestine with unparalleled precision and elegance. Much of the information he uncovered is still significant today.
→ read full article
---
Munich Olympics, Revisited: Do Only Some Massacres Matter?
Alison Weir - CounterPunch, 17 Feb 2014
The Washington Post has published a moving article, "Russian Jews remember Israeli athletes murdered at 1972 Munich Olympic Games." Unfortunately, it gets a few things wrong and provides a one-sided context for the tragedy. Allow me to correct the report and fill in a few of the missing facts.
→ read full article
---
President of International War Crimes Tribunal May Have Worked to Shield Israelis from Prosecution
Alison Weir – The Council for the National Interest, 24 Jun 2013
The NY Times says that the Israeli-American judge, Theodor Meron, "… has led a push for raising the bar for conviction in such cases, prosecutors say, to the point where a conviction has become nearly impossible." Some analysts feel that Meron's motivation may be to protect Israeli political and military leaders from prosecutions that could place them in legal jeopardy.
→ read full article
---
The Democrats' Jerusalem Arithmetic: When Israel Is Concerned, Half = Two-Thirds
Alison Weir, IfAmericansKnew – TRANSCEND Media Service, 17 Sep 2012
We're Tired of Pretend Democracy – Not often is a political fix so public. The Democratic committee that develops the party's campaign platform recently failed to include the apparently obligatory "Jerusalem is and will remain the capital of Israel" pronouncement. In fact, I believe an uprising in the United States may be coming. People are tired of wars and killing, and of being sold a pack of goods by both parties using lies, deception, and manipulation.
→ read full article
---
While Israel Kills and Maims …
Alison Weir – If Americans Knew, 14 Jun 2010
The Outrage at Helen Thomas. Whenever Israel commits yet another atrocity, its defenders are quick to redirect public attention away from the grisly crime scene.
→ read full article
---