Articles by Ana Ionova
We found 2 results.
---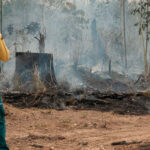 'Rampant Forest Destruction' Wracks Reserve as Cattle Ranching Advances in Brazilian Amazon
Morgan Erickson-Davis and Ana Ionova | Mongabay - TRANSCEND Media Service, 3 Jan 2022
29 Dec 2021- The Terra do Meio reserve is a federally protected area across the Amazon Brazilian state of Pará. But, despite its protected status, the reserve has come under growing pressure. Between Jan. 1 and Dec. 14 2021, some 25,943 deforestation alerts were confirmed in primary forest within it.
→ read full article
---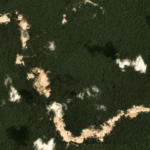 Illegal Tin Mining Leaves Trail of Ruin in Protected Brazilian Rainforest
Ana Ionova | Mongabay – TRANSCEND Media Service, 6 Jan 2020
30 Dec 2019 – The damage became clear once the rain stopped over Altamira National Forest in northern Brazil. Instead of dense jungle, large patches of bare land now flanked the banks of the rivers in this protected stretch of the Amazon rainforest. "When we got a clean satellite image we just saw devastation," said one source at a government environmental agency. "We never saw anything like that in Altamira."
→ read full article
---