Articles by Auden Schendler
We found 2 results.
---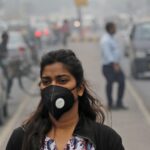 Worrying about Your Carbon Footprint Is Exactly What Big Oil Wants You to Do
Auden Schendler | The New York Times - TRANSCEND Media Service, 6 Sep 2021
31 Aug 2021 – In 2004, BP hired the public relations firm Ogilvy & Mather to improve its image by conveying the message that consumers of oil and natural gas bear the responsibility for their greenhouse gas emissions, not the producers of the oil and gas they use. The result was BP's ingenious carbon footprint calculator, which allows individuals to calculate the carbon emissions that result from their activities. It's "about helping you to go carbon neutral — reducing and offsetting your carbon footprint," BP says on its "target neutral" website.
→ read full article
---
Corporations Will Never Solve Climate Change
Naomi Oreskes and Auden Schendler – Harvard Business Review, 14 Dec 2015
The facts about VW — combined with recent revelations about Exxon-Mobil's long history of misrepresenting what they understood about climate change, as well as BP's failure to get "Beyond Petroleum" — spell the end of the old notion of green business, the idea that a big piece of the environmental fix might come voluntarily from the corporate world.
→ read full article
---