Articles by Bernhard Zand
We found 3 results.
---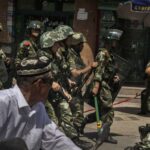 Persecution of the Uyghurs: The West Must Respond to Chinese Oppression
Bernhard Zand – Der Spiegel, 9 Dec 2019
4 Dec 2019 – There are many disturbing aspects to modern-day China, but its treatment of the Uighurs is the most despicable. The West must come up with a response to the inhuman persecution.
→ read full article
---
The Warming World: Is Capitalism Destroying Our Planet?
Alexander Jung, Horand Knaup, Samiha Shafy and Bernhard Zand – Der Spiegel, 2 Mar 2015
25 Feb 2015 – World leaders decided in Copenhagen that global warming should be limited to 2 degrees Celsius. Achieving that target, though, would take nothing less than a miracle. With another round of climate negotiations approaching, it is becoming increasingly clear that mankind has failed to address its most daunting problem.
→ read full article
---
NETANYAHU AGAINST THE REST OF THE WORLD
Bernhard Zand - Spiegel, 17 Mar 2010
Rarely before have Jews and Arabs been as united as they are in the face of the Iranian threat. But Israel's government is deliberately ignoring this historic opportunity to push the peace process forward. Indeed, Benjamin Netanyahu's government seems satisfied with the status quo.One of the tenets of the Middle East conflict has always been […]
→ read full article
---