Articles by C.S. Lewis
We found 1 results.
---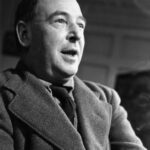 Of all tyrannies, a tyranny sincerely exercised for the good of its victims may be the most oppressive. Those who torment us for our own good will torment us without end for they do so with the approval of their own conscience.
C.S. Lewis – TRANSCEND Media Service, 4 Jan 2021
Clive Staples Lewis was a British writer and lay theologian born on 29 Nov 1898 who lived until 22 Nov 1963. He was born in Belfast, Northern Ireland into a Protestant Ulster family and took an active interest in Celtic literature and myths. He held academic positions in English literature at both Oxford and Cambridge Universities.
→ read full article
---